Disclosure: Freshly Picked gave me a pair of moccasins to review, however all thoughts and opinions are my own.
Have you heard of Freshly Picked Moccasins? Of course you have! And especially after their recent appearance on Shark Tank! I've been a long time lover of Freshly Picked ever since I learned of how Susan got into business. I have a soft spot in my heart for working moms, especially entrepreneurs, so her story really stuck with me. Susan started her business with only $200, and now her moccs are everywhere from magazine covers to celebrity baby feet!
I'm so excited for today's post because we are GIVING AWAY a pair of FP Moccasins!!! Woop woop! But first let me tell you more reasons why I love these little shoes so darn much.
Freshly Picked Moccasins are designed to stay on your child's feet. I've been frustrated with finding shoes for Landon because 1. let's face it, there just aren't as many cute things for boys, 2. nothing stays on those little feet of his, and 3. some shoes are difficult to move in for a child who just learned how to walk!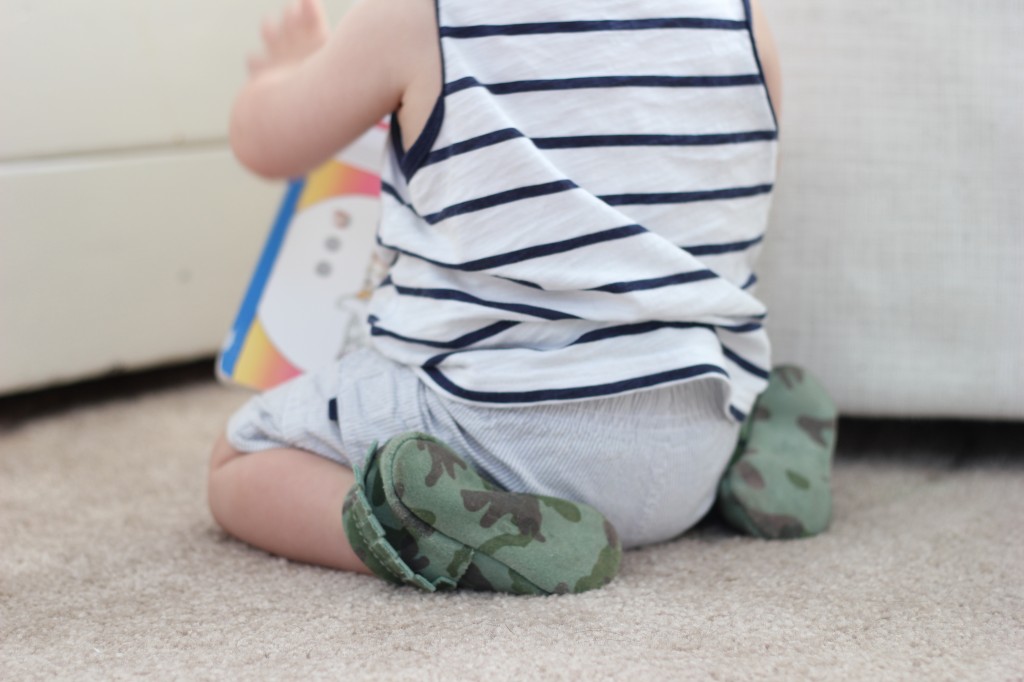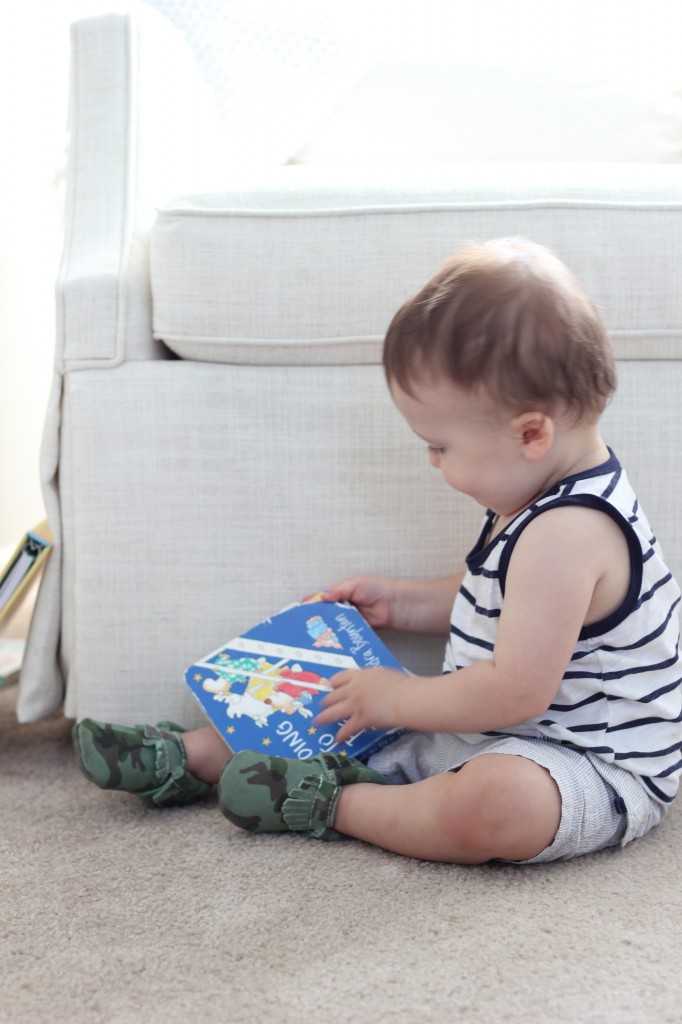 FP moccs are easy to slip on, but will NOT slip off. Usually Landon pulls socks off his feet (especially if we're in the car and he's had enough of Sophie the Giraffe or one of the other toys we've spent stupid money on but he refuses to play with), but the moccs managed to withstand his strong grip. We test drove them through the clothing racks in a store this weekend (ask me how fun it was to chase around a 1 year old!), and I loved that Landon had enough traction to get around and didn't slip on the wood floors.
I also love that the moccasins don't have a thick sole. Babies don't actually need to wear shoes, and going barefoot helps the development of their feet! Landon is able to bend his foot appropriately while walking, isn't hindered by a thick rubber sole, and yet has protection from any rough surfaces.
We love the camo print moccs, naturally (a certain husband will approve of anything camouflage). If those don't scream "BOY" I don't know what does!
Freshly Picked offers a variety of colors ranging from sizes 1-10. Sizing is easy with this printable size chart so you can be sure you get the right fit! They also added a new line of bags that I'm drooling over. Follow Freshly Picked on Facebook and Instagram to stay up to date on the latest info and sales!
And now we are giving away ONE pair in the color/size of your choice to a lucky reader!
Here are the official rules:
This giveaway is open to US residents only and the winner cannot have won any other giveaway including Freshly Picked moccs within the last 60 days.
1. Follow me on Instagram.
2. Follow Freshly Picked on Instagram.
3. Repost the giveaway post in my feed and tag #weloveFPmoccs
4. Tag 2 friends in my original post.
**IF YOU PROFILE IS PRIVATE, MAKE IT PUBLIC ON 6/21/14 SO I CAN SEE YOUR ENTRY!**
The giveaway runs from 7:00am 6/16/14 to 12:00am 6/20/14, and the winner will be chosen on 6/21/14 and announced via Instagram.
If you have any questions, leave a comment below, and GOOD LUCK!