Disclosure: This post was sponsored by Aquafresh through their partnership with POPSUGAR. While I was compensated by POPSUGAR to write a post about Aquafresh, all opinions are my own.
As a nurse, I've seen some interesting things (as one can imagine). While nursing school prepares you for clinical based situations, I feel like it fails to prepare you for some pretty common things one comes across as a nurse. Like…when your patient has a glass eye. And forgets to put said eye back in place prior you coming in to take their vital signs. You can imagine the look of horror on my face.
Or the first time you speak to someone who forgot to put their dentures in before giving you a huge, gummy smile. I'll never forget the first time this happened to me. I remember just staring at my patient thinking, why do they look so weird?! Why is their mouth all funny looking? WHY do they look so different!? Oh. Because they have no teeth. That's why. And that's when I vowed that I'll do anything in my power to NOT lose my teeth.
I've been an avid brusher since I was a kid. Having years of metal in your mouth will do that to you. I wanted to take care of these nice teeth that cost my parents a small fortune! And when Landon started cutting teeth early on, I knew I needed to initiate some good habits. It's better to train than retrain, right?
My first rule with Landon is no sugar. Coming from a girl who used to have a major sweet tooth, this is so important to me. People may think I'm a psycho mom, but sugar is awful and unnecessary in a baby's diet, not to mention horrible for your baby's teeth. The enamel on baby teeth is more susceptible to decay, and sugar is a huge culprit! I'm super picky with snacks, and I'm constantly reading labels to check for added sugar. Second, I wanted to show Landon that brushing his teeth is fun so that he would be more inclined to do it! Lately Landon has been wanting to do whatever Mom and Dad do (he even has his own lint roller for when Mom lint rolls the dog hair off the couch), so my plan was for us to brush our teeth with him so he would mimic our actions.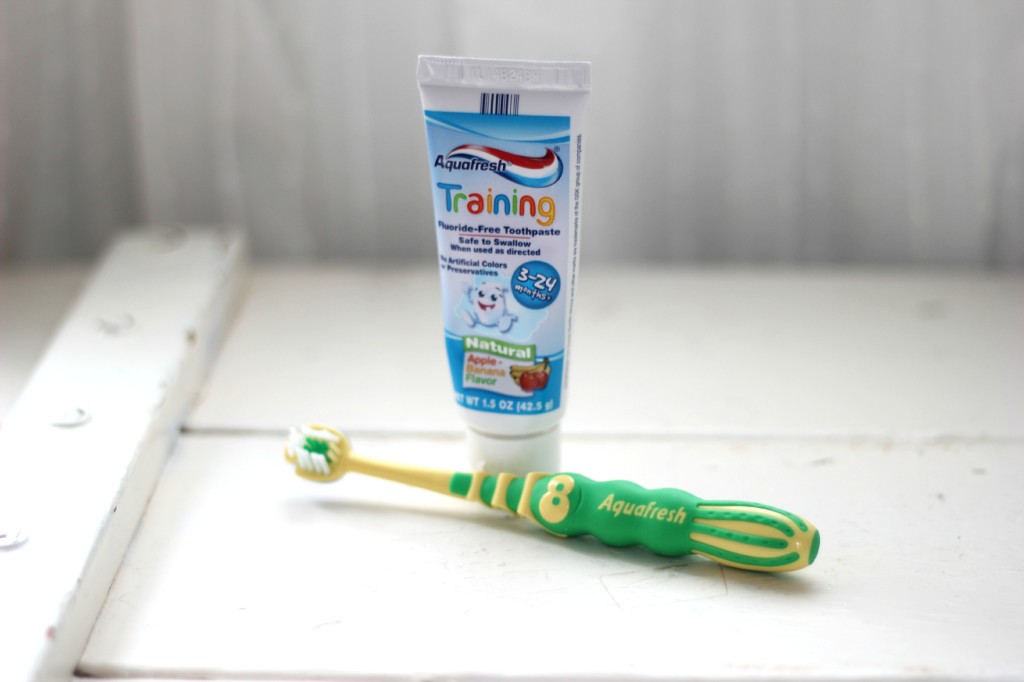 (Please use product as directed on label.)
We set Landon up with his very own toothbrush and toothpaste from Aquafresh, The little mouth experts ™. I loved that the Aquafresh toothbrush was small enough to fit into his little hands, and had small bristles to perfectly brush his 8 little teeth.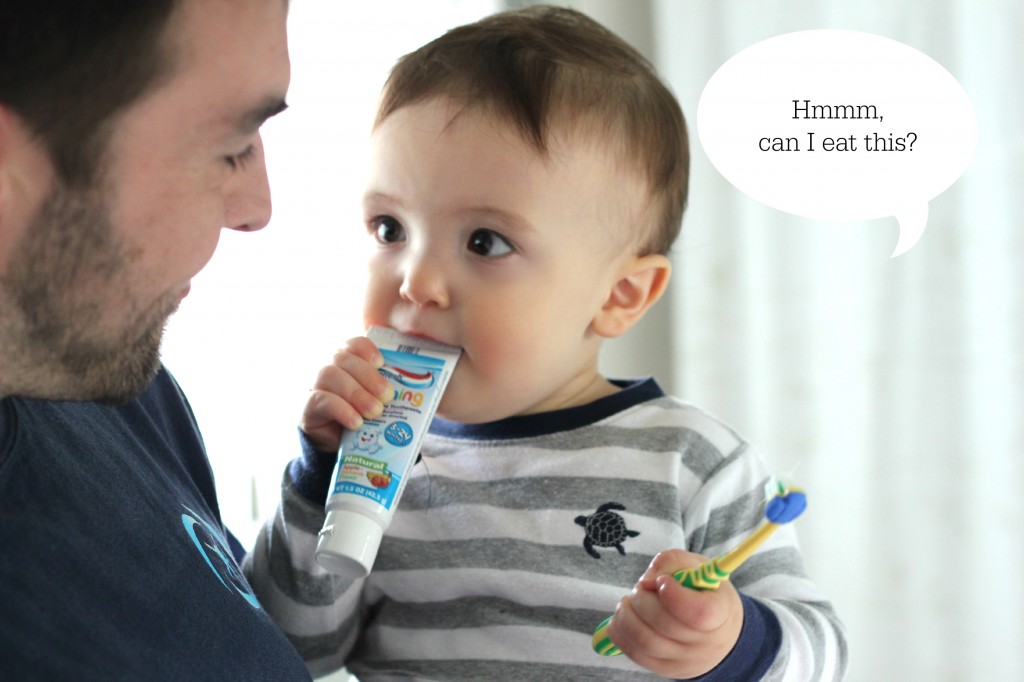 Compared to your tooth enamel, your baby's is 50% thinner. That's why you need expert protection. Aquafresh's dental experts developed a special Training toothpaste that is fluoride-free with no artificial colors or preservatives, and safe to swallow when used as directed. This is super important to me at this stage in Landon's life. I tasted some myself before having Landon brush his teeth, and I liked that the flavor was subtle and not too sweet.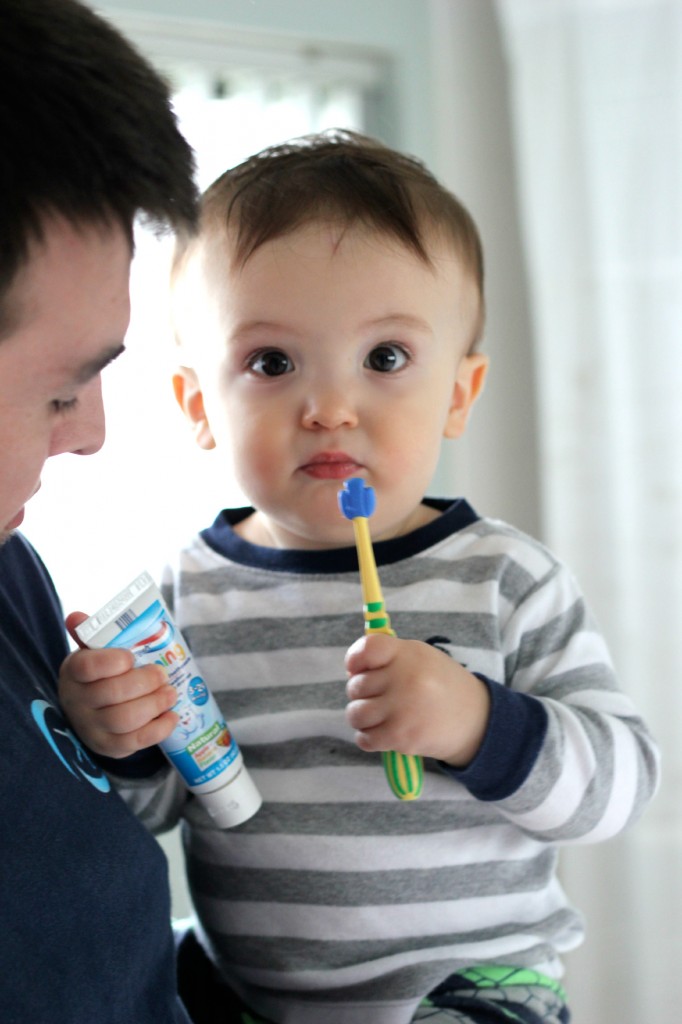 We let him play around with the toothbrush first (supervised), and naturally he put it right in his mouth (like everything else at this age). This allowed him to become familiar with the toothbrush. We then showed Landon how we brush our teeth, while helping him "brush" his own.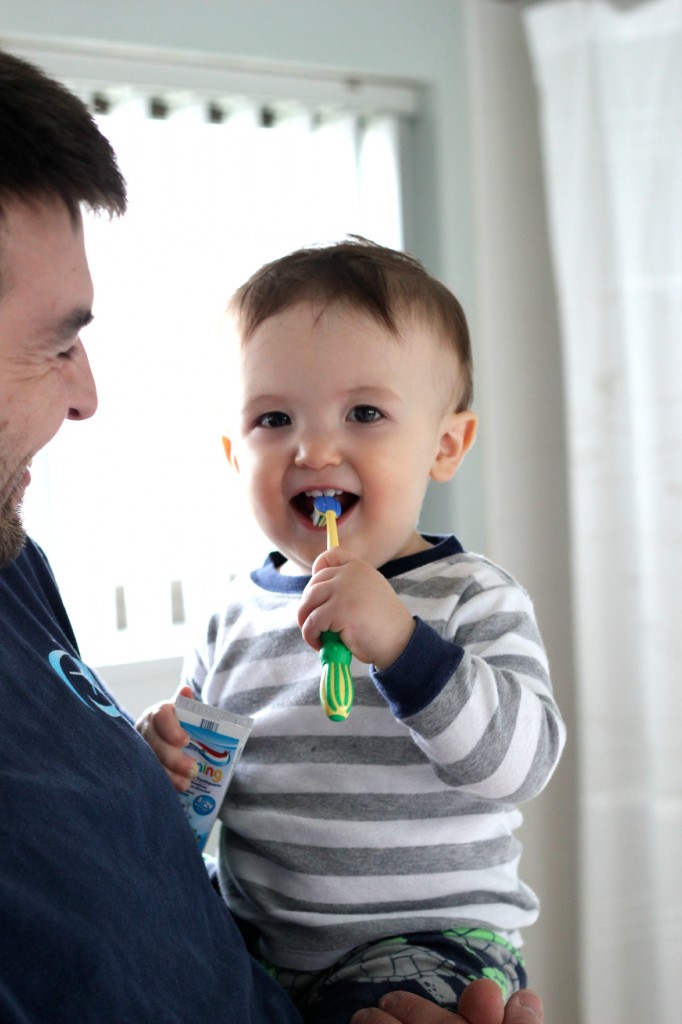 I know we will be assisting him in brushing for quite some time until he gets the hang of it, but he caught on pretty quickly for a one year old! We've made it a habit to brush his teeth every morning and night so it turns into part of his morning and bedtime routine.
Some other tips on getting your child to brush his or her teeth:
Make it a game. I notice that whenever I turn anything into a fun game, Landon is more interested in what I'm trying to get him to do. Let your baby "brush" your teeth, and then brush theirs in return.
Show them how much fun brushing can be. If your child isn't interested in copying Mom or Dad, try the short video by Aquafresh on learning to brush. This may be more helpful for toddlers!
Add some music. Use this fun, 2 minute brushing song to guide your child on how long they should brush their teeth for. We all know our little ones have short attention spans, so playing this song and telling them to brush until it's done may help them stay on track!
Check out the Make Brushing Fun page on the Aquafresh site for more fun ideas!
Do you have any added tips on helping your child brush their teeth? Tell me below!