I'm not quite sure why, but I get all giddy like a child waiting for a letter from her pen pal every time I go the mailbox. I mean, we mostly receive bills and junk mail, but I always hope there's something worth opening in there. I think this explains my love for monthly subscription boxes. Which is why I was crazy excited when I found the mecca of all subscription boxes – the POPSUGAR Must Have box. I wasn't quite sure what to expect with this box, but the size of it alone told me it was something good!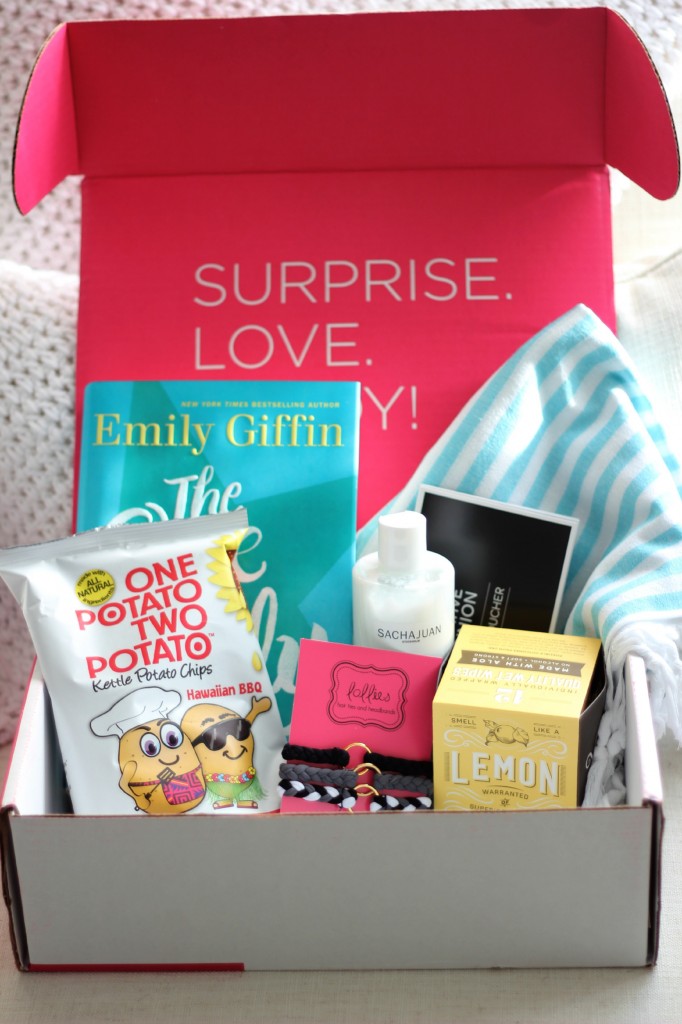 I couldn't believe how many great items were in this box, and I kept finding more and more little surprises as I went through it. Here's what was in my box:
Emily Giffin's new novel, The Only & Only // This is one of my favorite authors, so I squealed in delight when I found her newest book staring back at me!
SACHAJUAN Shiny Citrus Body Lotion // a full-sized bottle of lotion in a yummy scent.
Turkish-T Beach Towel // Love the simple, yet bold stripe of this towel. The lightweight fabric makes it perfect for hot summer days and cool summer nights.
You Smell Lemon Wet Wipes // I love on-the-go wipes, so these will be gong in my purse and diaper bag! They also smell lemon-y fresh.
Lollies Basics Hair Ties // These cute braided hair ties put a new spin on the average hair tie, and also don't look ridiculous on your wrist.
One Potato Two Potato Hawaiian BBQ Kettle Chips // These all natural chips are delicious and the perfect beach snack!
Native Union $15 Gift Card // To use on one of their sleek tech accessories!
I love that the POPSUGAR Must Have box gives you full sized products, so you can actually use them more than once to determine if you truly like them. Also, all of the products coordinate as well, which I thought was fun! For example, all of these items in the June box can be related to a summer day at the beach. Throw your turkish towel and book into your beach bag, and keep a hair tie on hand for when it gets too hot. Pack some chips for a snack, and also some wet wipes for cleaning your sandy hands before chowing down. Use the gift card for some headphones to use to drown out noisy beach goers, and then freshen up with some lotion after you wash off salt water from the day!
While the box subscription costs a little more monthly at $39.95, you are getting FULL SIZED products that are valued at way more than what you're paying!
The best part? POPSUGAR is offering my readers $10 off a three month subscription with code JUNESELECT (ends 6/30/14)! So grab yours today!
POPSUGAR provided me with a complimentary POPSUGAR Must Have box. The opinions I have shared about the box are my own and POPSUGAR did not tell me what to say or how to say it.