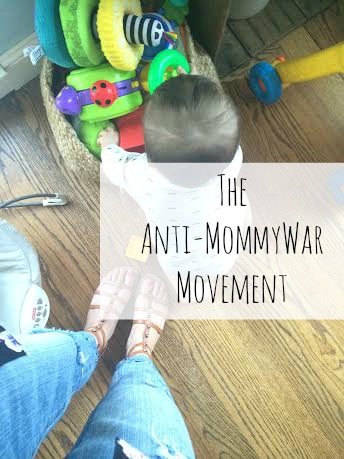 There are many things that us women aren't prepared for as first time moms. Some include: never being able to laugh or jump around without peeing, post-nursing saggy boobs, and that lovely mom guilt that rears it's ugly head all too often. But there's one thing I encounter on a daily basis that I still haven't come to terms with.
The mommy wars.
I am *SO* tired of the mommy wars.
Let me explain something here for those who aren't moms just yet. Being a mom is HARD. You can try to imagine just how hard it is, but you'll still be wrong until you actually experience it for yourself. Take it from me, who was the world's biggest moron when it came to telling everyone how I was going to raise my child before he was even in my womb. I had no frigging clue. But now that I'm experiencing it first hand, I realize that moms are actually real-life superheroes, except better because we have no actual superpowers to make life easier. I mean, I would love a superpower that cooked dinner with the blink of an eye, or super-speedy arms that folded laundry in 2 seconds flat. But try as I might, that hasn't happened yet.
(We can put a man on the moon but yet we cannot make a real-life Rosie from the Jetsons. What gives, universe?)
Anyways, us moms have enough to deal with day in and day out. But yet there are some moms who just feel the need to push their opinions on the rest of us if we aren't doing things to their standards. And my question is….WHY?
Why do women do this, and why does it even matter?
Why are we knocking each other down instead of building each other up? Why are we on opposing teams because I choose to breastfeed and you choose formula? Or because I choose to have my son sleep in his crib and you choose to cosleep? Or because I choose to use CIO and you choose to feed for comfort? Or because I choose to make my own baby food, and you use store bought? Or because I followed BabyWise and you don't like the BW method?
It shouldn't matter who does what. What one mother chooses does NOT effect another. Let us mothers raise our children how WE want. And with what works for US and OUR family. And if you don't like it…keep your mouth shut (unless, of course, something is actually really harmful to baby, i.e. drugs/alcohol/abuse. Then by all means, speak up.) Stop complaining about other moms. Stop forcing your opinions on other moms, unless, of course, the other mom genuinely asks for your advice. Stop making moms feel like they are doing everything wrong, when we are just trying to do everything right.
We. Are. All. Just. Trying. To. Be. Good. Moms.
And not break our children. And raise them to be independent, strong little boys and girls who can take on this crazy world we live in.
We need to support each other as women and mothers. Let's stop making enemies just because other moms do things differently. We are all guilty of this judgement (yes, I am too), but we need to stop. We need to praise and uplift each other because, as much as we love them, these tiny humans can suck the life out of us, and we shouldn't have to feel like the worst moms on the planet.
We need to STOP the mommy wars.
Are you with me?