Bikini: Victoria's Secret / Cover-up: c/o Simple Sarongs / Tank: Express / Hat: Target (similar) / Sunglasses: RayBan / Bracelets: Kohls
I don't quit remember what a beach day was like before I was chasing after a 1 year old who thoroughly enjoys putting sand in his mouth. I do remember that I had a way better tan, however…but I suppose that was never good for me anyway. 🙂
My beach bag has also gotten a little fuller this summer..you know, due to the change of clothes, diapers, wipes, beach toys, snacks, sippy cups, sunscreen, towel, hat he refuses to wear….and that's not even touching my stuff! So naturally, any way I can cut back on the massive amount of things I need to carry is a bonus. Or, at least my things. Here's what I carry (for myself…I'll spare the baby stuff, that's a WHOLE post in itself!) in my beach bag: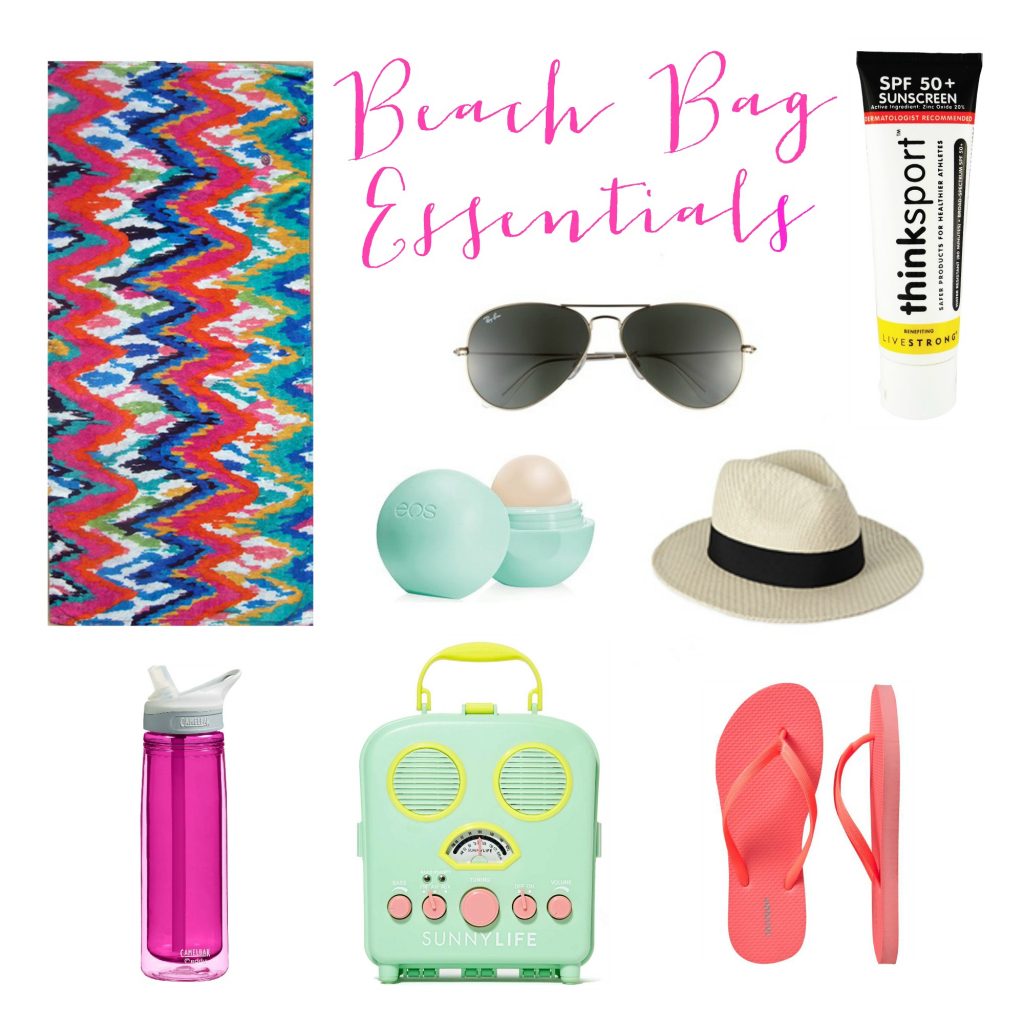 Sunglasses: Lately I can't live without my RayBans!
Sunscreen: There's been an article floating around on Facebook on how toxic sunscreen can be from all the chemicals, so I recently switched over to ThinkSport and ThinkBaby because it's top rated by EWG and free of all harmful chemicals. I never used to care about things like that, but lately I've become a little more aware.
Chapstick: Can't live without it. Have you ever had burnt lips? It's not fun.
Hat: I used to never wear hats, but now I like having the option for when my eyes just need a break. Sometimes sunglasses don't always do the trick, so a hat provides some extra coverage.
Flipflops: They're not the fanciest, but I swear you can never go wrong with a pair of Old Navy flip flops!
Radio: This Sunny Life beach radio serves as a standard radio or speakers for your iPhone! I love listening to country music on the beach.
Water Bottle: I'll actually bring two or three, depending on how long I plan on being at the beach for. I prefer the insulated, or double-wall, bottles because they keep cooler longer.
Cover-up: This beach cover-up by Simple Sarongs doubles as a towel, which is awesome for when I'm trying to run around after the little man! Two buttons help fasten it in a flattering style, and it can be easily adjusted to fit across your chest or around your hips. I was never able to get my towel to securely stay wrapped around my waist anyway, so the simple button detail really helps eliminate that frustration. It's the perfect combination piece for a day at the beach or afternoon by the pool!
I have some exciting news coming to the blog soon, so stay tuned!