I feel like my Facebook news feed is FILLED with expecting mamas. Ladies, I'm here to shed light on what happens after those cute little babes come earth side. I found no one warned me of these issues, and I'm still shaking my finger as my mommy friends for not spilling the deets! I suppose it's a right of passage to learn all about them yourselves, but I'm gonna help a sister out and tell you about the things they DON'T tell you after expecting a baby!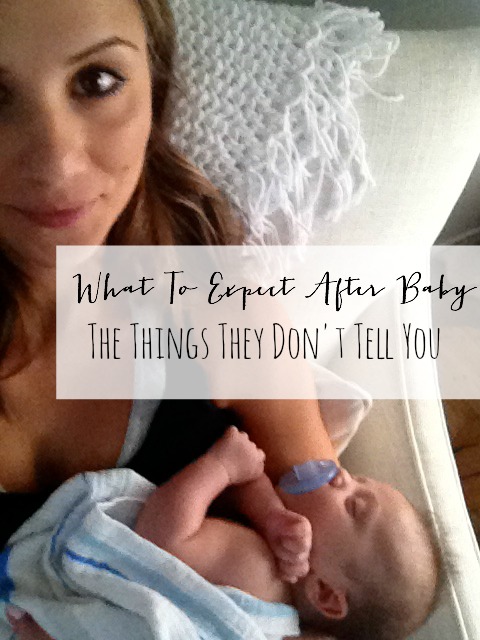 1. You lose bladder control. I mean, like forever. I can't do double unders (or single unders for that matter) at CrossFit without peeing a little. Which is why I will ALWAYS wear black moisture-wicking pants if they're part of the WOD. And if I laugh too hard? Yup, I'll probably pee then too. Clearly I wasn't too fantastic with my kegels.
2.You lose hair. Like…..a LOT of hair. At one point, my husband asked me if I was sick. The amount of hair falling out of my head was so bad that it had to be cut out of the bottom of the vacuum cleaner. And now, a year later, I have all this really weird regrowth that I know will take forever to fully grow, and by that time I'll probably be pregnant/have another baby and going through the same thing all over again. (Also, it stopped falling out around 9 months, for those who are experiencing the same. Hang in there!)
3. You will probably have stretch marks. Or hemorrhoids. Or stretch marks AND hemorrhoids. If you have none of those things, then consider yourself hated by all of us other moms.
4. Loose skin. Your stomach will be like Jello for longer than you'd like. It feels weird and squishy.
5. Night sweats. You will have the most awful night sweats ever to the point where you're sure you peed the bed. I can't tell you how many times I slept on a towel. Also, bonus points to my husband for still finding me attractive. And for sleeping next to my sweat.
6. Your boobs and nipples never look the same. Seriously, I forget what my pre-baby nipples look like. And my boobs actually SHRUNK, like how does that happen? I wasn't blessed in that area before, and now I'm just really pathetic there.
7. Baby brain is real. You find yourself talking nonsense, literally. I know what I want to say, but it doesn't come out in the correct way. Often times my husband looks at me as though I'm speaking a foreign language. Also, all memory is just gone. Don't ask me what I did yesterday, I can barely remember what I did pre-naptime.
8. You will always be tired, even if your child is amazing and sleeps through the night at an early age. You can get 8 hours of sleep and STILL be exhausted at 8pm. Coffee or some sort of caffeinated beverage will become a necessity.
9. Breastfeeding is really frigging hard. We all wish we could be frolicking in fields with our baby hanging from our boob like it's nothing, but unfortunately that's not the case. It really sucks for a lot of us.
10. The hormones. My goodness, the hormones. You will be laughing one minute and crying the next. Basically you'll sound like you've lost your mind (oh wait, you have!). It seems like a cruel joke to have a woman go through these emotions all while trying to handle this new tiny human that's fully dependent on us and our boobs. Also, postpartum depression is VERY real, and should never be handled lightly.
But the number 1 thing people don't tell you after baby…is that you are most likely a glutton for punishment and would do it all over again for that sweet little babe. I know I would. 🙂