Disclosure: This post was sponsored by Progresso through their partnership with POPSUGAR Select. While I was compensated to write a post about Progresso, all opinions are my own.
There are so many days I stare into my closet and think, I have absolutely nothing to wear. If I happen to think these thoughts out loud and in the presence of my husband, the statement is usually followed by him saying, "Seriously? Your clothes take up the majority of the closet. How do you have nothing to wear?" And you know what? He's right. But don't tell him I said that.
We all have these days as women (and some men too!). I think each and every one of us would be thrilled to have the opportunity to have a new wardrobe that made us look and feel our best when we have these moments!
I was recently asked what pieces I would invest in if given the opportunity to spend $1000 on a new wardrobe, so I thought I would share with you today key items that make any wardrobe look good. These items are wardrobe staples that every girl should have on hand! Investing in basics is important because they are the pieces that define each outfit you come up with while standing in front of that closet. And it's even more important that they fit well so you feel and look your best! When you feel your best, you exude confidence, and that's the most attractive feature on a woman 😉
Here's what I would choose with my $1000: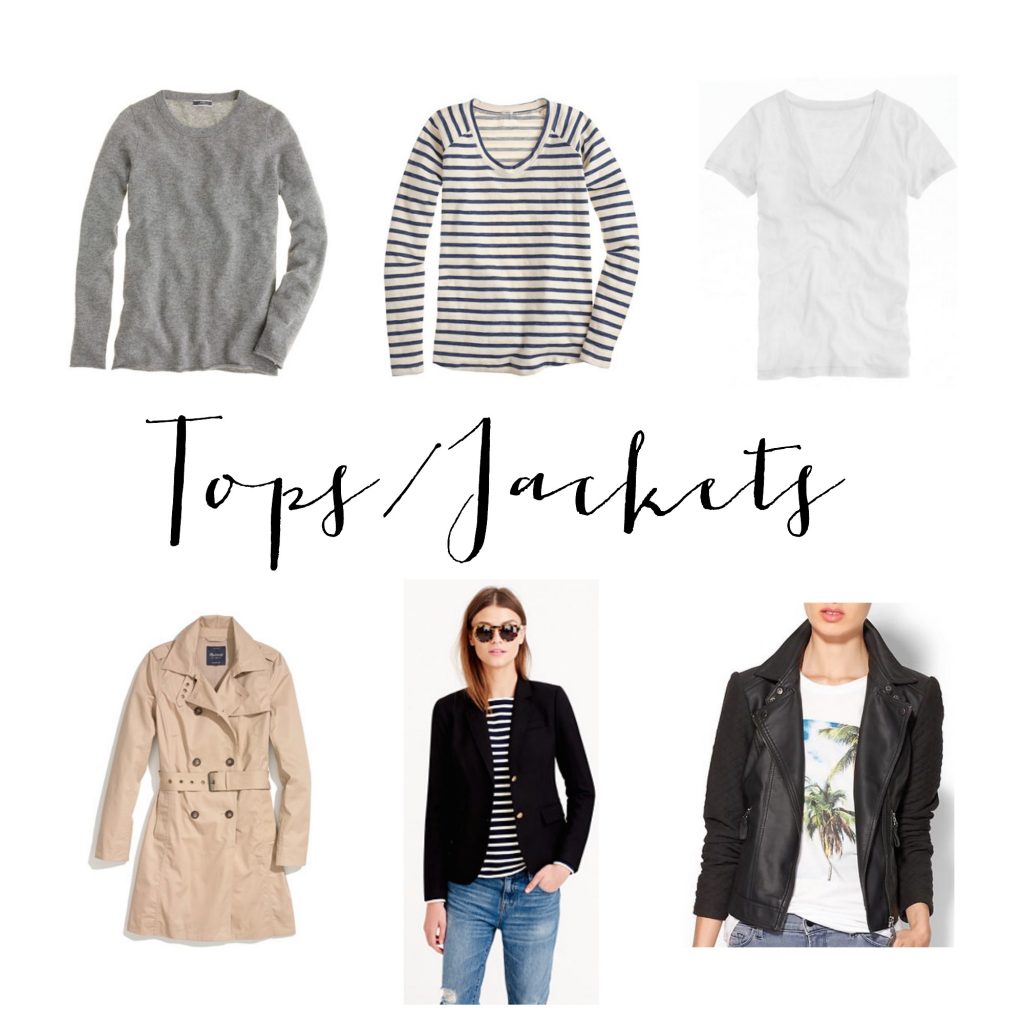 A crewneck sweater. Over flannel or under a vest, the perfect crewneck sweater makes any outfit preppy. Investing in a high quality material helps prevent those sweater pills.
A striped shirt. I've found that a good striped shirt can go with anything. I had one I almost gave to Goodwill because I never wore it, but then I realized just how much use I could get out of it!
A white t-shirt. A white tee is essential for multiple reasons. Find one that provides the perfect fit (not too tight, not too loose, the perfect neckline). One that is made from high quality material helps avoid those gross yellow armpit stains!
A khaki trench coat. I love how a trench can complete any look, whether it's casual, business attire, or a cocktail party. It's one piece that can truly be worn across the board.
Black blazer. I personally prefer boyfriend blazers for their more casual fit. A black blazer is the icing on the cake with every outfit. It can be worn for a night out, a business meeting, or running errands around town.
A leather jacket. I would love to own a high quality leather jacket that is soft and supple. I feel like a leather jacket can be thrown over any outfit to make it complete!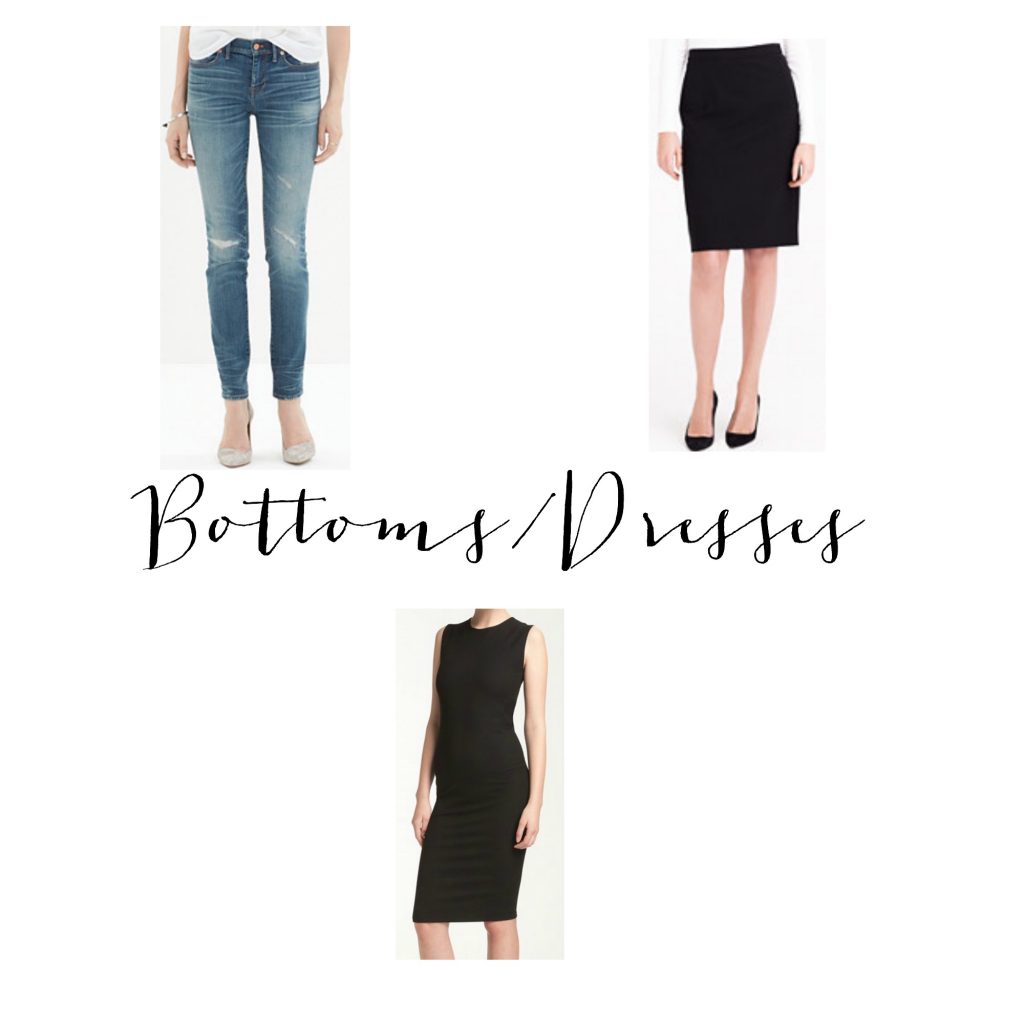 The perfect pair of jeans. Really, all you need is one pair of the most amazing jeans that hug your curves and make your booty look good!
A black pencil skirt. They are incredibly versatile and can be dressed up and down. Think a collared shirt with pumps, or a graphic tee and some casual sneakers. The options are endless!
The LBD. Every closet needs a little black dress. I would find one tailored to my body type so I know it looks like a million bucks!
A cognac tote. Perfect for casual attire and your everyday look!
A structured black bag. Perfect for business attire, or when you want to make a look appear more professional.
Black pumps. Investing in a quality pair of black pumps will ensure they never need replacing. I'm a firm believer in splurging on shoes because the more expensive the shoe, the better they're made. A high quality, simple pair of black pumps are versatile and will last forever.
Riding boots. Like the black pumps, a high quality pair of riding boots is important. The better made, the longer they will last, and your cost per wear ends up being nothing! Riding boots can be worn with jeans, skirts, dresses…the options are endless.
Like the idea of having $1000 to spend? Oh yes you can enter for a chance to win a wardrobe makeover for you and three of your friends, courtesy of Progresso™! Enter the ProgressOh! wardrobe makeover contest at Progresso.com/ProgressOh. Four deserving Progresso™ fans and three of their friends will each win a $1,000 cash card and a year-long subscription to the POPSUGAR "Must Have Box."
Did you know Progresso™ soup has 40 delicious flavors at 100 calories or less per serving? It's perfect for women on the go who want to want to look their best for that wardrobe makeover!
What would you spend your $1000 on? Be sure to enter for your chance to win the closet of your dreams!