Let's talk bags. Under eye bags.
Guys, I am one of those unfortunate olive-toned skin Italians with under eye circles so dark that I look like I have two black eyes. IT'S HORRIBLE. Finding the perfect concealer has been a quest of mine for years, and I finally found it after picking my friend Andrea's brain. I have now come up with the perfect concealer cocktail to help keep my bags under control all day long.
So many of you have asked about products I use for concealer, and while I shared it in this post on makeup for tired eyes, I thought I would do a separate post here so you didn't have to search as much! I give you, the holy grail of concealer products.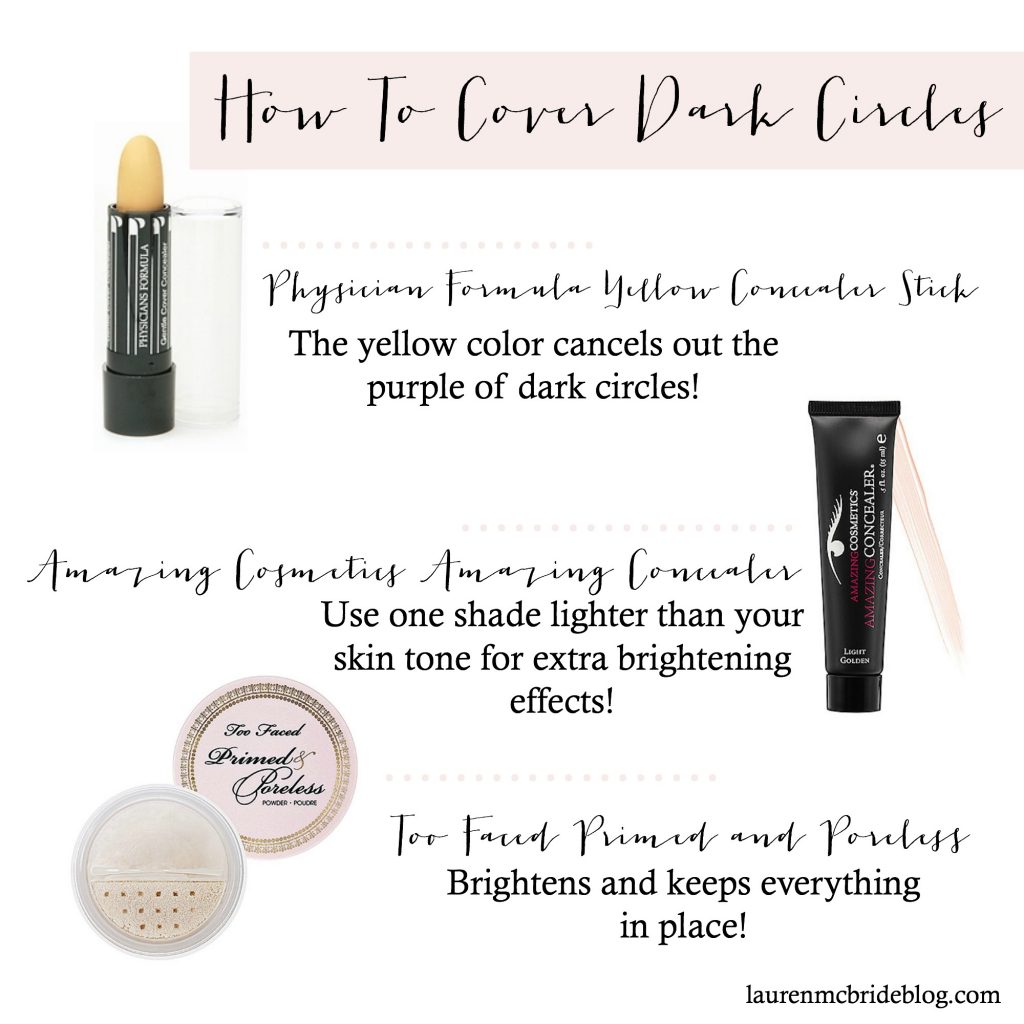 TOOLS:
– Physicians Formula Yellow Concealer Stick
– Amazing Cosmetics Amazing Concealer
– Too Faced Primed and Poreless Powder
– Beauty Blender (optional, I just like how it blends!)
– a small fluffy makeup brush
– your finger
I apply my concealer AFTER my foundation in the following steps:
1. First I take the Physicians Formula Yellow Concealer Stick and draw an upside down triangle under each of my eyes. I extend the triangle down the side of my nose (past my circles), which is key because it brightens the area underneath the dark circle which helps everything appear blended. I show how I do that in this post. Then I gently dab it in using my ring finger (you can also use a concealer brush, but I prefer my finger!)
2. I then take a small amount of the Amazing Cosmetics Amazing Concealer and dab it with my ring finger under my eye in that same upside down triangle shape. I take my Beauty Blender and gently blend everything in. GENTLY is important, because I don't want to rub anything off!
3. Last, I take a small fluffy makeup brush and dip it into some of the Too Faced Primed and Poreless Loose Powder, and then sweep it gently over the entire area I concealed. This sets everything in place, and also brightens the area a bit!
And that's it! Bye-bye bags!
Don't forget to check out my tutorial on makeup for tired eyes, as that shows my technique plus some other eye brightening tips!