Disclosure: This post was sponsored by Target® C9 through their partnership with POPSUGAR Select. While I was compensated to write a post about Target® C9 all opinions are my own.
I do not belong in New England.
Sure, it's beautiful and we get four seasons, but that last part is exactly what I don't like about it. I'm a summer girl at heart and would be perfectly content living somewhere it's sunny and 75 year 'round. But sadly, that is not the case, and I'm forced to deal with bitterly cold weather (in my opinion) for at least half of the year.
As someone who is very active, the weather change makes keeping up with exercise difficult. During the winter months, I lose the luxury of going for a run around the neighborhood (because I hate the cold!) and it takes extra effort to convince myself to leave the house and go to the gym. Not to mention all of that is difficult as it is being a working mom, but the cold weather makes it EXTRA difficult because well, I hate it. If you didn't catch that.
I've come up with some tips for staying active as the season changes, which have really helped me not slack off just because it's no longer bikini season. I've had to be creative and find motivation in outside sources since I generally lack all motivation to leave my warm house in the winter! If you're anything like me, you may find these tips helpful:
Accountability. I'll be the first to admit I'm not good at holding others accountable, or even sticking to accountability from a friend. Knowing this about myself has forced me to search for accountability elsewhere. Being an Instagram fanatic, I've chosen to follow fitness accounts that actively share pre/post-workout selfies, recipes, and yoga poses which give me a boost in motivation to get my butt moving. I have a few friends who actively participate in Instagram yoga challenges, and seeing their daily positions really inspires me to do the same. However it may be, finding your source for accountability is of utmost importance to keep you active during the cold season.
Avoid junk food. The holiday season is the WORST for eating habits. I find that it's easy to let healthy eating habits go in the cold months because we aren't worried about how we look in a bikini. That, along with the abundance of food involved at holiday celebrations (and leftovers!!!!!). Knowing the health issues that run in our family, I really try to watch what we intake even at holiday meals. I try to modify any dish I'm bringing to a Paleo or gluten free version, and I avoid bringing home leftovers/cookies. I fully believe (and know) that if it's in our house, we will eat it…so the best solution is to avoid bringing it into our house.
Find what you love. I joined CrossFit two years ago after being a naysayer for the longest time. It was the best decision I could've ever made for myself. I attend classes three times a week because that's what I can fit in at this point in my life. I love that the workout is always different; I find anything repetitive to be boring, so this really keeps my interest piqued. Having an organized class helps motivate me to get there because it's being directed by someone else and not me. Going to the regular gym with no real guidance wasn't fun for me, and I would often opt to stay home on the couch instead of work out. I also love that it provides me with one hour to myself where I don't have to think about anything else! Find what works for YOU and keeps you motivated and moving!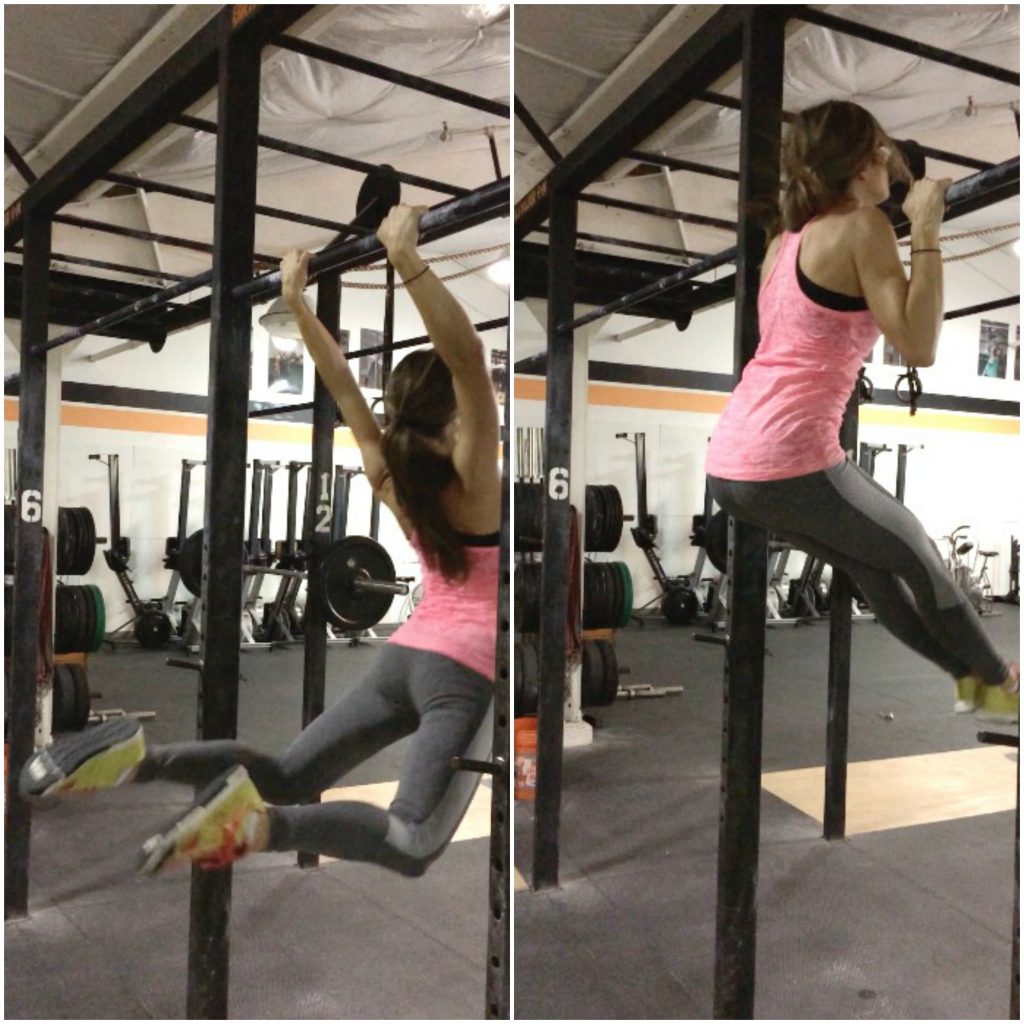 (Pull-ups have become my favorite part of a workout!)
Utilize at-home workouts. Being a busy mom, and a busy mom who hates the cold, I'm always looking for ways to fit in a workout in the privacy of my living room, (preferably during nap time!). While I love my CrossFit workouts, I also equally love Pilates and yoga. I researched some Pilates and yoga YouTube videos, which I use on my off days or on days when I just can't make it to the gym. I've found really great HIIT workouts on Youtube as well. Utilize the technology you have at your fingertips and find some at-home workouts for you!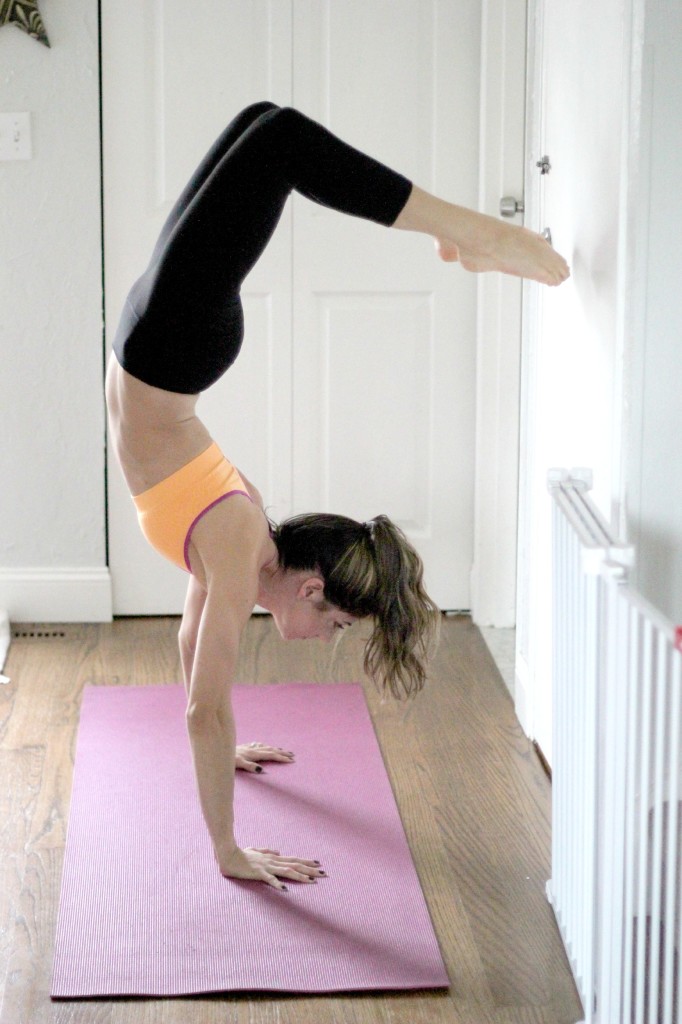 (Not my best, but I'll get there!)
Invest in appropriate workout clothing (and clothing that makes you happy!). Okay, I know this sounds weird, but I am more motivated to go to the gym or workout at home if I'm wearing nice workout clothing. Workout clothing doesn't have to burn your budget, which is what I love about Target® C9 workout line. C9 is priced for every budget (hello, Target® coupons!) and is fantastic quality. Wearing well fitting, comfortable, stylish workout clothing that you didn't spend an arm and a leg on definitely boosts confidence and motivation to kick it into gear! Invest in key pieces and appropriate items for the cool weather season so you won't be as inclined to say "no" to your workout just because it's cold out. Plus…they're really comfortable to lounge around the house in AFTER you've kicked butt during your workout.
I don't know about you, but I'm an all around better person when I stay active because I feel good about myself! Fitness is the key to my sanity. It's my "me" time, and I refuse to sacrifice that just because the cold season is upon us! Invest and make time for yourself to stay active because you are worth it! We need all the endorphin boosts we can get while our Vitamin D is lacking. I hope you utilize these tips to keep you happy and healthy this winter season!