Disclosure: This post is written in collaboration with Lunchbox and Caress Forever Collection at Walmart. All thoughts and opinions are 100% my own.
 If there's one thing I've learned since being an avid gym goer, it's the necessity of carrying a gym bag at all times. I always keep my bag in my car stocked with essential items I may need at any time. Before we were married, my husband taught me a very, very valuable lesson of "you'd rather have it and not need it than need it and not have it," so always being prepared is a MUST in our house. (Basically, we went white water rafting in Alaska and I told my husband he wouldn't need a change of clothes because we were wearing dry suits and would be wearing warm clothes underneath them. Being a veteran, my husband insisted he bring extra clothes, but I continually argued that he wouldn't need them. Welllllllll…..at the end of the rafting trip we were told we could jump in the water and float down the rest of the way. My husband jumped out, split the neck of his dry suit, and freezing cold water poured into his dry suit. He went home soaked. Whoooooops!)
Anyways. My gym bag is stocked at all times. 😉
So today I'm sharing with you my gym bag essentials and why they're necessary to have on hand, even if they aren't things you're using every day!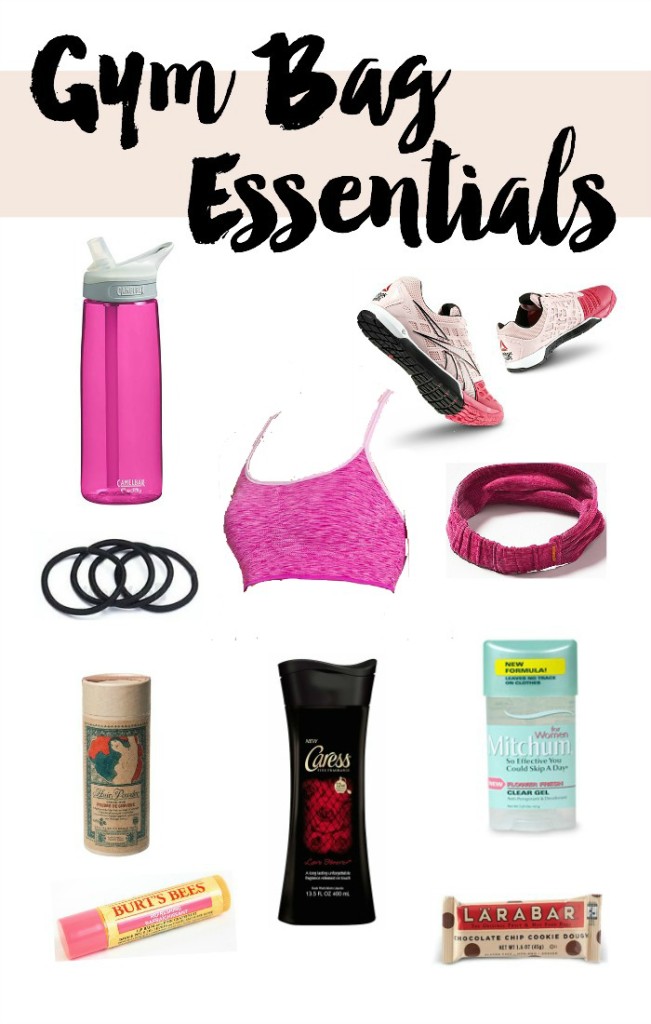 A water bottle. This one goes without saying. I'll always have a water bottle because I pound water during my workouts. It's so important to stay hydrated!
Sneakers. I actually carry two pairs of sneakers with me at all times. But this is because I go to CrossFit and use shoes for different things. The majority of the time I'm going to CrossFit right from work, and I don't wear my gym shoes to work. So sneakers are always in there!
A change of clothes. I always carry an extra set of gym clothes just in case I forget to pack mine for the day! It's totally happened before and then I end up going home and not working out because I'm so annoyed I forgot them. So I'll always have a pair of pants (and shorts!), a sports bra, socks and a tank ready to go.
A hairband. I don't always wear a hairband as often as I probably should, but during WODs involving anything handstand related or burps, I like to have a hairband available so I'm not cursing myself mid-WOD for my hair being all up in my face. It's so necessary if you have long hair!
Hair ties. Because mine break ALL the time. And with my long hair, there's no way I'm making it through a workout without one (I would look like a fool!)
Chapstick. I always need chapstick on hand, so this is always essential! I notice my lips get dry during any cardio (hence why it's so important to stay hydrated!), so this helps give me relief.
Deodorant. SO IMPORTANT. I always freshen up beforehand because I sweat like a beast during WODs! Especially in the summer!
Body wash (and a towel!).  If I'm going somewhere post-WOD, I'll definitely take advantage of the showers in the girl's locker room! Lately at home I've been using Caress Forever Body Wash with Fragrance Touch Technology, and I've been loving the 12 hour lasting fine fragrance! The invisible beads in the body wash release bursts of perfume every time you touch your skin for up to 12 hours!! I decided to throw another one in my gym bag in case I have a meeting or something afterwards and I don't want to reek of the gym! You can pick this up at your local Walmart at a great everyday low price!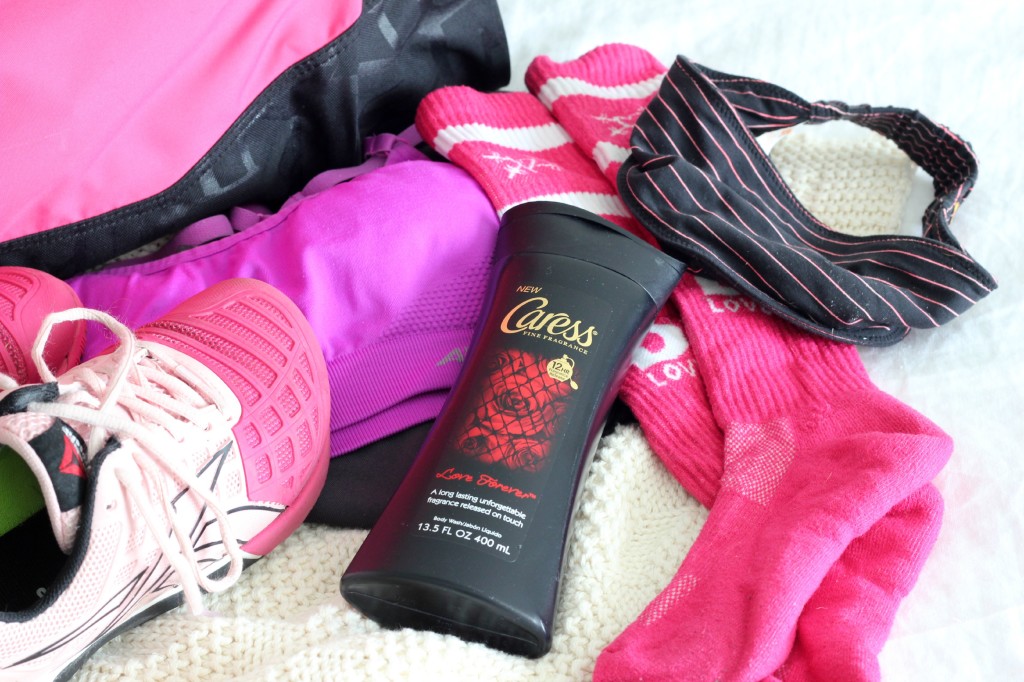 Dry shampoo. To go along with the quick shower, I'll use some dry shampoo to touch up my sweaty hair!! Saves time and smells great!
A protein bar. I cannot be without one! I always have one on hand for an extra boost of energy, and especially for after workouts!
What else is in your gym bag?
Be sure to check out Caress Forever Body Wash and toss it in your gym bag! Or just use it on the regs because it will keep you smelling fresh! 😉