Before going into today's post, I'm gonna bring you back to the moment I received the e-mail from the Westport Lou & Grey store manager, Cathy, inviting me to host their spring style event. I totally had blogger's remorse because I responded WAY too quickly, with a ton of capital letters and five thousand exclamation points. Something along these lines: OMGGGGG YES!!!!!!!!!!!!!!!!!!!!!!!!!!!!!!!!! As soon as I hit the send button, I wished we were back on AOL where you can unsend and undo any ill-advised e-mails. I literally almost sent a follow up apologizing for my excitement and clear insanity! LUCKILY, the girls at the Westport store are super awesome and loved my enthusiasm (so they say! 😉 ) And alas, a spring style event was planned for this past weekend!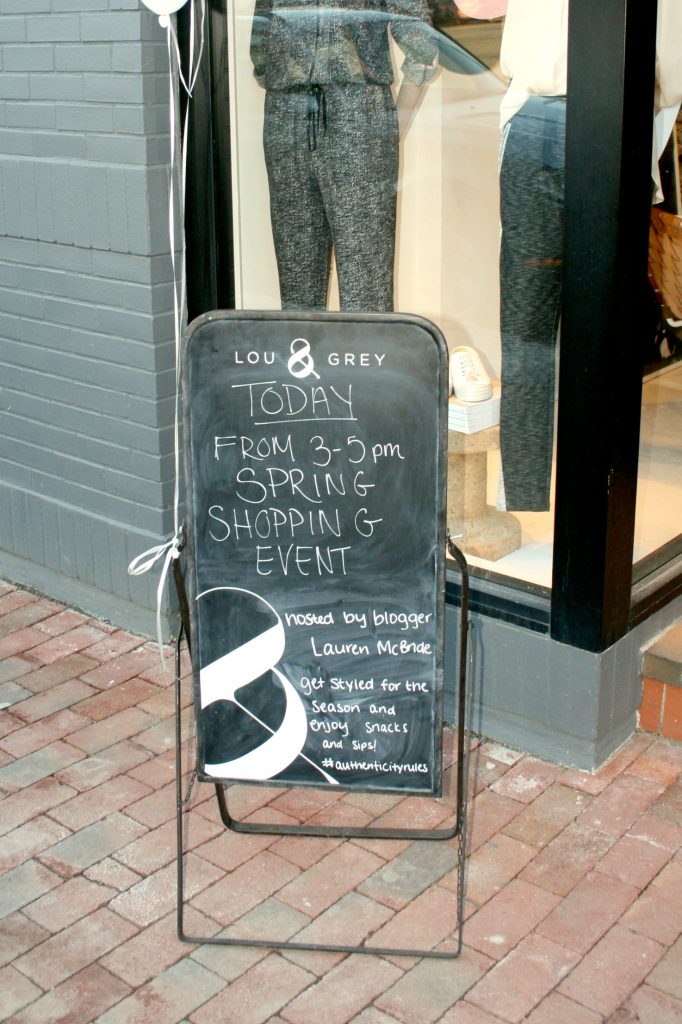 You guys. I absolutely love Lou & Grey. If there is a brand that embodies me to my core, it is this brand. And the more I learned about it, the more I fell hard for it. And I know you will too. So today I'm going to share a little bit about the store and some photos from the event!
Lou & Grey was designed for the woman who wants style and comfort, and casual and chic all in one outfit. Their entire line can be dressed up for work or down for play, and is made of the softest, textured materials I've ever seen. It's for the woman who wants to wear yoga pants without wearing yoga pants. Or the woman who can transition from day to night with a simple change of shoes. I could own every single piece of their collection and be completely satisfied with my closet. It's filled with texture-rich neutrals, worn-in jeans, cozy knits, and delicate tops. It is absolute perfection in one store. If you're a Lou & Grey girl, you know what I mean. 😉
Their store is designed for the exact woman who fits their line. I was swooning over the vintage-inspired and industrial looking furniture, vintage records on display, and muted prints that hung on gallery walls. Their dressing rooms were filled with white-washed walls and grey linen curtains (hellooooooo. Is this not my home?!) I was walking through a sea of perfectly decorated neutrals; I FOUND MY HAPPY PLACE. Not even kidding, I was ready to move in.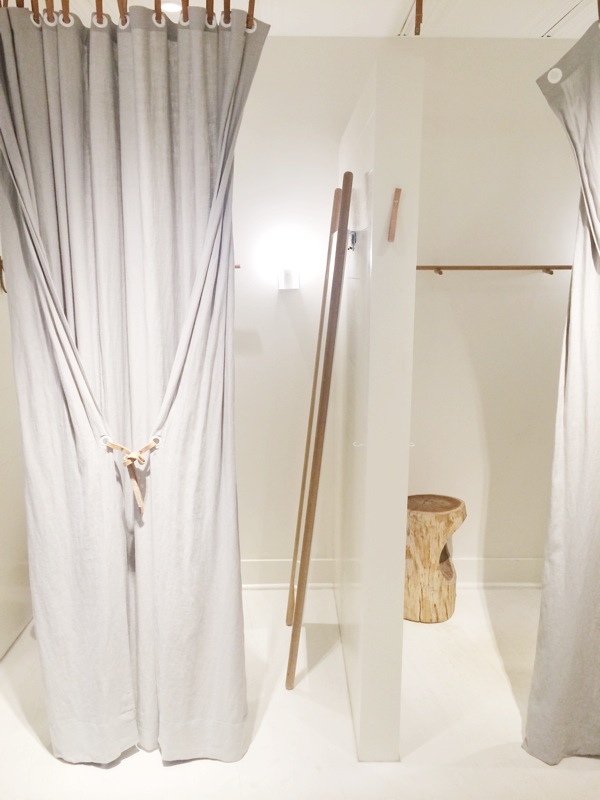 One of the features I loved most about Lou & Grey was their display of creative and authentic work from small business owners in the US. Every where you turn in the store is a small display of hand-crafted pieces from a different artist. From handmade jewelry to modern potted plants to gorgeous ombre pillow covers to scented bath products and candles, I was swooning every where I looked. I love that they feature these artists and give them the opportunity to have their work be sold in store. I love supporting small businesses!
We had a blast with our #authenticityrules Instagram challenge, and I even got to meet some blog followers which was so fun!  I really enjoyed helping style customers to find their perfect look, and even some of the employees too!
Last, the Westport Lou & Grey team is pretty amazing. I felt like I fit RIGHT in with them, and could totally work alongside those girls. I feel like the employees and their attitudes and drive toward their job really says a lot about the company. You can tell each girl truly enjoyed working at Lou & Grey and really loves the brand as a whole. That made it al the more fun for me. (thank you, girls!).
A huge THANK YOU to the entire Lou & Grey team for giving me this opportunity! Words cannot fully express my gratitude 🙂
Next week I'll be sharing a little tutorial to go along with Lou & Grey's comfortable chic vibe, so check back for part 2!