While the majority of my makeup are high end brands, I have a few tried and true drugstore favorites that I will ALWAYS go back to. I'm always looking for great drugstore suggestions (especially if you need something in a pinch!), so I love when other bloggers share their drugstore beauty faves! This post is for all you budget friendly babes out there, and I'm hoping you'll share your best drugstore beauty products with me as well!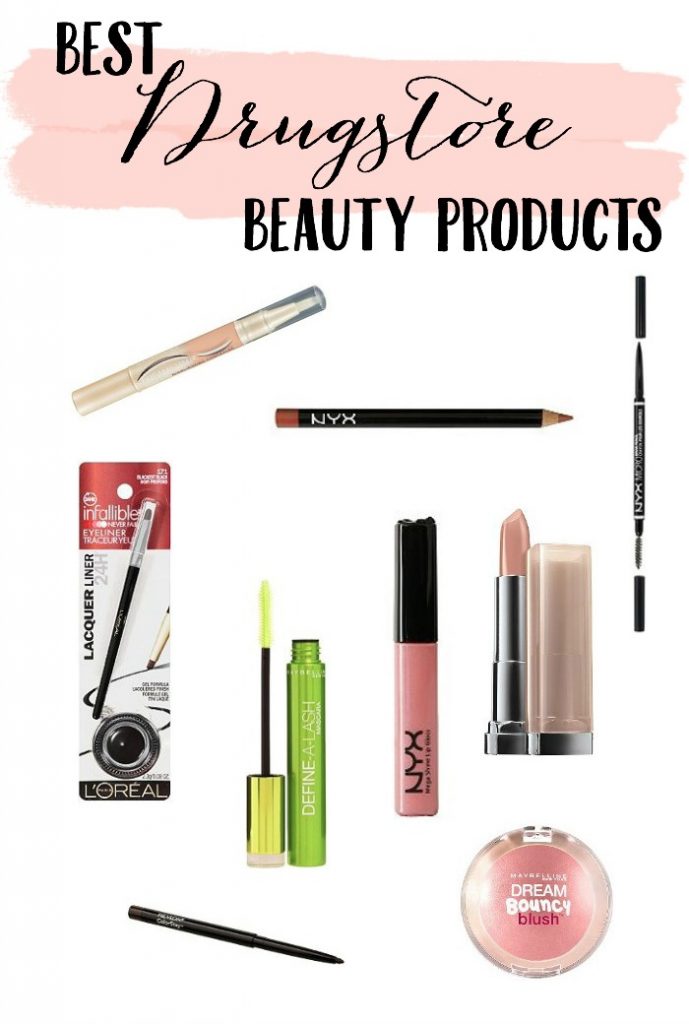 1. Best Concealer: Maybelline Dream Lumi Touch Highlighting Concealer. This stuff is not only a great concealer, but a fantastic highlighter as well. I came across this from a suggestion of a favorite beauty blogger and it's now a product that's always in my beauty bag. While it doesn't last as long as my more expensive brand of concealer, it definitely does the trick and is budget friendly! I'm a stickler for good mascara, so take my word on this!
2. Best Gel Liner: L'Oreal Infalliable Gel Liner. I use this daily. I know makeup artists who swear by this stuff in their kit! It's perfection for like $10. Better than some of the more expensive stuff, and lasts FOREVER. It truly stays on all day without any melting. I use the Espresso color because it's like a black brown, which is my preference. The little brush is comes with is great too (I've yet to buy a different one!).
3. Best Mascara: Maybelline Define-A-Lash. So I'm also a big stickler on mascara. I keep going back to this one anytime I'm in a pinch for mascara on the fly. I feel like it really lengthens and defines my lashes, which is a must for me. I prefer lengthening over volume! They also have a waterproof version for days you need it 😉
4. Best Blush: Maybelline Dream Bouncy Blush. A really great drugstore option for blush, I suggest applying it with a stippling brush. This was also a recommendation from a favorite beauty blogger who has yet to steer me wrong.
5. Best Pencil Liner: Revlon Colorstay Eyeliner. I've been using this for YEARS. Literally years. And it's almost always sold out in the store, so I know it's a good one! This stuff stays on all day no issues. I've tried other drugstore brands, and NONE compare to this bad boy. I always have one in my purse makeup bag!
6. Best Lip Pencil: NYX Slim Lip Pencil. I love how cheap these lip pencils are, and the array of colors they come in. I have 3 that are my go to depending on what color nude lip look I'm going for. For $3, how can you go wrong?! Stock up!
7. Best Lipgloss: NYX Lip Gloss with Mega Shine. The NYX line just rocks in general for their price point. I love how inexpensive these lip glosses are (which is good because I'm a lipgloss addict), and the colors are endless. I promise you will find at least one you love!
8. Best Nude Lipstick. Maybelline Color Sensational The Buffs Lip Color. You already know I'm not a fan of lipstick unless it's nude, and this line is hands down my favorite. I love Nude Lust for my skin tone. They go on smooth and look great paired with a lip gloss!
9. Best Eyebrow Pencil: NYX Micro Brow Pencil. While it's not my tried and true, this is a great brow pencil to buy in a pinch! I'm a stickler for brows, so I have one specific brand I use, but because they're so popular they're always out of stock! I'll grab this to hold me over in the meantime. And again, the price is worth it.
Now you might be wondering why I didn't include a foundation here. And the truth is, I haven't found a drugstore winner for me yet! Do you have one you love? What are your other favorite drugstore beauty products? Tell me in a comment below!