Hey babes! I'm excited because my friend Ruthie Ridley is going to be guest posting for me today! Ruthie writes a self-named life and style blog based in Northern California. I'm super jealous of the perfect weather she's been having while I'm over here sitting in the rain, so she's bringing a little bit of sunshine to the blog today! Enjoy! 😉
Hi there, I'm Ruthie! This is my first time guest blogging for the lovely Lauren McBride! I am currently in Northern California but I have known Lauren since my CT days and have always admired her matchless style. SO honored to come hang with you all today! Here in Nor Cal it has been anywhere from mid 60's to mid 80's on any given day! I can't keep up really, but none the less I am dressing for spring when I can, anxiously awaiting that summer heat! The outfit below is for a cooler spring day.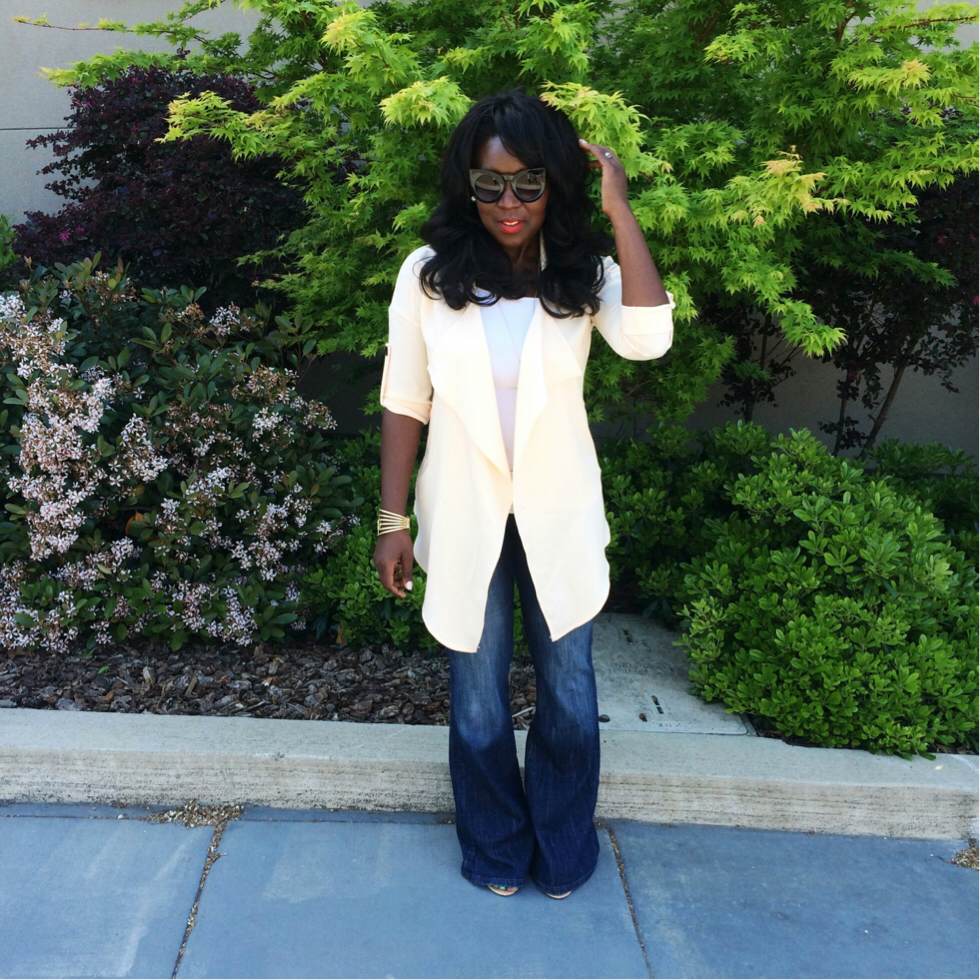 Sunglasses: Amazon
Blazer: Thrifed
Jeans: Hand me downs! (Low end Options: similar, similar; High End: similar, similar)
Shoes: Ross
I remember being in middle school wearing Bell Bottoms and loving them! These are not quite crazy as Bell bottoms, but they indeed have a bit of a flare. I know this is such a cliché statement, but fashion really does repeat itself, and I am learning more and more to hold on to things for longer periods of time. Flares are back in, so if you have em in your closet from 10 years ago, its time to take those bad boys out again!
Many of you don't know me yet, but I am a big bargain hunter-thrift stealer-consignment finding-clearance fanatic! I love to buy quality items for less. A lot of times that requires either waiting until prices get marked down or buying on consignment. This particular blazer/ jacket was bought on consignment and I am truly in love. It is comfy, cool, a light enough fabric and has a color just perfect for spring time and my skin tone. I paired this look with some edgy sunglasses and big hair to complete this look.
What are your take on flares?! Yay or nay?! Thanks so much for taking the time to read this post! Be sure to check out my blog Ruthie Ridley, and have a fabulous rest of your week!
Ruthie xoxo