Disclosure: This post is written in collaboration with Lunchbox and Simple® at Walmart. All thoughts and opinions are my own.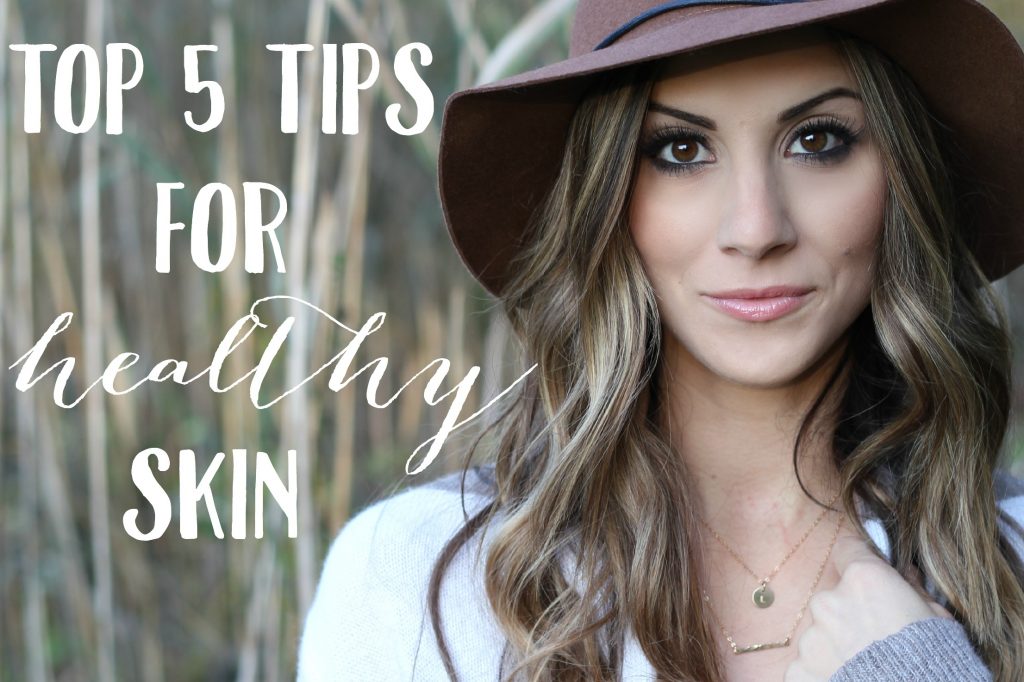 The day I turned 20, my mom said to me, "You need to start wearing an eye cream." She's always had amazing looking skin, so I (obviously) trusted her judgement and I've been wearing eye cream ever since. Along with eye cream, she told me how important it is to care for your skin, and that it should be a priority in your daily routine. Mama always knows best, right????
The skin is our largest body organ, and also the one that gets the most exposure to outside elements! It's also the first organ to show any signs of age. And I don't know about you, but I'm pushing 30 and that alone is making me panic a little bit, so I'm all "PREVENT THE WRINKLES!!!!!" over here! Today I'm sharing with you my personal top 5 tips for healthy skin because it's something I'm super passionate about!
1. Stay hydrated. I cannot stress this enough. There's a simple test I can perform that I learned in nursing school that will tell me if you're dehydrated and it involves your skin. Your body NEEDS water, and it will show in your skin if you aren't getting enough! I make it a point to have a large water bottle with me at all times, and refill it at LEAST once a day. And the more active you are, the more water your body will need. If you don't "like" water (I never really understood that, but I hear it all the time), try adding some lemon to it for a little flavor! And don't tell me your coffee or tea counts as water…it doesn't (I get that all the time from my patients). Coffee and tea actually DEHYDRATE you. You need water, and water alone!
2. Sun protection.  I will be the first to admit I have a love for the sun. But truthfully, the sun doesn't love me! Or any of us for that matter. Yes, we need a little Vitamin D, but continued, unprotected exposure will just lead to damage and potentially cancer. Wearing an SPF under your makeup is important, as well as on your body if you plan on being out in the sun. Lately I've been big into sun hats, and of course sunglasses!, if I'm outside for an extended period of time because it's extra face protection and I find I'm not squinting as much. They also make UVA/UVB protective swimwear and clothing!
3. Do NOT smoke. I can't even get into this without getting frustrated, but please just stop smoking. Not only is it awful for you, it's super unattractive. Yes, I'm totally the annoying person who will loudly cough if you're standing outside the front of a store I'm about to walk into blowing your cancer smoke in my face. Smoking basically suffocates your skin from oxygen and nutrients, and absolutely leads to wrinkles. I can always tell which of my elderly patients were heavy smokers because of their skin.
4. Proper skin care. This goes back to my mom and her eye cream. We need to take care of our skin! Even if you can't afford pricey skin care products, there are plenty of drug store brands that work equally as well, and are even dermatologist recommended.  I wash my face twice a day, apply a toner, eye cream, and moisturizer. I even change up my routines depending on the season because here in New England the weather is constantly different. I use something a little more moisturizing in the winter, and less moisturizing in the summer because I'm usually more oily. I will never NOT apply my eye cream or moisturizer, and I'm convinced this why people still think I look like I'm 18. Invest in some products and start using them. Your skin will thank you!
5. REMOVE YOUR MAKEUP!!!!!!! I'm using shouty capitals here! This is my PET PEEVEEEEEEEEE. I don't understand how some ladies can fall asleep with a full face of makeup on!!!! Yes I look awful without makeup, but whatever, my husband can deal with it! He chose to marry me, so what he sees is what he gets 😉 But in all seriousness, your skin needs to BREATHE. I've been using face wipes to remove my makeup for years now, and I'm currently loving the Simple® Cleansing Facial Wipes. They are tough on makeup, but gentle on skin. Simple® Facial Wipes have NO dyes, artificial perfumes, or harsh irritants that can upset your skin. I've used many brands in the past that end up burning my eyes or skin, and I have yet to experience that with this brand! I use them every night to remove my makeup before my nightly skin care routine, and also love them for a quick cleanse on the go!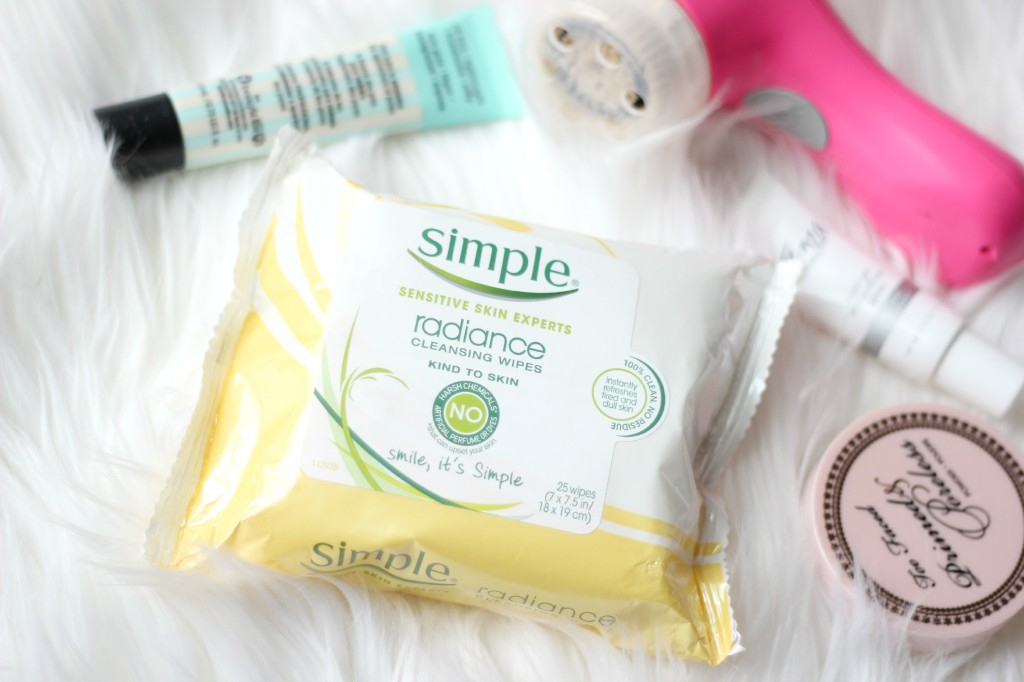 I hope you found these tips helpful, and I know your skin will thank you for them! Be sure to try Simple® Cleansing Facial Wipes to remove your makeup before bed; you can purchase them at your local Walmart! 🙂