Disclosure: Some items in this post have been gifted for consideration. All thoughts and opinions are my own.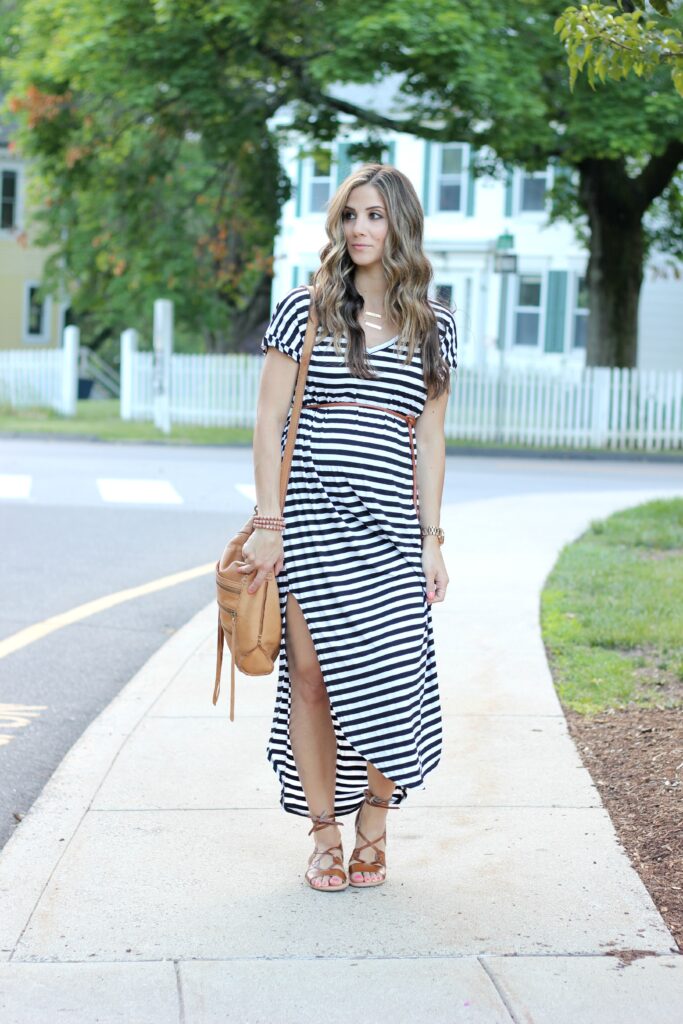 (20 weeks)
Dress: c/o Liz & Honey
Sandals: Old Navy (seriously….best shoes ever)
Bag: TJMaxx
Bracelets: Gold & Gray
Necklaces: The Silver Wren
There's a little trick I use to get my non-maternity dresses to last me through pregnancy: using a belt. Take this dress from Liz & Honey, for example. I love the oversized look of it, but anything oversized can make a pregnant woman look unflattering if not worn correctly. By looking at this dress on the website, I knew my little trick could get me by through pregnancy! I used a simple leather wrap belt and tied it in a knot off center around my waist…ABOVE my bump.  This cinches the dress and accentuates the bump! Easy, right?
While I'm loving the maternity clothes I've found, I also love finding pieces like this dress that can work during both time periods of my life. I know I've said this a million times, but I want to stress to you that you CAN be stylish during pregnancy without spending crazy money on pieces you may only wear for a few months. It's so important to shop SMART!
Okay so now the best part? Liz & Honey is offering 15% off to all of my readers using the code LaurenMcBrideFan15 at checkout. AND, there's ALWAYS FREE SHIPPING!! This Sabra Maxi Dress is only $30! They have some really great deals, so whether your pregnant or not, definitely check out their shop and take advantage of the coupon code! Happy shopping! 🙂

SHOP THE POST