This post is written in partnership with Lunchbox. All thoughts and opinions are 100% our own.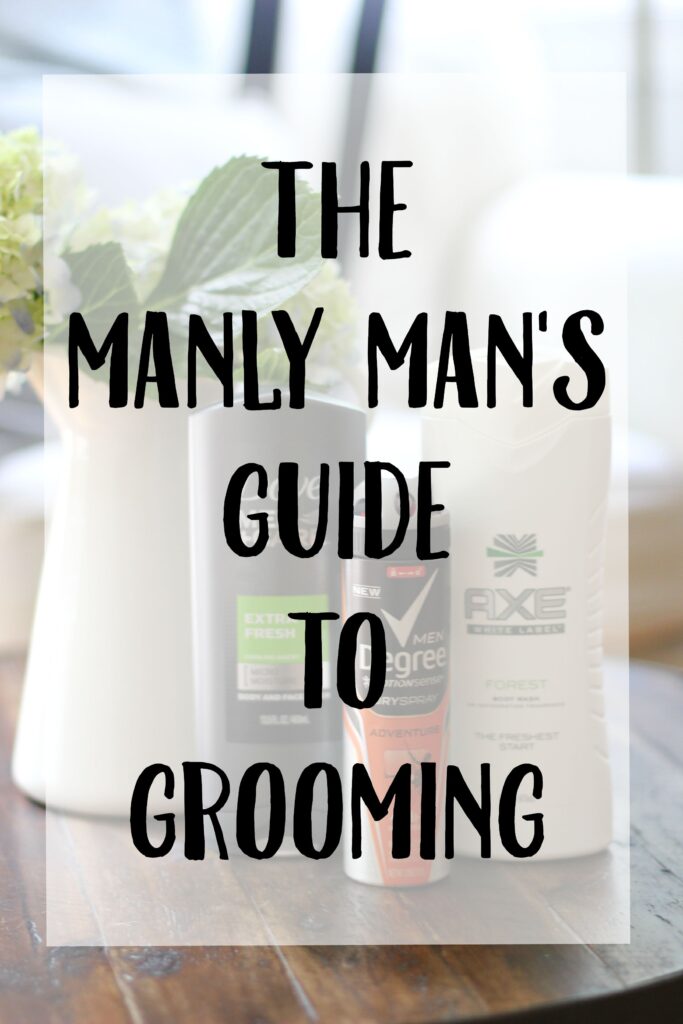 Today's post isn't your normal post because it won't be me writing it! Today we're talking MEN'S grooming tips which means I'm enlisting the help of my husband! Now I warn you…he is a manly man. There is not one ounce of anything even remotely feminine in this guy. He loves nothing more than wearing all camo everything, rocking a beard, and even owns clothing from 1997 (which I keep trying to throw away, but some how always manages to find it's way back into his closet). I know some of you ladies can probably relate with me on this, so this post is all about the manly man's guide to grooming! Because even the manliest men need to be clean! Here are his grooming tips:
1. Save time by multitasking. My wife takes like an hour to get ready on a daily basis. I can't imagine ever doing that. I leave early in the morning for work, and have minimal time for myself at the end of the day because that's life with a pregnant wife and toddler. So my showers are short and sweet, and lasting all of 5 minutes because my wife usually has some project for me to work on after our son's bedtime. I like using AXE White Label Forest 2 in 1 Shampoo + Conditioner because it saves me a step in the shower since it's a combination product. Maybe they should make more women's shampoo like that and then my wife's showers won't take so long….
2. Don't overdo the cologne. No one wants to smell you from a mile away. I keep it simple and use Dove Men+Care Body and Face Wash Extra Fresh which has a masculine scent that's strong enough to last all day, but isn't the slightest bit overpowering. I work in a trade and I'm frequently entering residential homes; I want to smell decent without burning anyones nose off, know what I mean? Using a simple scented body wash is enough to keep me fresh. At least until the end of the day. My wife has to love me no matter how much I smell.
3. Take care of body odor. I don't need to smell like BO. Because my job requires physical labor, there's no way I can go without deodorant for a day. And I know my customers wouldn't enjoy it if I did. I even keep a spare deodorant in my work truck to reapply if needed. Degree Men MotionSense Adventure Dry Spray Anti-Perspirant is great because it goes on dry and stays that way all day long. And I don't get those nasty pit stains midway through the day. Degree has always been my go-to deodorant brand, and I was impressed at how much I liked this dry version as opposed to a regular stick deodorant.
4. Shave and trim appropriately. There's a difference between having a beard and just not caring. Lucky for me, my wife actually prefers a bit of a beard (which means less shaving for me!). But if I don't at least trim or maintain it, it can start to look pretty haggard. I'll touch it up every few days to keep it neat.
And that's it! I gotta say, I'm kind of happy my hubs doesn't take long to get ready…it gives ME more time to 😉 Dale Earnhardt Jr. is teaming up with Walmart to help shoppers get #LegendaryLooks with products from AXE, Degree, Dove Men+Care, and Suave Men Heritage. Check out all products made specially for the guy in your life, available at Walmart! You can also see Dale's personal #LegendaryLooks story here.
I can promise you one thing..they will help stop your man from using your own very expensive shampoo and conditioner!! Trust me.