Who doesn't love a great giveaway? Today I'm teaming up with some fellow mama bloggers to bring you this Mama on the Go Giveaway! As a mom on the go, I can attest to the fact that all of these items are super necessary. I try to get out at much as possible with Landon because it's good for me AND him. I know this will only get harder with a newborn in the picture, but I'm hoping we can venture out a bit when the weather isn't too cold so we can all get some fresh air. I always keep a packed diaper bag in the car stocked with necessities…some of which you can find here!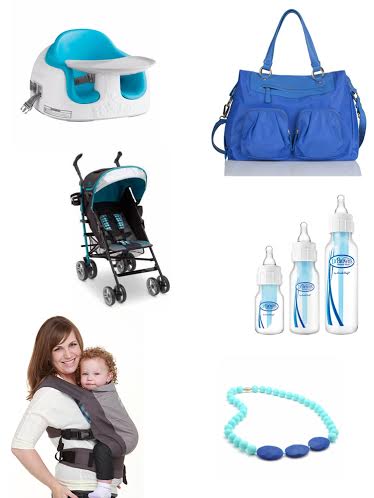 TWELVE little Diaper Bag: What mama on the go doesn't need a great diaper bag? I love that this one has the cross body option (this is always my preference!)
Dr Browns 2 Options Bottles, 1 Hard Spout Insulated Cup, 1 Glow-in-the-dark Pacifier Set and 1 PreVent Contoured Pacifier Set: I plan on trying Dr. Brown's bottles this go around because I've heard awesome things. All of my pump moms used them and swear by them!
Chew beads Necklace and Stroller Teether:  I had a Chewbeads necklace with Landon and loved keeping it in the diaper bag. He chewed on this thing more than ANY other teether, so I'm definitely investing in a new one for this new little love.
MobyGo Carrier: Moms, if you haven't tried baby wearing, you're missing out. I'm not a huge baby wearer, but man oh man does it make things easier! I have a feeling I'll be wearing this baby a lot more than my last one seeing as I now have a toddler to chase around.
Bumbo Multi Seat: Great for feeding, playtime, change of scenery…we used our Bumbo all the time with Landon and will definitely be using it again!
Jeep Scout Stroller from Delta Children: Super cute and lightweight, the perfect stroller for moms on the go!
Enter via the Rafflecopter below for your chance to win! GOOD LUCK!