This post is written in collaboration with Pergo. All thoughts and opinions are my own.
One of the main features we loved about the home we recently moved into was the limited amount of work it needed. Sure, we wanted to make it our own, but structurally nothing needed to be done. We (me) were able to envision the potential it had and knew it would be a work in progress during our time here.
Why We Chose Pergo Flooring
One of the larger projects we had planned to tackle was to rip up the kitchen and dining room floor. The kitchen floor was laminate and a strange green color that was so not my style. The dining room was tile. Tile freaks me out as a mom because I fear my kids will fall and smack their head on the ground while playing (this may be me being neurotic, but I would just rather NOT have tile!). So the tile had to go, especially in a main living area (bathrooms are a different story). We wanted to choose a safe, quality floor that would hold up against the elements and last a long time, which led us to researching Pergo laminate flooring.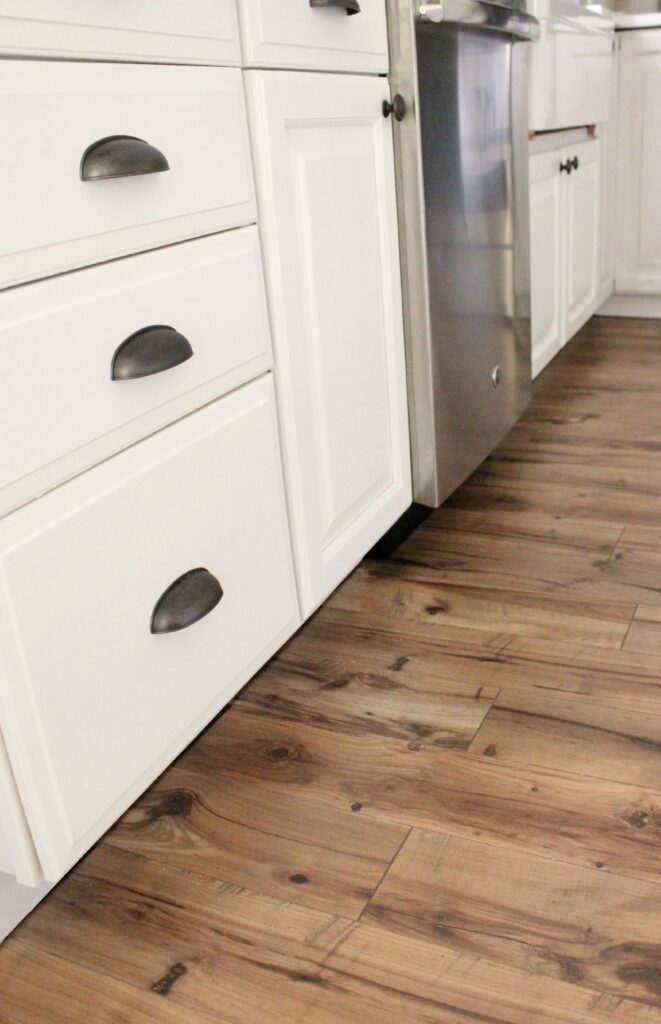 Why choose laminate vs. hardwood flooring?
We wanted laminate flooring that was resistant to the elements. We have a toddler. We have a dog. Which means the floors are being pounded on ALL DAY LONG. We had the existing hardwood flooring on the main level refinished, and it's already scratched up! Which, as you can imagine, is not making me happy. Pergo laminate is resistant to scratches, stains, impacts, and everyday wear. AKA, life resistant. Or toddler/dog resistant.
Why choose Pergo?
Since Pergo invented laminate flooring, we knew they were the best. Pergo floors are made from the highest quality materials that are safe for families. It's also made in the USA (something that's important to my husband), made from recycled wood, and contains no harmful chemicals or VOCs. We also wanted to install the flooring ourselves (big DIYers over here). We wanted to save on flooring installation costs, so the Click Together Joints Pergo features was intriguing for us DIYers. No nailing, stapling, or gluing was involved and we were able to install it right over the former subfloor. All Pergo products are backed by a lifetime warranty, which is great for peace of mind. It's also super low maintenance….perfect for young families (because who has time for anything high maintenance?!).
Why and how did we choose Providence Hickory?
When choosing a color and texture of flooring, I knew I wanted something that I wouldn't grow to hate years down the road. I fell in love with Coastal Pine, but then started to wonder about 5 years from now. My style changes, which is to be expected, and what I loved five years ago is so different than what I love now. I mean, I wouldn't even do my wedding the same! So I wanted flooring I would love forever and ever, or at least longer than 5 years. 😉 I also wanted to keep it somewhat similar to the existing hardwood flooring in the living areas. I decided to get samples of Riverbend Oak, Providence Hickory, and Crossroads Oak because they were all pretty similar in color but had different grains of texture.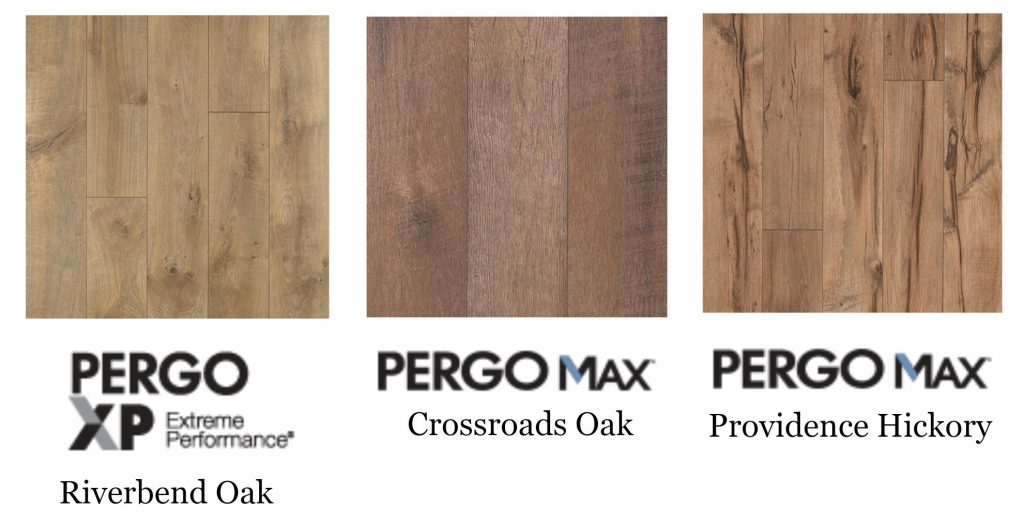 Crossroads Oak was beautiful but not exactly what I had in mind. Riverbend Oak was absolutely stunning, but the planks were really wide. Which would be fine, but seeing as the rooms we were placing the Pergo flooring in were adjacent to the existing hardwood floor, I wanted something closer to the width of the hardwood. Providence Hickory had the perfect grain, color, and width and I fell in love with it immediately. I envisioned an all white kitchen with rustic looking floors when we first saw the inside of this home, and Providence Hickory was exactly what I had imagined. And again, it wasn't something I would get sick of in 5 years. I actually love the Providence Hickory more than my finished hardwood floors!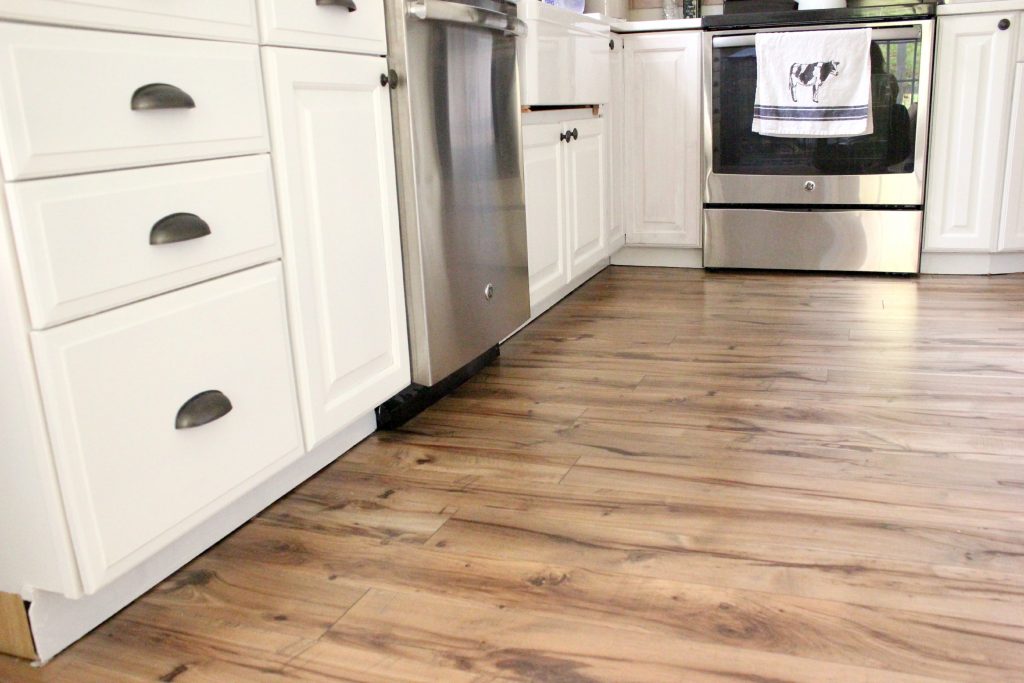 Be I'll be blogging our progress and some tips on installation along the way, so stay tuned for the full reveal! In the meantime, you can view Pergo's collection of high quality laminate flooring here! I highly recommend considering Pergo for your home!