This post is written in collaboration with BumpNest. All thoughts and opinions are my own.
While this pregnancy may have been harder on my body, it was easier in the sense that I knew what to expect. I had been there, done that, and knew what was necessary and what wasn't. I have had different symptoms that I didn't experience with my first pregnancy (nausea, heartburn) but that's just how pregnancy is. They're all different! Today I'm sharing with you my pregnancy must haves…the tried and true items that have gotten me through these last 9 months!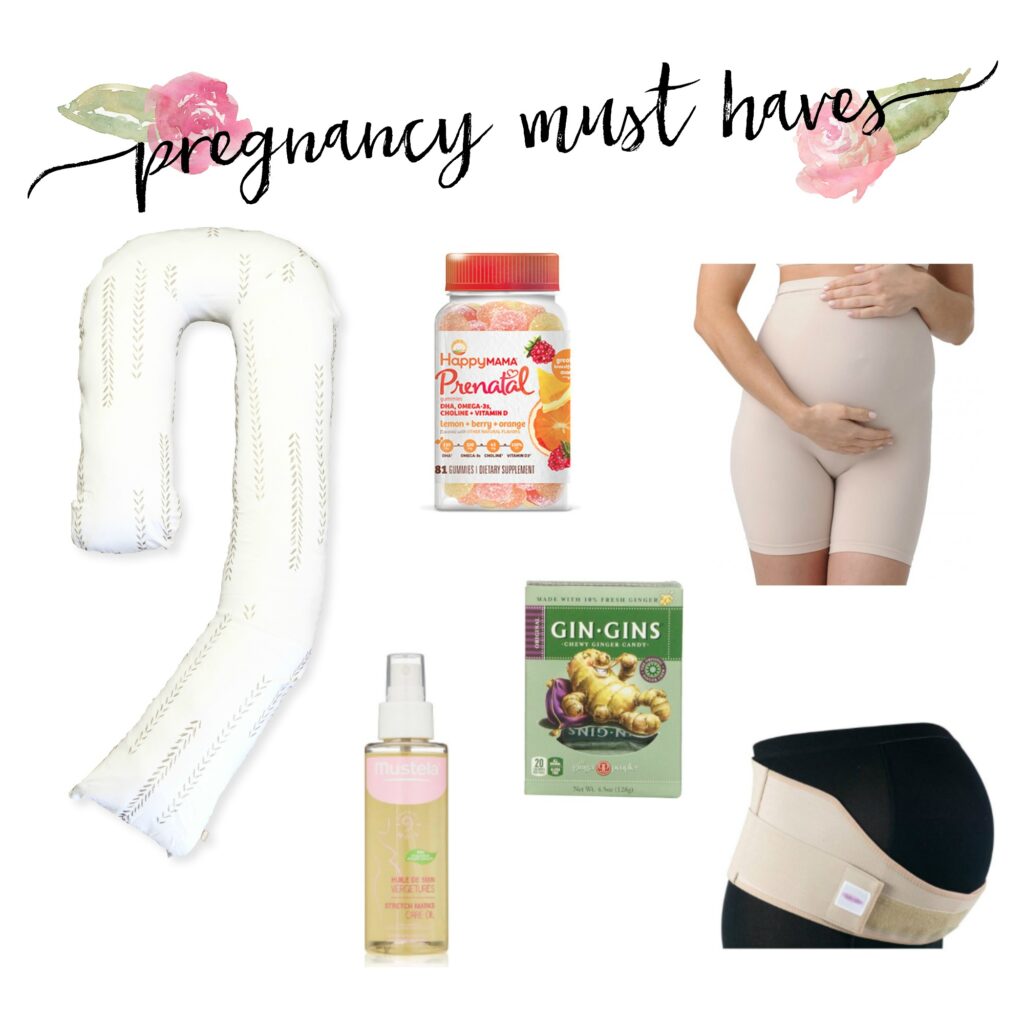 Mustela Stretch Marks Care Oil: I used a different brand during my first pregnancy and was given this brand to try this go around. I love that it's easy to spray on, and even more so that it's lasted me the full 9 months! And while stretch marks are hereditary, I have yet to have any appear, so I'd like to think it's doing it's job. 😉
Gabrialla Elastic Maternity Support Belt: I never used this during my first pregnancy, but baby girl was SUPER low this time and left me really, really uncomfortable as my belly grew. I had insane amounts of pressure and discomfort….from like 5-6 months on. A friend of mine (and then my midwife) suggested trying a maternity belt. I got this one off Amazon.
Ginger People Gin Gins Chewy Ginger Candy: I had terrible nausea the entire first trimester of my pregnancy. So much so that it was difficult to make it through my work day (as a nurse, mind you). I ended up getting a prescription for the days I was working because it was so brutal, but otherwise these ginger chews helped a LOT!
Happy Mama Prenatal Gummies: We love the Happy Family brand in our house…Landon loves their pouches (seriously so great for on the go!), rice cakes, Creamies, you name it! So when I learned they came out with a line specially for mamas, I was intrigued! They sent me their Prenatal Gummies to try out and they're SO GOOD. Totally using these for breastfeeding too!
Belly Bandit Thighs Disguise: Back to needing belly support, the Belly Bandit Thighs Disguise is AH-mazing. Amazing! It's like wearing control top pantyhose while supporting your belly! I've worn these under dresses which gives a nice silhouette shape and belly support simultaneously. The best part is they can also be worn postpartum as shape wear. These are especially great for women who have to wear business casual office attire daily. I really love the entire Belly Bandit line (I used the actual Belly Bandit itself after Landon was born), so it was no surprise that I really liked this product too.
BumpNest Pregnancy Pillow: I never bought a pregnancy pillow with my first pregnancy. That was probably the DUMBEST thing I could've done. I remember being so uncomfortable  and needing like 5 pillows to get myself in a position where I could somewhat adequately sleep. This time I've been using the BumpNest pillow and guys….I feel like I'm sleeping on a cloud. IT'S SO COMFORTABLE. And there's still room for my husband in the bed! 😉 I even tried to sleep without it one night and NOPE, I was all "gimme back my pillow!!!!!!!!" So while I still had pregnancy insomnia (totally normal), at least I was comfortable when I was up for hours scrolling through Pinterest on my phone. I've also positioned it to support my back while sitting in bed blogging late hours of the night. I've also used it during lazy mornings where I wasn't quite ready to get out of bed and brought Landon into bed with me to have his morning milk 😉 He gets a kick out of wrapping it around him, too! Overall, it's made sleeping during this pregnancy a heck of a lot more comfortable than last time (insomnia aside).
I'm excited to announce that BumpNest has been kind enough to giveaway ONE pregnancy pillow to an expectant mama! The giveaway runs from October 29th-November 5th and is open to US only. Enter via the Rafflecopter below (if you're on mobile, click "A Rafflecopter giveaway"). GOOD LUCK!