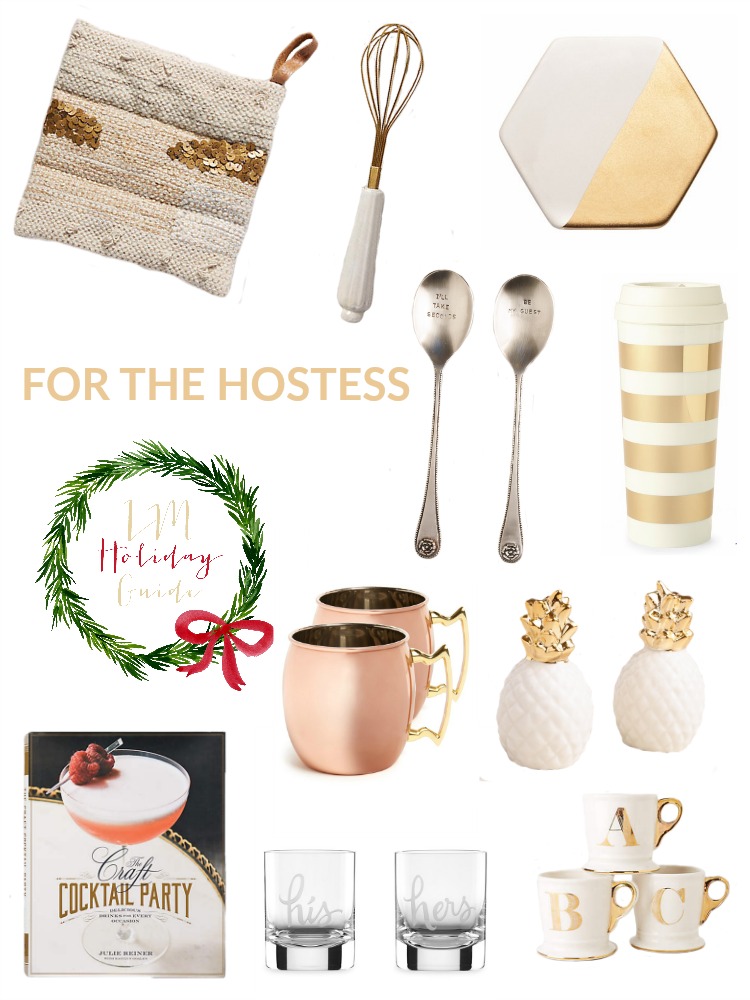 Gold Stripe Thermal Mug // Moscow Mule Copper Mugs // Coasters
 His and Her Glasses // Serving Spoons // Gold Monogram Mug
Sequin Potholders // Cocktail Book // Whisk //  S + P Shakers
Today we are kicking off the first of many holiday gift guides that I have planned for you this year! I've carefully curated each guide to have a variety of price point but yet not break the holiday shopping budget (because we all try to stick to that, right?). I'll be posting each guide on Instagram as well using the hashtag #LMHolidayGiftGuide so you can easily follow along and shop from there as well. Anything to help make your holiday shopping a little easier!
Our first guide is for your hostess with the most-est. It's always nice to gift the hostess of the holiday party you're attending because of the amount of work and time it takes to set up, throw, and clean up a party. Bringing a little something (even if it's a bottle of wine) helps me say "Thanks for letting us trash your house!) 😉 This gold stripe thermal mug is so cute for on the go, and theses moscow mule mugs are great especially if your hostess is a cocktail lover. The gilded detail of these coasters adds a chic touch, and what better to place on them than these His and Her glasses (perfect especially for newlyweds!). These serving spoons are sweet with their hand-stamped detail, and this gold monogram mug has always been a favorite of mine (I buy them for everyone). I can't get over how gorgeous these sequin potholders are (I think I need to gift them to myself). This cocktail book is a fun treat for a holiday party. This fancy whisk is great for the hostess who cooks, and who doesn't love mini pineapple salt and pepper shakers?!
Stay tuned for more great holiday gift guides!

SHOP THE POST