I feel like we have a million projects going on at once over here. Because…we do. Our kitchen is still currently under construction, although almost complete. The flooring has been installed, cabinets painted, new countertops in place…we are just finishing paneling the walls for an added farmhouse touch which will be followed by some paint. Once that's installed, the kitchen will be done! We still have a lot of trim to paint in various rooms of the house, and I still need furniture for our living room, but everything has been put on hold with the arrival of our baby girl. However, I've had some extra motivation to get our guest room in order since we've had more guests (really just my mom) coming to visit.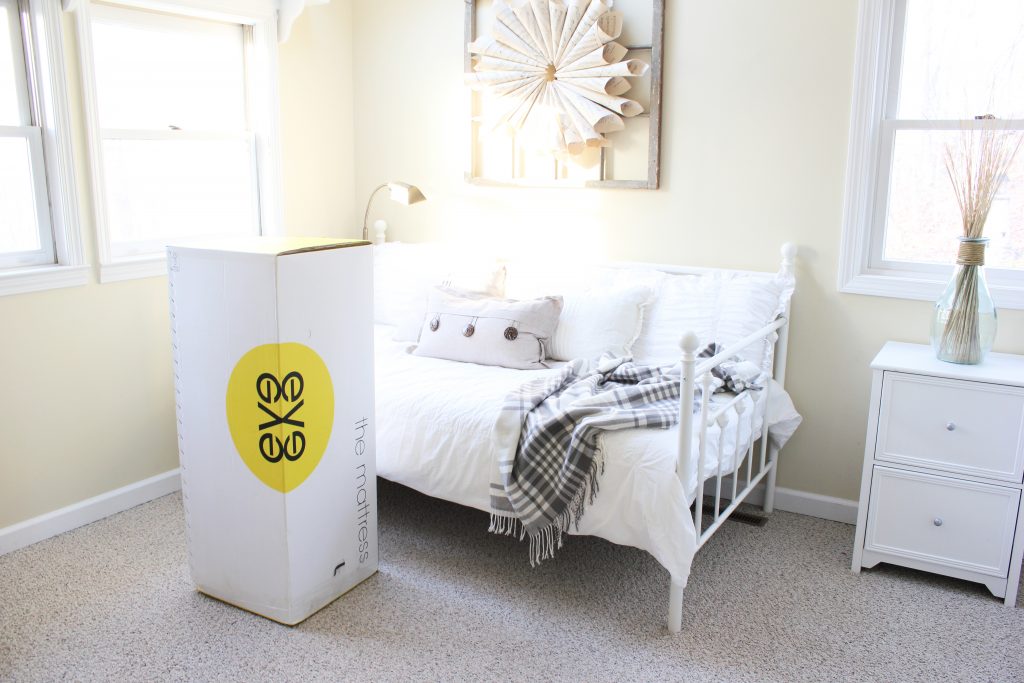 Our guest room is in the back of our house off the den and also has a small office area built into it. It's serving as a guest room/office/playroom for the time being. It also shares a full bathroom that's connected to the laundry room, so its really a great little space for overnight guests. Since the only person really ever visiting is my mom and maybe our friend from Colorado, we decided all we needed for now was a twin bed with a trundle. The room isn't too large, so we chose a daybed to get the most out of our space. Thanks to eve, this bed recently got a mattress update which my mother is highly thankful for seeing as the last one was not nearly as impressive!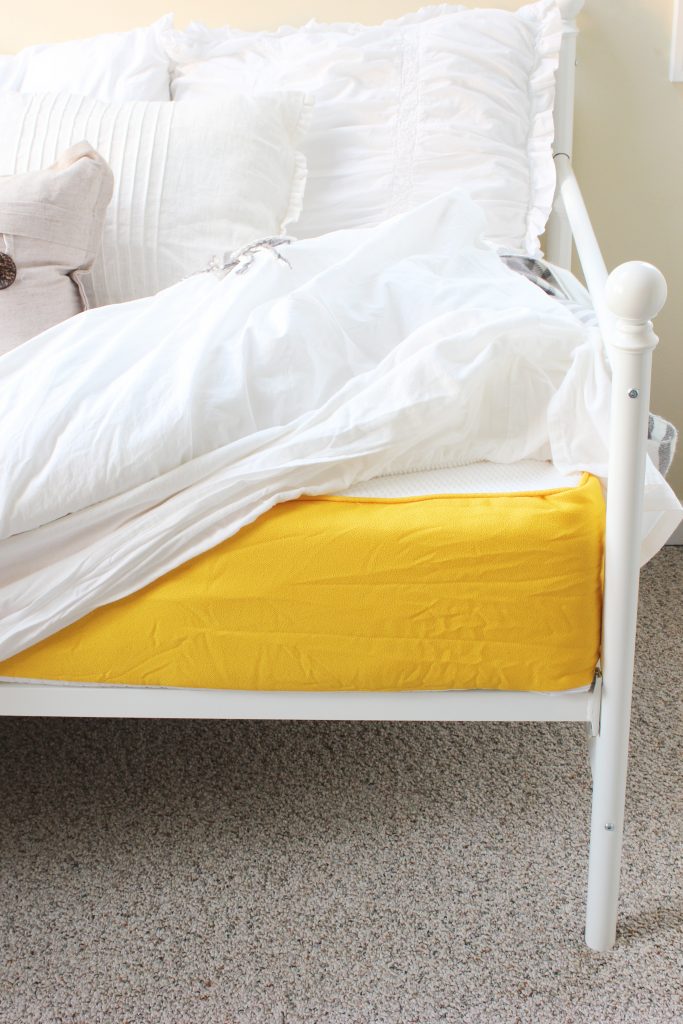 Really, who needs decor when you have a glorious new mattress for your guests? But if you know me, you know this space is about to undergo an update. My plans are to paint the walls White Dove by Benjamin Moore for a nice clean slate, and also because I don't like yellow walls. I will keep the window frame and sheet music wreath above the bed, but will be replacing the small lamp in the corner. Blinds and possibly curtains will be installed, and I found the sweetest jute rug to place underneath the bed. I recently purchased a vintage dresser that's been refinished in a beautiful distressed white which will go under the window next to the bed. As far as the office area goes (which you can't see because it's a DISASTER), I'll be removing some of the shelving, repainting, and sprucing it up with some simple stationary boxes for storage. Then it's simply adding some decor to the walls, which I already have in the rest of the unpacked boxes still living in our bedroom.
Hopefully this will all take place within the next month before the holidays, but in the meantime my mom has a glorious new mattress to get comfortable on! So who is eve? The UK's beloved mattress brand that is coming to the US this November. The eve mattress is a foam mattress and combines 3 different types of foam to one ridiculously comfortable mattress. The bottom layer is a 17cm ultra-resilient base foam, the middle layer is made from 4cm highest quality, luxurious memory foam and the top layer is 4cm natural latex which is antimicrobial and adds bounce.  This sandwich makes for an incredible cloud-like sleeping experience, supports in all the right places and helps prevent aches and pains.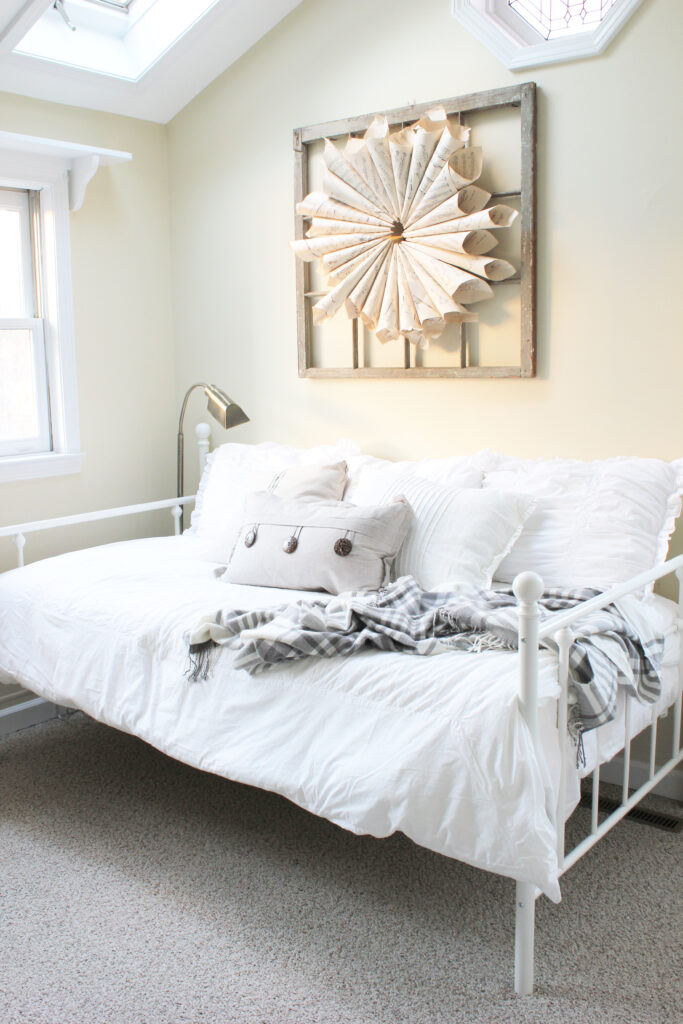 What I love is they offer a 100 night trial and offer a full refund, no questions asked, if the consumer is not happy with the mattress.  The mattress is also delivered vacuum sealed in a box, making it easy to fit through every door frame and carried up flights of stairs. Gotta love convenience!
 I encourage you to visit the eve website to learn more about how to get your very own eve mattress delivered to your doorstep! Stay tuned for the complete reveal of our guest room!