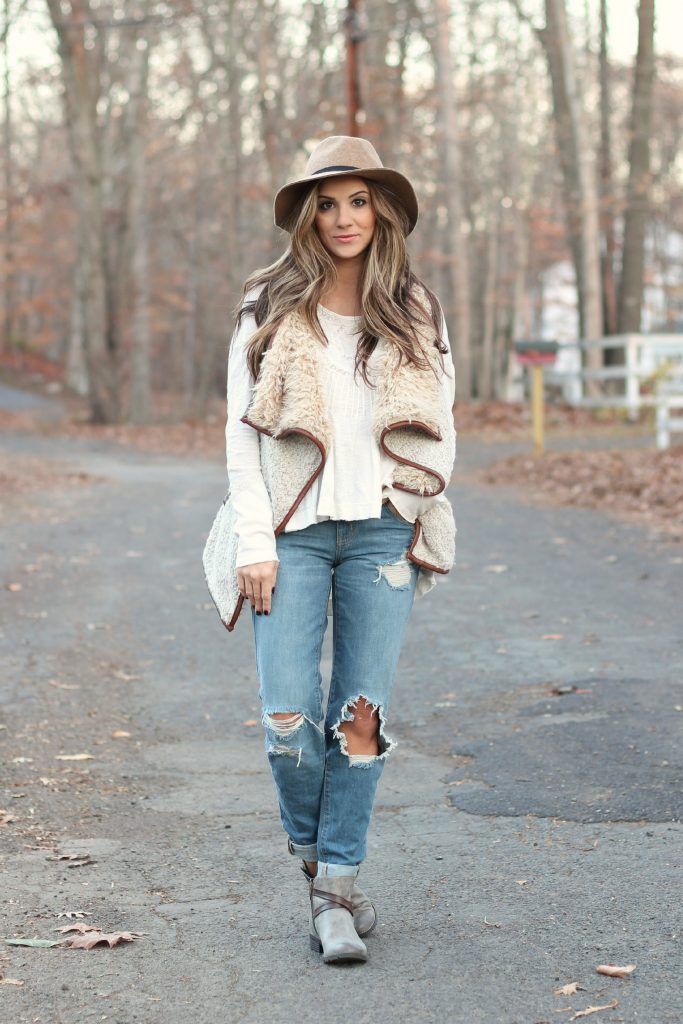 Vest: c/o Liz and Honey (similar) // Top: Free People // Jeans: Target // Shoes: c/o Rack Room Shoes (similar) // Hat: Nordstrom
This vest is back! Seriously, it's probably my favorite item in my closet. It's so incredibly warm and I feel it looks great over everything. Definitely a great investment if you're looking for a less traditional faux fur vest. I love the flounce in this Free People top and how it looks with boyfriend jeans and these Rack Room Shoes lugged sole booties. The mix of feminine with a slight masculine touch really works with this outfit. Also, flouncy tops = nursing friendly!
Today is my first day home alone with two kids. To say I'm nervous is an understatement. I'm praying I'll be able to evenly divide my time and attention between the two. Most moms I speak to tell me the transition from 1 to 2 kids is the hardest, and I can see why. I feel guilty that my son has had all my attention on him and now it has to be split. I've been trying to involve him in caring for "baby sister" and he really does LOVE her. He's always kissing her head or patting her back, and is constantly looking for her if she's out of his site. It's really sweet! But I also know that he needs me a little more than her right now because he's the one more aware of what's going on. So my plan for today is to put Noelle down in her rock n play whenever she's sleeping and spend some quality time with my first born. Luckily mama and Gigi were smart and stocked up on lots of crafts pre-Noelle, so we'll be having fun with stickers and watercolor paints all day and hopefully getting outside for a little bit if it's not too cold. Wish me luck!

SHOP THE POST


Free People Liz and Honey Nordstrom nursing friendly fashion Rack Room Shoes