Thank you to Skip Hop for sponsoring today's post!
I love this time of year because of the insane sales going on from Thanksgiving through the end of the year. I know, I know, I should be using this time to purchase my holiday gifts (and I do!), but I can't help but snag some great deals for our family too! Some of the deals are just way too good to pass up. I'm sure you understand, right?!
One of my favorite children's brands, Skip Hop, is offering a HUGE Black Friday deal that I just had to share with you. From midnight on Thanksgiving through Cyber Monday, Skip Hop is offering up to 50% OFF at skiphop.com! AND a gift with purchase over $80! Skip Hop has the perfect "Must-Have's Made Better" gifts for kids of all ages, and seeing as I'm now a mom of two (which means double the holiday gifts), I can use all the deals I can get!
I had a few of the Skip Hop toys for Landon, but I'm really looking forward to seeing Noelle play with some of the new ones! Skip Hop's new Explore & More Amazing Arch Activity Gym is perfect for tummy time and more. I love that the arch rotates to different positions for overhead and seated play as she grows.  And I LOVE that you can place your iPhone behind the mirror for easy photo-taking (what mom doesn't have like 943235275676 photos of their kids on their phones?!)! My mom likes to FaceTime with the kids every day, so this is perfect for that as well (she's one obsessed Gigi, let me tell you!).  There's such a variety of activities on this little mat and I love that her different senses will be stimulated. Landon enjoys playing with her on it too 😉 And as a part of Skip Hop's Black Friday and Cyber Monday deals, they are offering a FREE gift with purchase of the Explore & More Amazing Arch Activity Gym! You'll receive a Rattle & Play Jumbo Ball for free while supplies last!
Once Noelle is older, I can't wait for her to play with the Explore & More Egg Shaker Trio. Each animal makes a different rattle sound, and they're easy for her to hold in her little hands. Landon keeps pointing to the owl one and saying "Hoo hoo!"  The same goes for the Explore & More Roll-Around Rattle. I like that it's easy for her grab, and that it's rubber, which is perfect for when she starts teething. Skip Hop's toys are all BPA-free, PVC-free, and Phthalate free which is really important to me, so I can let Noelle chomp away with peace of mind. The Explore & More Activity Book has multiple textures to stimulate her, and her big brother got a kick out of it as well. Noelle told me that all of these toys are at the top of her holiday wish list and that they should be at the top of your little one's, too! 😉
We are also smitten over Skip Hop's new Pop Prints Layette collection. The colors of this layette collection are SO bright and fun and I love the prints! I'm also a fan of the side snap buttons because they make putting the footie on so much easier. I swear, once you have onesies with the side snaps, you never want to go back to regular onesies! They also have the fold-over mittens which are great because baby girl's nails are long and I'm still terrified to cut them. I keep trying to file them down because I'm so afraid of clipping her skin! So this buys me some time, ha!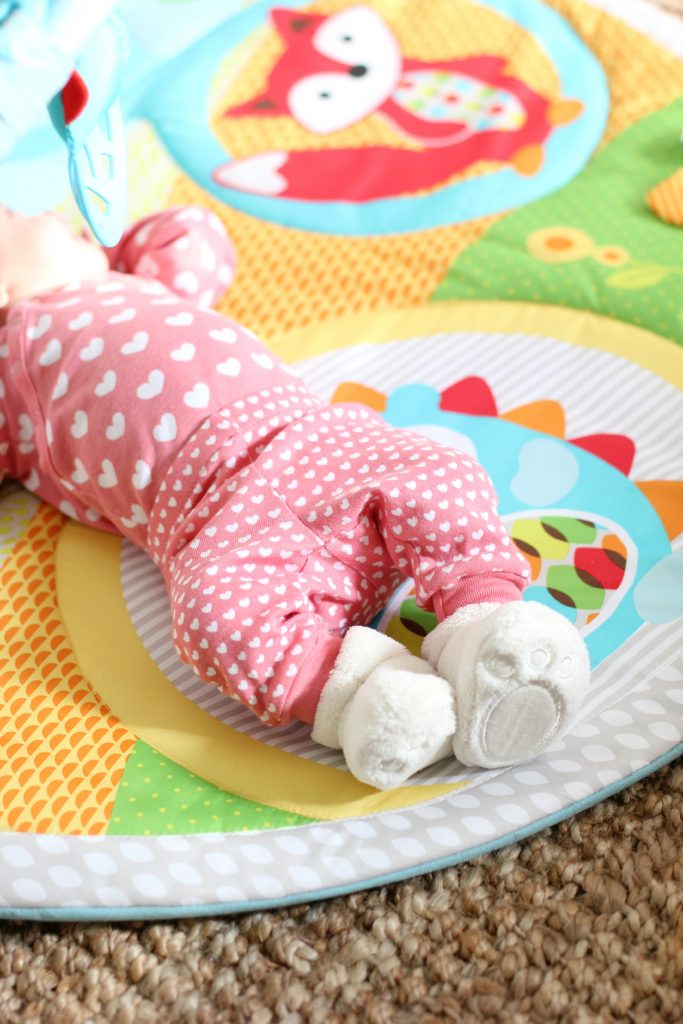 In my world of mommy friends, Skip Hop is known for their diaper bags. I'm pretty sure every single friend of mine owns one, with the exception of me until now (and I'm positive you know someone who owns one too!). And I totally understand the obsession. The Duo Signature Diaper Bag is MADE for parents. There are 10 pockets, two of them elasticized which are great for carrying bottles. The main compartment has a zip closure, which is important to me because I feel like my bag is always dumping over in the car leaving me digging for things in between my seats. It easily converts from a shoulder bag to a stroller bag, also key for me because it's nice to be hands-free when in a store (I hate having to carry more than I have to). There's also an easily accessible tech pocket which holds laptops and tablets up to 15″! I really like how this bag provides easy access to everything you need because my previous diaper bags tend to "lose" items inside of them. I also received the Grab & Go Double Bottle Bag to match for when Noelle is left with my husband on the weekends and starts taking bottles. This collection packs a big punch!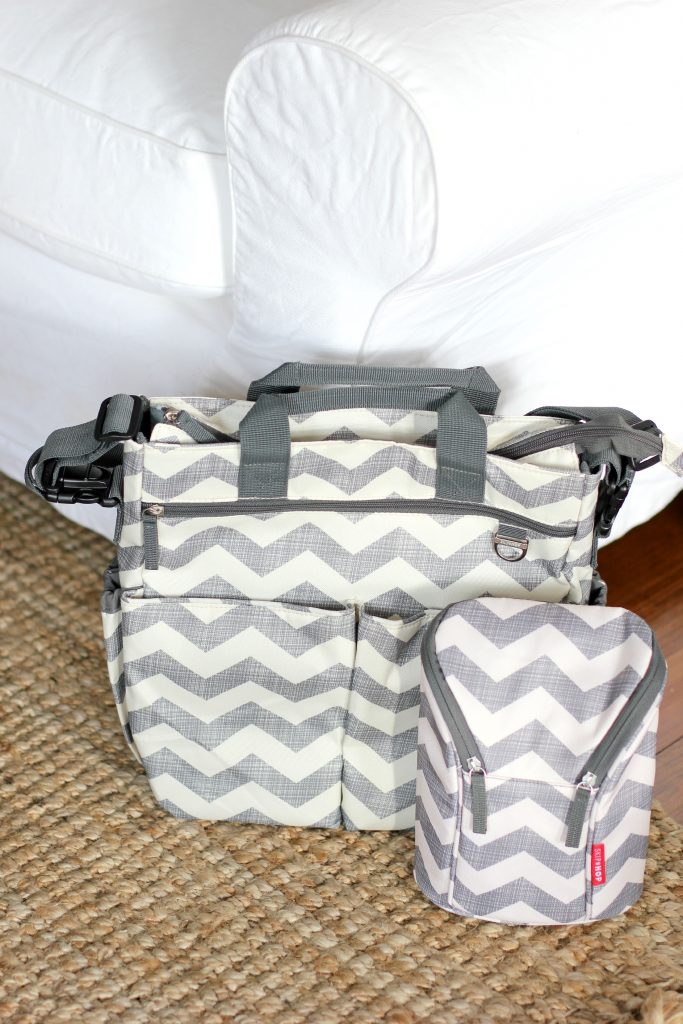 Have I convinced you to take advantage of Skip Hop's huge Black Friday sale yet?! They have SO many amazing products to offer that it would be foolish not to! The sale runs from midnight on Thanksgiving through Cyber Monday, and you'll receive up to 50% off at skiphop.com AND a gift with purchase over $80! And don't forget to grab the Explore & More Amazing Arch Activity Gym to get the FREE Rattle & Play Jumbo Ball while supplies last! Skip Hop is devoted to designing innovative "Must-Haves Made Better" products, and I know your family won't be disappointed!
Now for the best part….Skip Hop has been kind enough to give away an Explore & More Toys Bundle to ONE lucky reader! This bundle includes the Explore & More Egg Shaker Trio you saw above, the Explore & More Activity Book, Explore & More Roll Around Rattle Bee, Explore & More Roll Around Rattle Hedgehog, Explore & More Roll Around Rattle Owl, Explore & More Accordion Hedgehog, Explore & More Musical Instrument Set, and Explore & More Pull and Go Car (Bee). The giveaway will run from November 25th, 2015 through December 2nd, 2015. Enter via the widget below, and GOOD LUCK! (Open to US only).
Skip Hop Explore & More Toy Bundle