We live in a day and age where there is an intense amount of pressure to be "perfect." You know exactly what I'm talking about. We see it all over television, social media, and on the covers of magazines while in line at the grocery store. Pressure to have the perfect hair, perfect skin, perfect "thigh gap," perfect boobs, perfect body, perfect everything. We follow people on social media who seem to have the perfect life; their house is always perfect, they always look perfect, their kids are perfect. And it can result in you feeling like complete garbage about your own life! If you haven't been there before, I praise you, because I know I often get caught up in that. Or maybe you even look at my Instagram feed and feel that way about my life (but if you follow me on Snapchat, you quickly realize how different it is!).
There is a LOT of pressure on women these days – mothers especially. Affinitas and I are teaming up to bring light to this issue because it's so important for women to realize how powerful they really are! I'm going to be honest here – I was over the moon excited when I found out I was pregnant, but I was also a little nervous about the body changes I would be experiencing. I didn't know what to expect or how my body would react. Pregnancy can be REALLY HARD on the female body. We are growing a human being, and we experience changes physically, mentally, and emotionally. We undergo body changes for 9 months, and the changes don't stop after baby is here!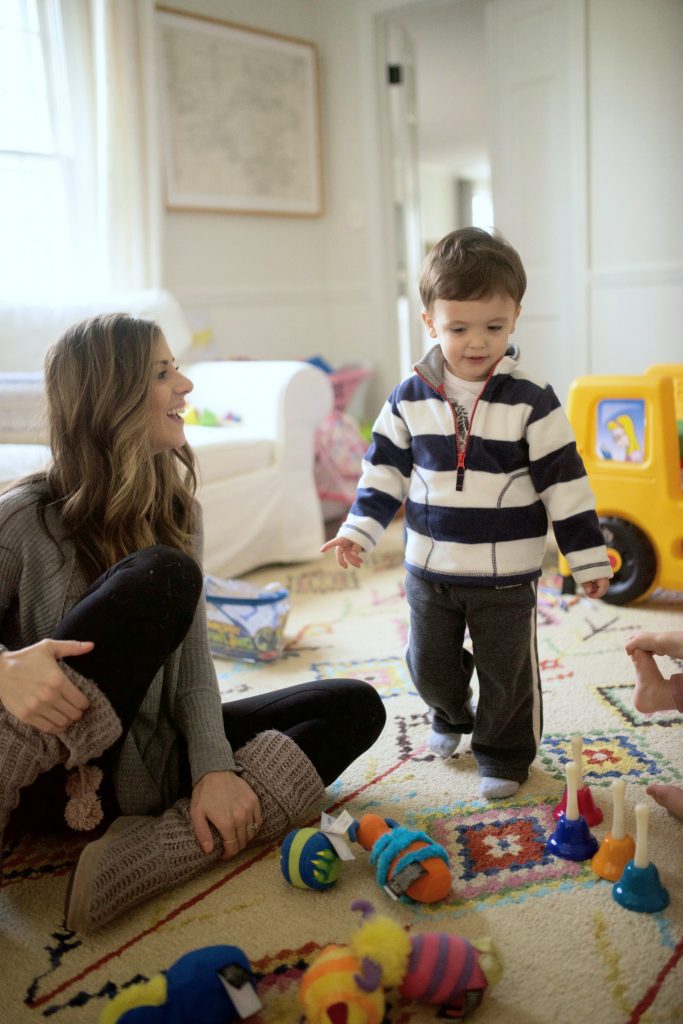 In today's society, women are expected to be: fit going into pregnancy, be fit and look amazing during pregnancy (but not too amazing because then OMG you aren't healthy and are starving the baby and everyone hates on you for looking good and not gaining a ton of weight), have a "natural" birth (because somehow if you have a cesarean you aren't as strong as a women who pushed a baby out of her vagina?), breastfeed (because if you don't you're a failure because formula is the apparently the devil), be back in shape within the first 6 weeks after birth (and if you are then people "hate women like you."), and stay in shape while trying to wrangle however many children you have, as well as work full-time (but not be away from your kids for too long), keep a clean house, cook meals like June Cleaver, and make Pinterest-worthy projects with your kids.
Sound familiar?
Why is there such pressure to be perfect? I'm changing that today. Instead of striving to be perfect, I'm striving to be perfectly IMperfect. And that starts with the acceptance of my postpartum body.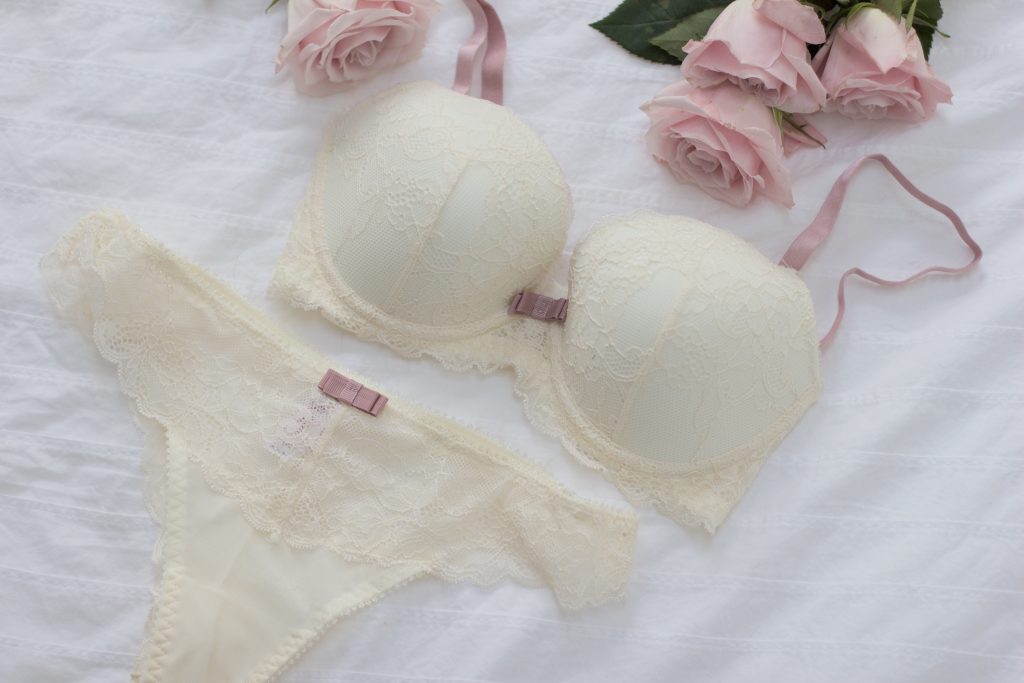 Before pregnancy, I…
Had rock hard abs. Had beautifully thick hair. Had (albeit, small) but perky boobs. Had toned legs. Had clear skin with almost no breakouts. Had zero stretch marks. And I wasn't completely exhausted.
After pregnancy, I…
Have a mom pooch. Maybe it will go away like it did the first time, but maybe not. A body after two kids is a lot different from a body after one kid (trust me).
Have wider hips. After all, TWO children came flying out from down there. It's only natural my hips had to make room.
Have hormonal breakouts. My hormones are up and down on a daily basis, which means my face breaks out on a daily basis. It's so frustrating because one day I feel fine, but the next day I could be a hot mess. But it is what it is!
Have thinning hair. My hair used to be SO THICK and it amazes me at how much pregnancy changes that. I lost my hair for 6 months after my first, and I'm almost at the point where that possibly starts again with my second. I've been taking biotin to help it, but oh man was it bad the first time. Basically my hair will never be the same.
Have dark circles down to me knees. I'm tired. Really, really tired. But that's what happens when you're raising young children. They're exhausting!
Have saggy boobs. Yup, I said it. Post breastfeeding boobs? Not fun. I'm so grateful for push up bras! And thankfully my husband is a butt guy too.
Sounds glamorous right? Guess what. IT IS. Because that pooch, those hips, the breakout-ridden face, the thin hair, the dark circles, and saggy boobs are all proof of the two complete MIRACLES that I gave birth to. The two precious human beings who I wouldn't trade anything in this life for. The two babies who I am so blessed to hold and have call me their mama. Having children is not an easy task; yes some women get pregnant without difficulty, and I'll forever be envious of those women seeing as we lost two babies in the process. But the reality of it is many women will never have the opportunity to experience holding their baby. And while many of us moms are over here complaining about our mom pooch and saggy boobs, those women would give everything just to experience that. So instead of hating on our mom bods and feeling the pressure of society to be perfect, we need to embrace them for what they are and what they accomplished. They created LIFE. And what's more powerful than that?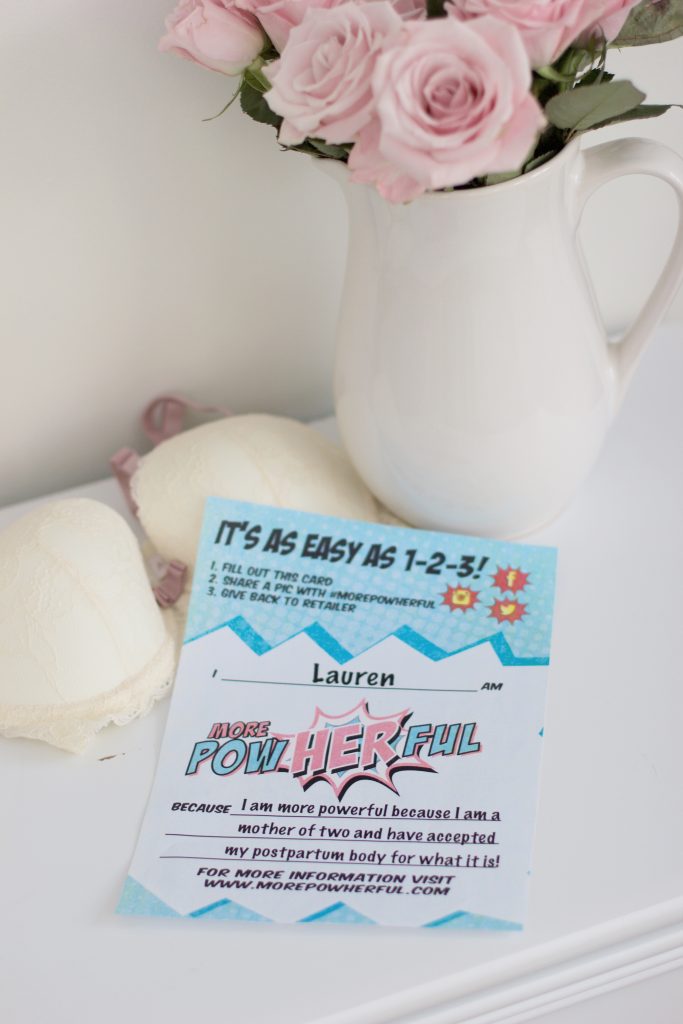 Right now Affinitas is offering an in-store sweepstakes for women to take the pledge to be more powHERful. Fill out the in-store form and upload a photo of you holding the form onto social media with #morepowHERful for entry! Give your form to a sales associate, and at the end of each month exam boutique will select a random winner to win a lingerie set!
Don't have a store near you? Don't worry because Affinitas is also giving away the lingerie set you see above to one lucky Lauren McBride reader! Enter via the widget below, giveaway will run until February 3rd, 2016 and is open to US only.
One Set of Lingerie from the Olga Collection