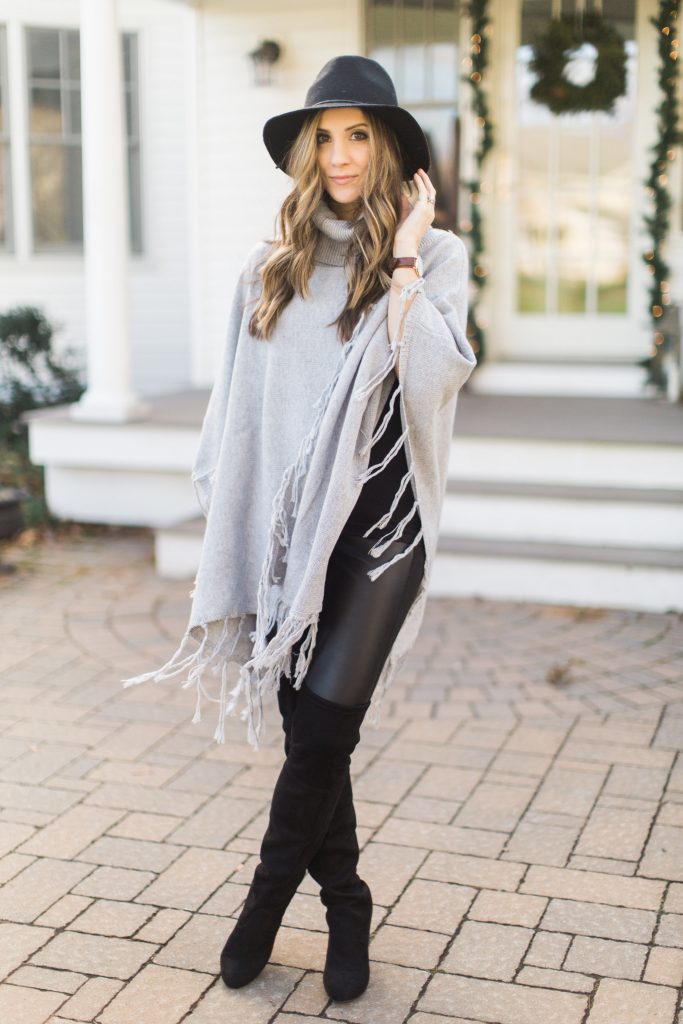 Okay, I realize how impractical this outfit may be especially after I just showed you an athleisure inspired look. But sometimes, very RARELY, mama likes to dress up! The hubs and I are long overdue for a date night, so I'm hoping we can make that happen in the upcoming weeks, and you can bet your life I'm rocking some heels like these over the knee boots. I love them because not only are they incredibly chic, but they always keep my feet and legs warm (practical!).
(Photos: Alicia Ann Photographers)
Poncho: c/o Pink Blush (similar, options) // Pants: Forever 21 (similar) // Boots: Steve Madden (options) // Hat: Target (similar, options)
I'm always drawn to bohemian inspired pieces, which is why I fell in love with this fringe poncho. While I dressed it up a bit here with the OTK boots and leather leggings, it could also be worn with some distressed jeans and booties for a more casual look. I love the turtleneck style, as well, for some added warmth. A wool fedora topped this look off with an extra bohemian touch. Outfits like this are few and far between lately, but I still enjoy putting them together in the rare chance I might get out 😉
These boots are similar to the beloved Stuart Weitzman Highland boots, but a fraction of the price…and who doesn't love that?
As a stay at home mom during the week (and one with a newborn), it's really easy for me to fall into the slump of a pair of Lululemons and a baggy top. The comfort, the ease…it just works. But if I'm leaving the house, I try to make it a point to actually wear the beautiful clothes I have hidden in my closet. While this might not be a standard outfit for me, I think it's important that, as moms, we remind ourselves that we still got it 😉
SHOP THE POST