Thank you to Rack Room Shoes for sponsoring today's post.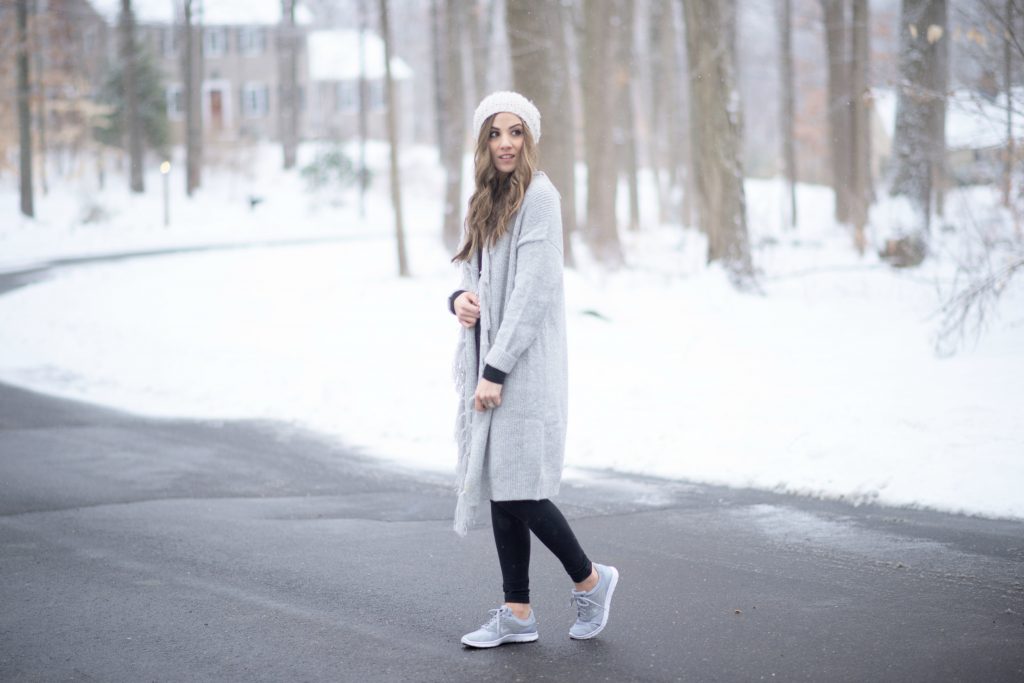 I'm really loving on this athleisure style. Not only is it the perfect "mom" attire, but it helps me be motivated to get my butt in gear. But I have to admit, it's been really difficult to find the time to exercise even though I'm motivated. Really. Difficult. I've tried waking up at 5am, but it usually ends up being the morning after the baby was up more than usual overnight. I've tried the evening thing, but at that point I'm usually too tired. Midday or early evening seem to be the best fit for me, and yet it's still hard to make it happen. I suppose this is just part of finding my groove as a mom of two.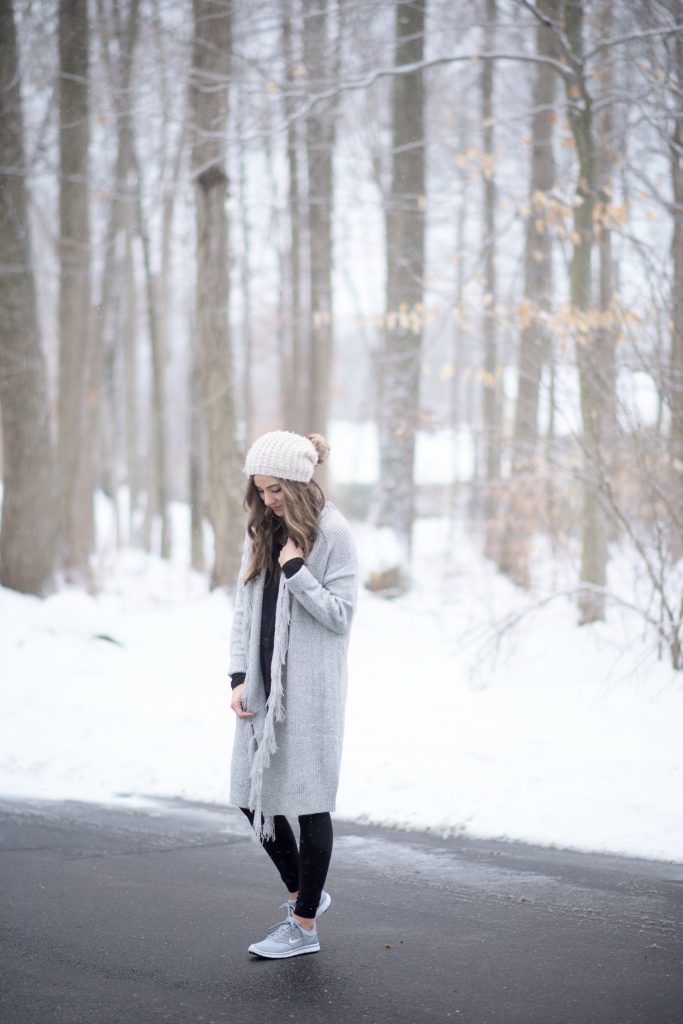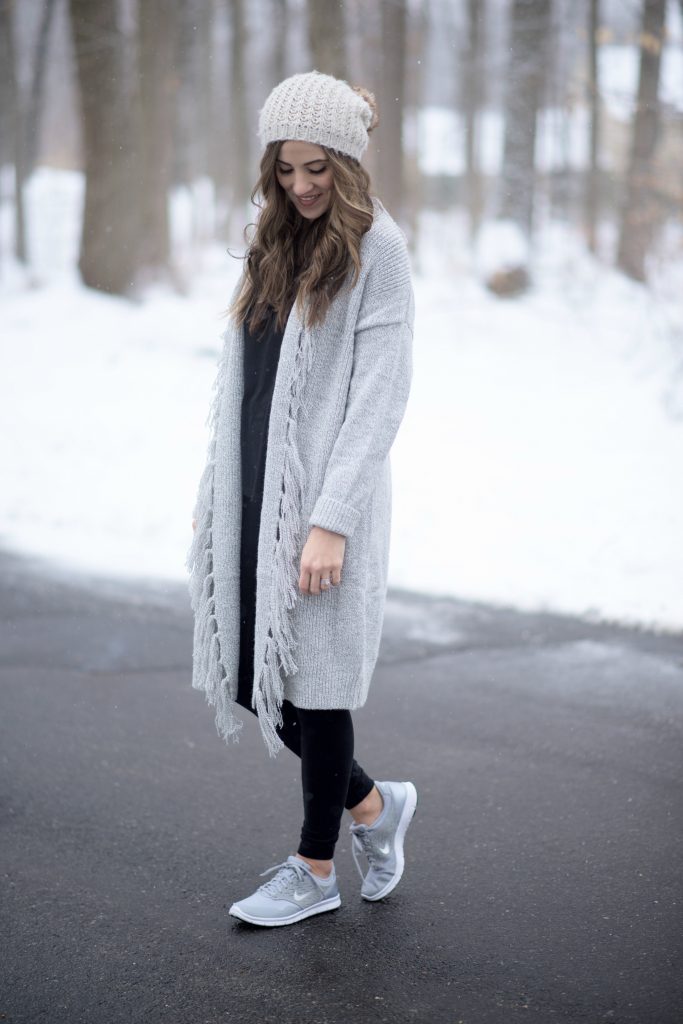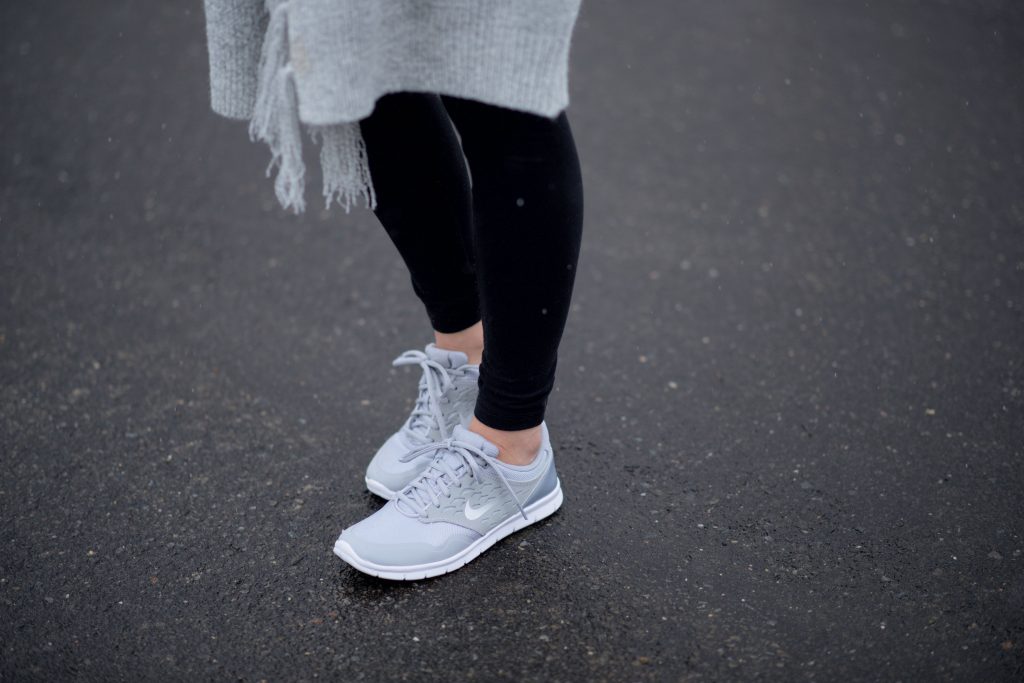 Sweater: Chicwish // Top: Old Navy // Leggings: Nordstrom // Sneakers: c/o Rack Room Shoes Nike Orive
Needless to say, I'm still finding that wearing my workout clothes definitely helps get me to the gym. Maybe it's because the step of changing into gym clothes is omitted because I'm already in them? I've been loving throwing a chunky cardigan or sweater over my workout leggings with a pair of sneakers for a casual look. One of my favorite shoe stores, Rack Room Shoes, just opened their athletic shop featuring brands such as Nike, Reebok, New Balance, and Saucony, making them a go-to for fashionable and functional footwear. There's a variety of footwear from shoes designed for hiking, running, and cross training, or even just simply running errands. And with shoes for ALL ages, they really cater to a family with an active lifestyle. One stop shopping, yes please! I love these Nike Orive sneakers; they're light as air and really comfortable. I kind of can't wait for spring to be here so I can get back outside with my jogging stroller. I've been itching to do that for months now. Rack Room Shoes also has some really great prices, so I always check there before anywhere else because I usually can score a great deal.
One of my fitness goals this year includes running a 5K. My first and only 5K was one of those Color Runs and it was a BLAST. However, I need to train way more than I did last time. Running is NOT something I love (I much prefer CrossFit or yoga), but I know it's a great workout in addition to what I'm already doing. I've actually heard some great reviews on that Couch to 5K app…anyone try it? If so, tell me what you think. I'll need some help!
What are some of your fitness goals this year? Whatever they are, Rack Room Shoes is sure to have you covered. And for instant savings on shoes for the whole family, ask about their Rewards program the next time you're shopping!
For more of my ahtleisure posts, check out this post with my favorite nursing friendly top, this post featuring my favorite diaper bag, and this post styling a distressed knit cardigan.