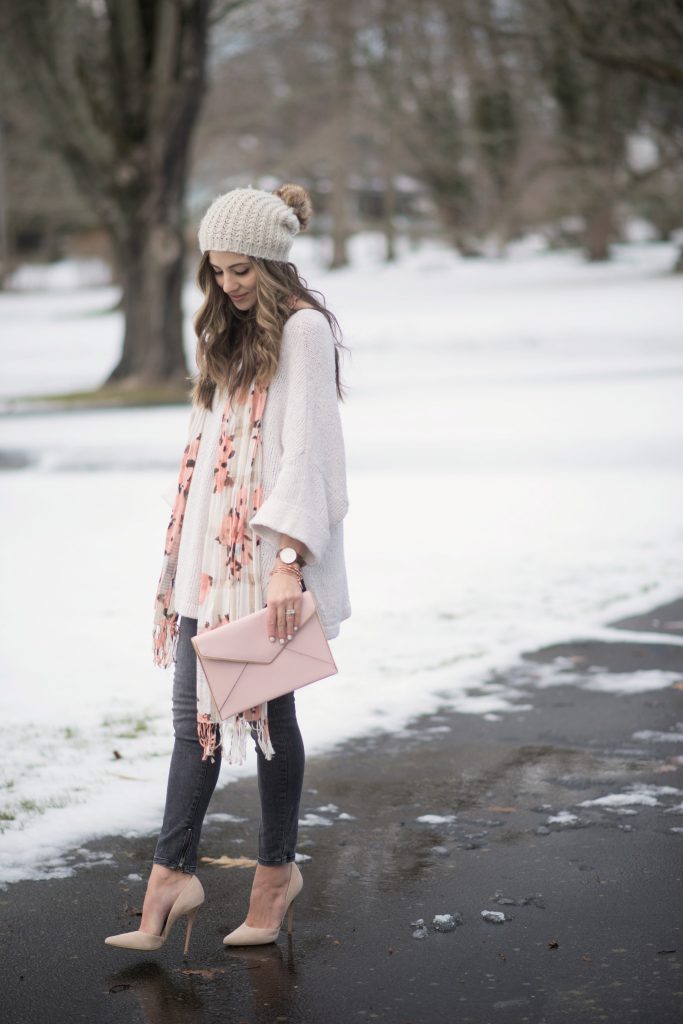 Valentine's Day. Can't honestly tell you the last time we actually celebrated it! It's always been difficult for us to find a sitter, and we don't have the luxury of having our parents babysit. So since the arrival of our first born, the holiday has kind of fallen by the wayside. We'll order food so I don't have to cook, but that's about it. Now don't let that discourage you new moms. It's our own fault that happened. With proper planning, it is definitely possible for you and your hubs to enjoy a Valentine's Day date night. But it's also fun to have a date night in if you aren't up for leaving the house! I just noticed our local Fresh Market is preparing a Valentine's Day dinner for 2, including a full meal, fresh flowers, and chocolate covered strawberries all for $50. That's actually a pretty great deal. So my suggestion would be to explore other options if you'll mostly like end up passed out on the couch like me 😉
Top: Free People // Jeans: Guess // Shoes: Steve Madden // Bag: Rebecca Minkoff (similar) // Scarf: LOFT (old) // Hat: Forever 21 (similar) // Bracelets: Alex & Ani Limited Edition
I'm working on Valentine's Day, so I doubt we will do much, but I'm going to hope my husband plans a little something because we could really use a night out. (<—-that statement is there specifically so he can take a hint if he happens to read this post today) 🙂
Pantone's Color of the Year Rose Quartz is such an appropriate fit for Valentine's Day! When styling this dressy casual V-Day look, I knew I wanted it to be the sole focus. It's a color I've always loved because it's the perfect shade of pastel pink. I feel like I look better in this shade during the summer when I'm not as pale, so I used it as an accent with this look. This Rebecca Minkoff clutch is under $100 (only $65 right now!) and perfect for date nights when you don't need to carry a million things. And while these shoes are high (see below for a photo of a mom who hasn't worn heels in quite some time!), it was fun to throw on some heels for a change! As a new mom, it can be very easy to fall into the yoga pants and sweatshirt routine, so I love when I get the chance to dress up and wear my heels. It makes them less of a display item in my closet, bahaha.
This trio of rose gold bracelets from Alex and Ani make such a cute Valentine's Day gift! I give you permission to leave the computer screen open for your significant other to see them 😉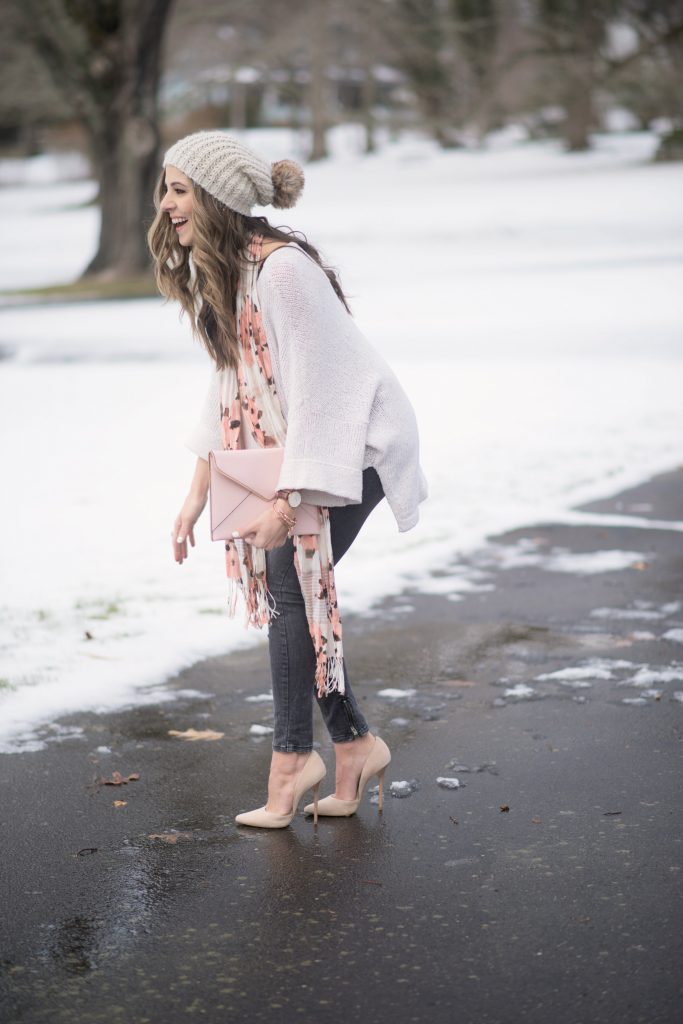 Yeah, I totally almost fell. That's what I get! 😉
See how Lipgloss & Crayons, Pink Heels Pink Truck, Blushing Basics, and Embellishmints styled Rose Quartz below!