While motherhood is incredibly amazing and rewarding, there are some days it can leave you feeling a little….dull. Let me explain. As a work at home mom, I'm always putting my kids needs before my own (naturally) and taking care of myself last. I've learned over the past 3 months as a mom of two that I feel my best when I wake up before my kids and have a little "me" time to get myself going in the morning. This usually involves a hot cup lemon water followed by coffee and a bowl of my favorite oatmeal (for first breakfast. Second breakfast involves eggs with Landon later on. #breastfeedingproblems). Ultimately, I feel on top of my mom game when I'm able to start my day like this. If I happen to start my day off late, I usually set myself up for failure and feel like I'm stuck playing catch up all day.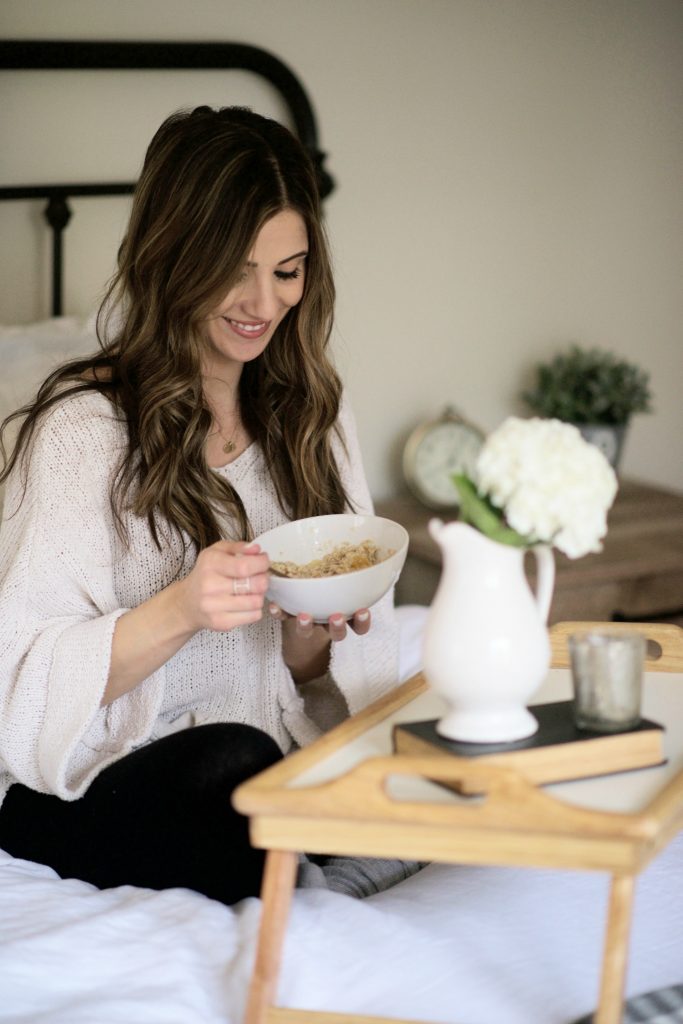 (Don't let this photo fool you. For the sake of you all not seeing me in my awful bed head, no makeup state, I decided to get ready before taking these photos. Because LAWWWWDDDD you do not want to see me first thing in the morning. My poor husband!)
That oatmeal breakfast has been a major key in my daily routine. I used to avoid any oats and grain, but I recently came across some gluten free oatmeal and added it back into my diet. As a nursing mother, a food like oatmeal is so helpful. Not only is it amazing for milk supply, but it contains nutrients that are known to give your body energy. And I need all the energy I can get running around after two kids all day. My favorite oatmeal recipe involves a little maple syrup and some fresh blueberries. They add the perfect amount of sweetness without going overboard.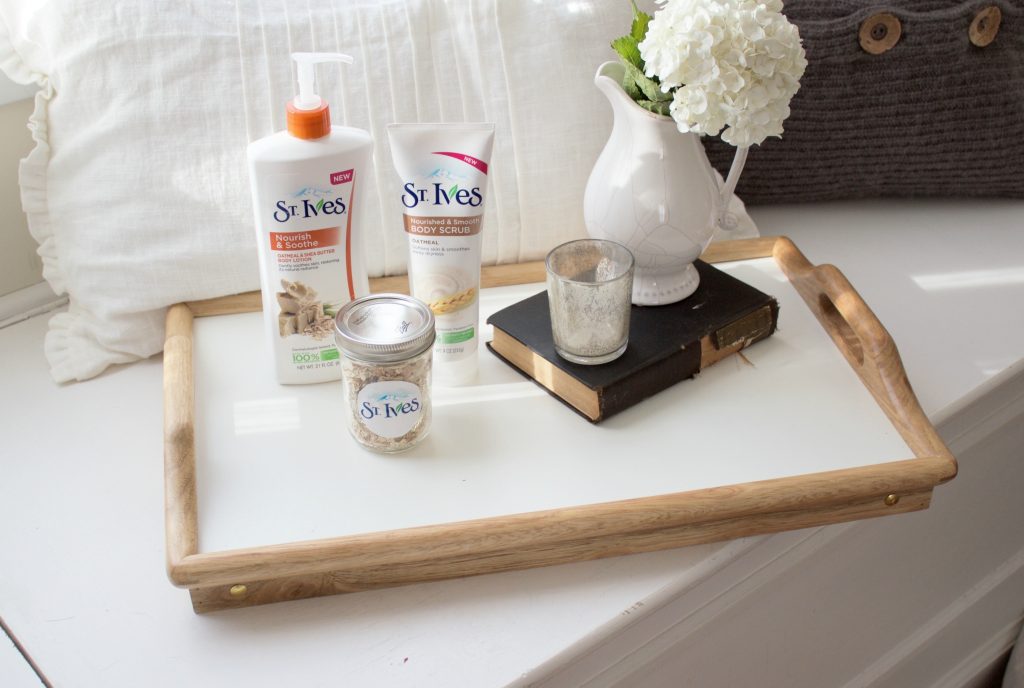 After I finish my first breakfast, Landon is usually awake. I get him settled with his sippy cup of milk and Thomas the Train, and then I try to quickly throw on some makeup and put a few curls in my hair before the baby wakes up. Some days I'm more successful than others, but Noelle is a pretty efficient nurser so her feedings don't take very long if she wakes up earlier than normal. After she eats, I start to make second breakfast for me and first breakfast for Landon, which involves some scrambled eggs. fruit, and a piece of toast for my boy. Some days are great, and others I'm reheating my coffee 234879581 times. On a good day, all three of us are up and ready no later than 9am.
Oatmeal isn't just my go-to breakfast. With spring around the corner (woo!), I've been starting to work on refreshing my mind and body to bring myself out of the winter doldrums. Winter does a number on me as a whole; not only is it rough on my skin/hair/body, but I also swear I have a touch of seasonal depression. Usually at the end of February, my cabin fever sets in and I'm itching for some warm sunshine and Vitamin D. To cure my skin's winter dullness, I've been using NEW St. Ives® Nourished & Smooth Oatmeal Body Scrub to reveal my soft, healthy, and radiant looking skin that's been in hiding the past couple months. I've always been a fan of St. Ives® products, especially their scrubs. It's made with 100% natural exfoliants like oatmeal, walnut shell, and honey which smooths away the dullness. I've been following up with St. Ives® Nourish & Soothe Oatmeal & Shea Butter Body Lotion, which gentle soothes my skin and restores it's natural radiance. This has become a shower ritual before I go to bed at night (cause showers at night are my saving grace to our morning routine), and I always wake up with the softest feeling skin. Perfect for getting spring ready!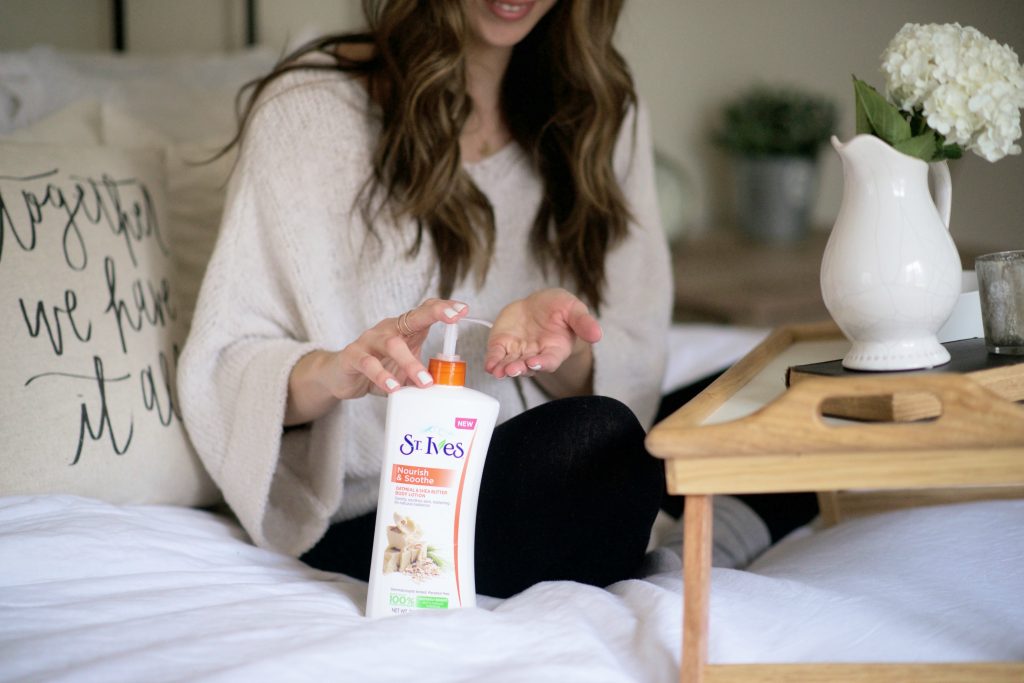 St. Ives® teamed up with NY-hot spot OatMeals to create the St. Ives® Radiance Boost Bowl, which was inspired by the natural ingredients found in their skincare products. And let me tell you, it is GOOD. I love the chunks of almonds for some added crunch. There's really nothing like a bowl of delicious hot oatmeal to start your day. Breakfast is my favorite meal of the day!
What does your morning mom routine look like? Are you taking time for yourself? If not, try to incorporate that in sometime soon..it's so deserved!

This is a sponsored conversation written by me on behalf of St. Ives. The opinions and text are all mine.