Thank you to Maggy London for providing me with dress to style!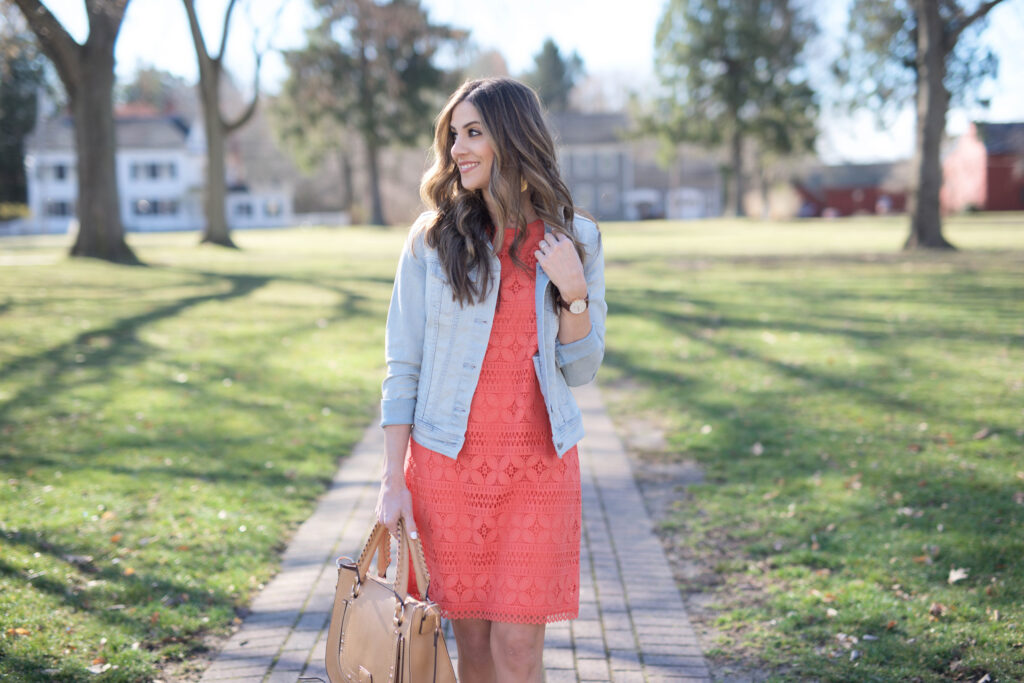 It's felt an awful lot like spring lately, and this Maggy London dress fits the part! While it's not nursing friendly, I plan on wearing it to an upcoming bridal shower I'm attending for my best friend. After all, not everything I own needs to be suitable for nursing, am I right? Eventually the boobs will have done their job and be no longer in use!
Dress: c/o Maggy London // Jacket: Old Navy // Bag: Sole Socety // Shoes: Soludos
I was immediately drawn to the bright coral color of this dress, and the lace overlay was the icing on the cake. I love the higher neckline as well. I realize I didn't take the jacket off to show the sleeves, but they are simple and short. The overall fit of this dress is perfect, in a t-shirt style. I love that it can be worn casual with some flat espadrilles like you see above, or with some killer wedges for a dressier look. It will even look great with a pair of nude pumps, which is probably what I'll do for the shower. I can't wait to have a little more color than I do now from the summer because the coral color will pop even more.
Maggy London has a variety of gorgeous dresses in all styles! There are a few I love for summer weddings as well, but the only one I'll be attending this year is one I'm in! 😉 I definitely plan on wearing this one a few times over the summer, but for now I'm loving it with this light jacket and leopard espadrilles!