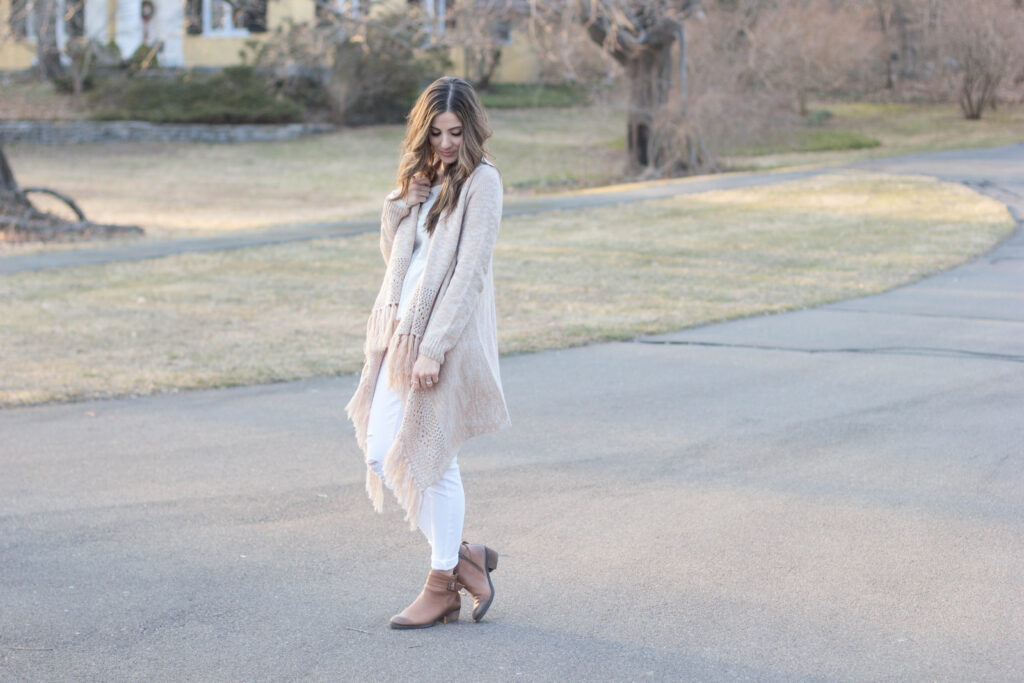 The weather is warming up this week, which is just what my body needed. We spent the day outside yesterday, and that Vitamin D felt so good. It inspired me to pull out some spring clothes and mix them with some winter layers!
Cardigan: Forever 21 (similar and on SALE) // Top: Free People (sold out, similar) // Pants: Old Navy // Shoes: TJMaxx (similar)
I last wore this cardigan here, which is still one of my favorite outfits to date. I love how pieces like this can be worn through different seasons. I realize I'm basically setting myself up for a disaster by wearing white pants with kiddos, but that's the benefit of bleach, right? I've avoided white pants for years for this reason, but when I saw this distressed pair from Old Navy (and for cheap) I decided to bite the bullet. I can't imagine I'll stain them with anything a little bleach can't fix, and they're super budget friendly. Old Navy has seriously impressed me with their jeans lately. I remember years back absolutely hating how they fit, and this pair is insanely comfortable. So are my Old Navy boyfriend jeans! I also think it helps that I've been purchasing the higher waisted styles. Low rise just isn't for mom bods, I can tell you that. I love that the high waist sucks everything in and smooths everything out 😉
What's your thought on white jeans? Too daring? Setting yourself up for trouble? Or hey, why not? These definitely won't be worn to the playground, I can tell you that! But I love that my closet has a balance of kid-friendly and mama's day out clothes. Because it's all about the balance, right?
SHOP THE LOOK


I've teamed up with a group of awesome bloggers to bring you a FABULOUS giveaway! This giveaway is INTERNATIONAL! It will have TWO winners, and the winner will get a $300 gift card to either Sephora or Target (Winner's Choice). All you need to do is enter below for a chance to win!
INTERNATIONAL, 18+, VOID WHERE PROHIBITED BY LAW
GIVEAWAY ENDS 3/21 12:59 PM EST
Winner's Choice (2 Winners) $300 Sephora or Target Gift Card