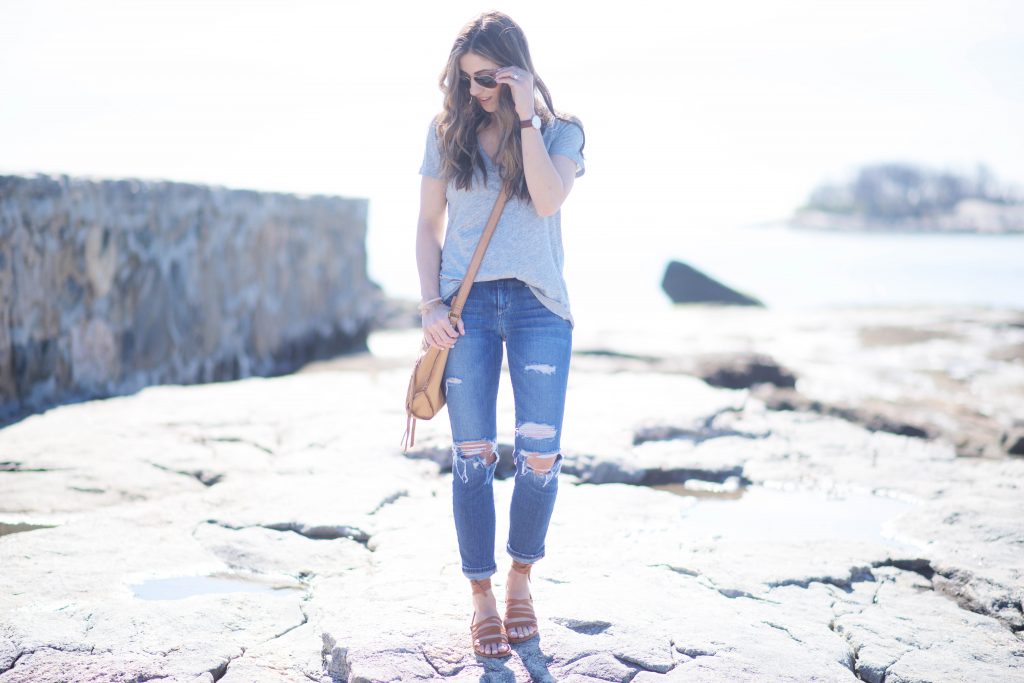 Can we just take a minute to appreciate this outfit? The perfect tee, the perfect pair of ripped jeans, and these amazing sandals. I've deemed this my "mom outfit" and have worn it like every other day with no shame. But while I love this outfit, I love the scenery of these photos even more.
Living by the beach is a real gem. It's something I'll never take for granted, as it always amazes me when I hear others tell me they live hours from the nearest beach. It's something I have trouble comprehending because it's always been just a few short minutes from my home.
I was raised by the beach as a kid, and can vividly remember my summer days spent with my mother, grandmother, and cousin playing in the sand. We had a routine as far as time to leave, what to pack, and how long to stay. I remember torturing my poor grandmother by throwing food to the seagulls (if you've ever done this, you know it's pure hell for anyone around), and walking along the sandbar at low tide. No trip was complete without a visit to the ice cream man for a Screwball.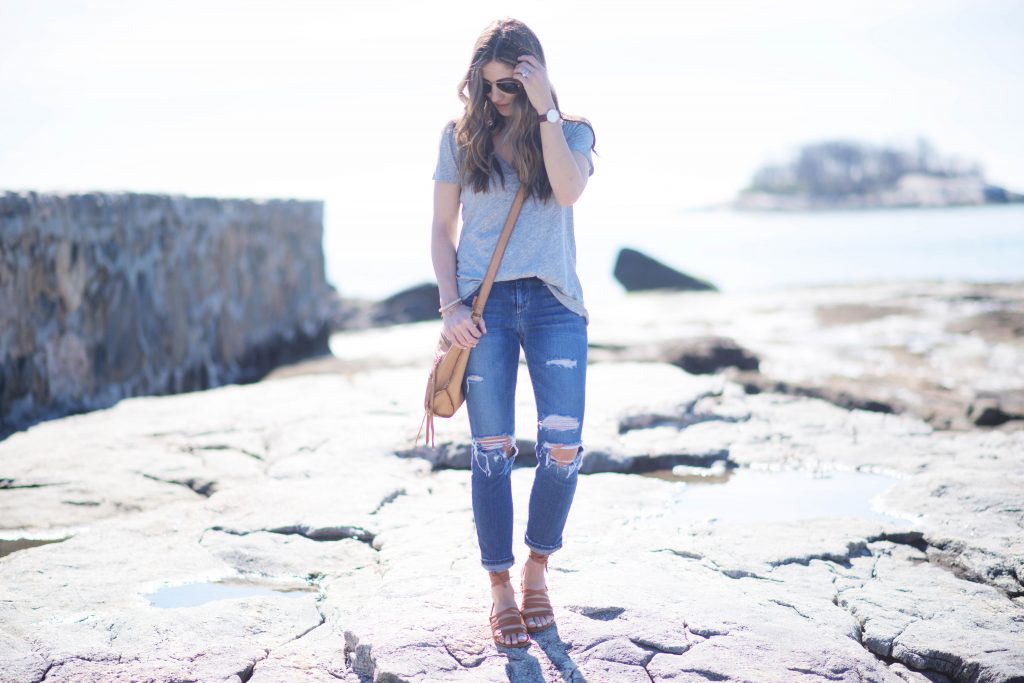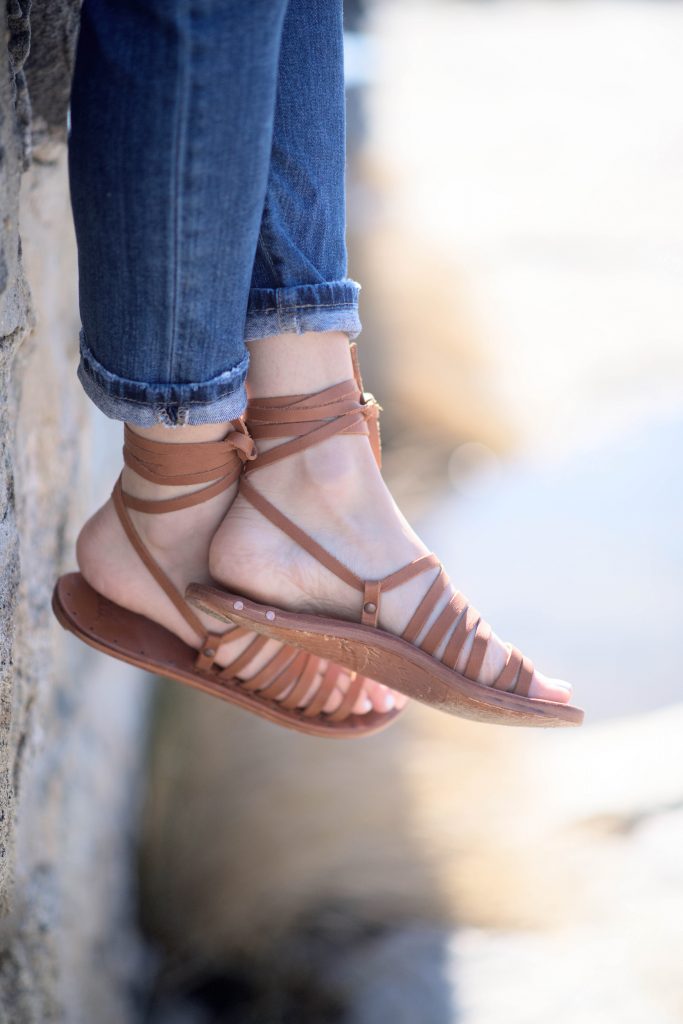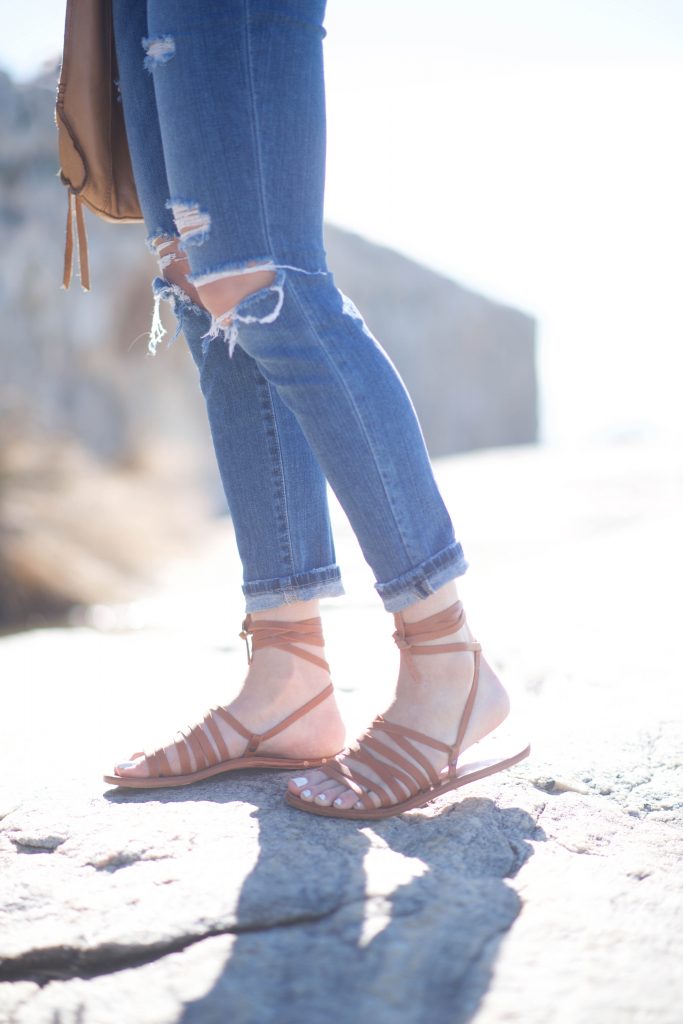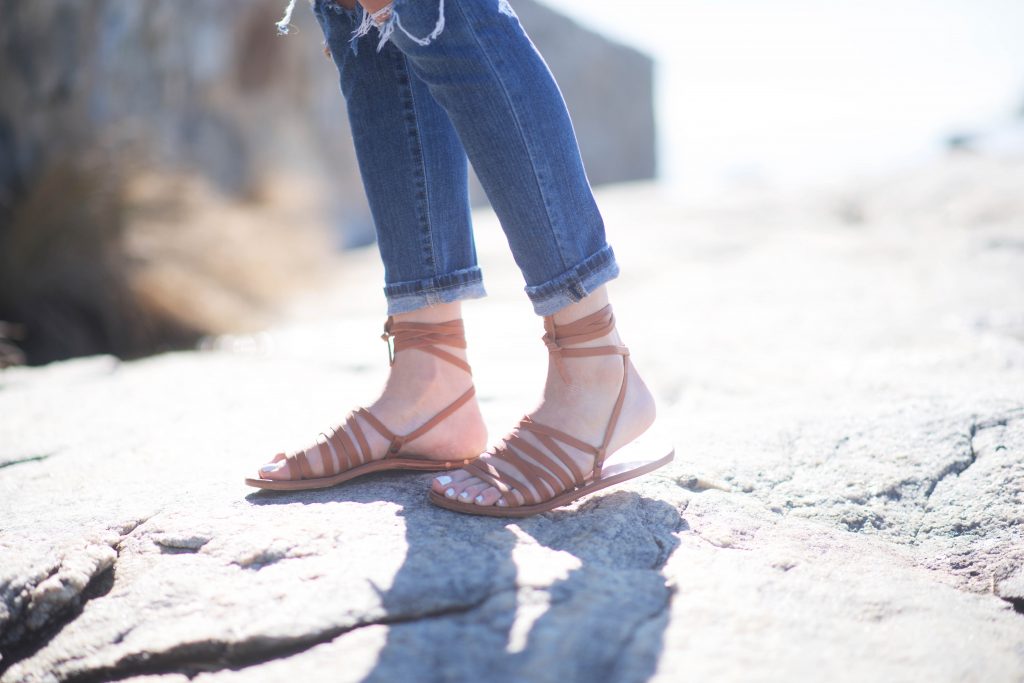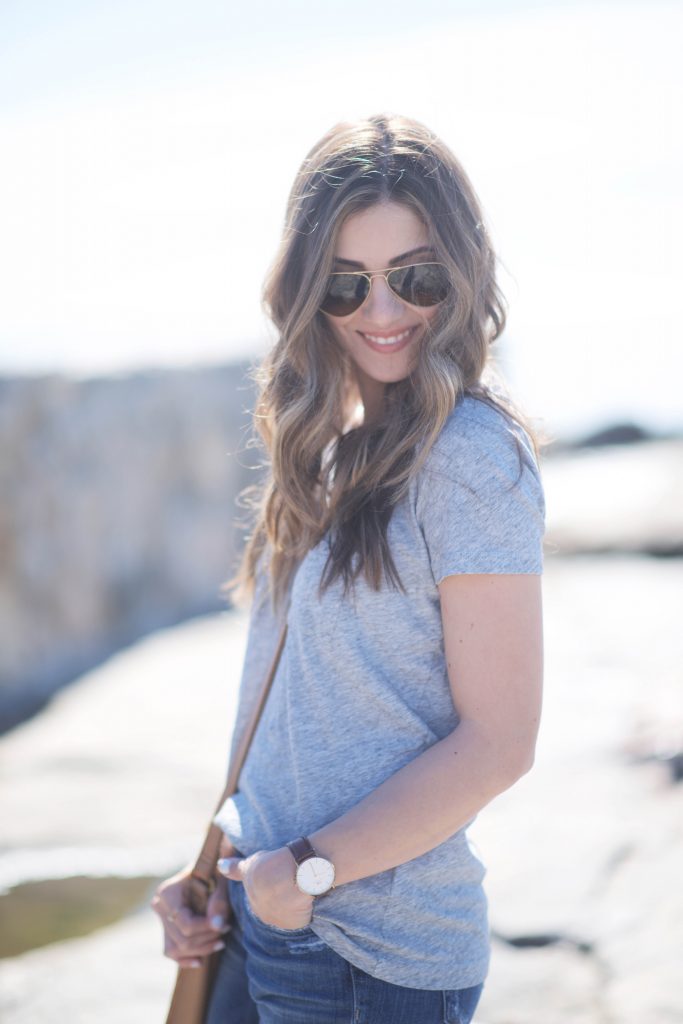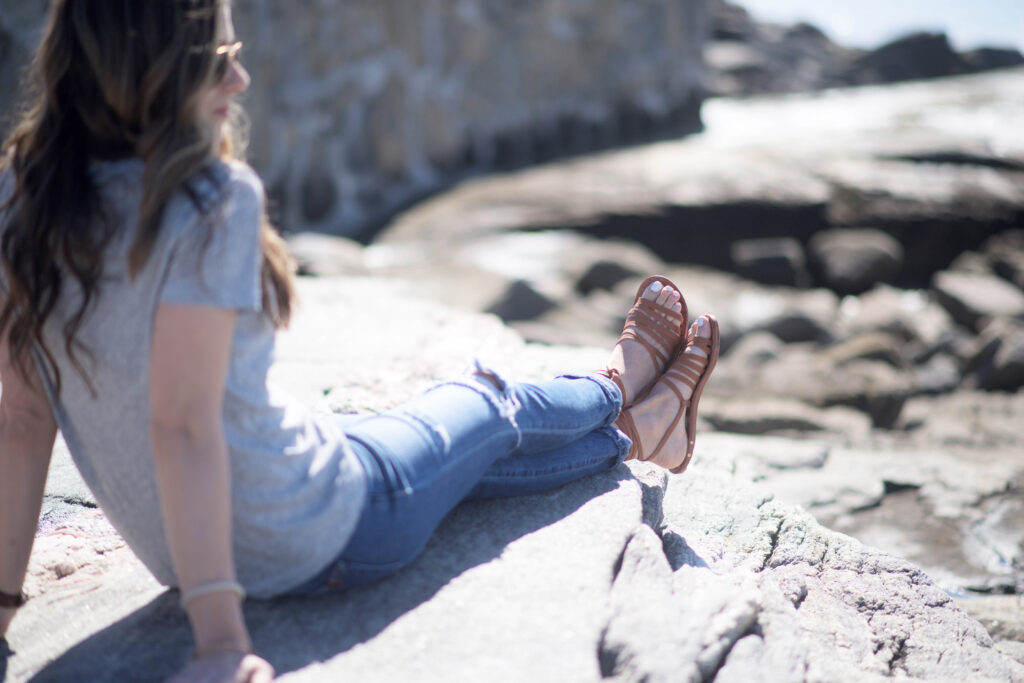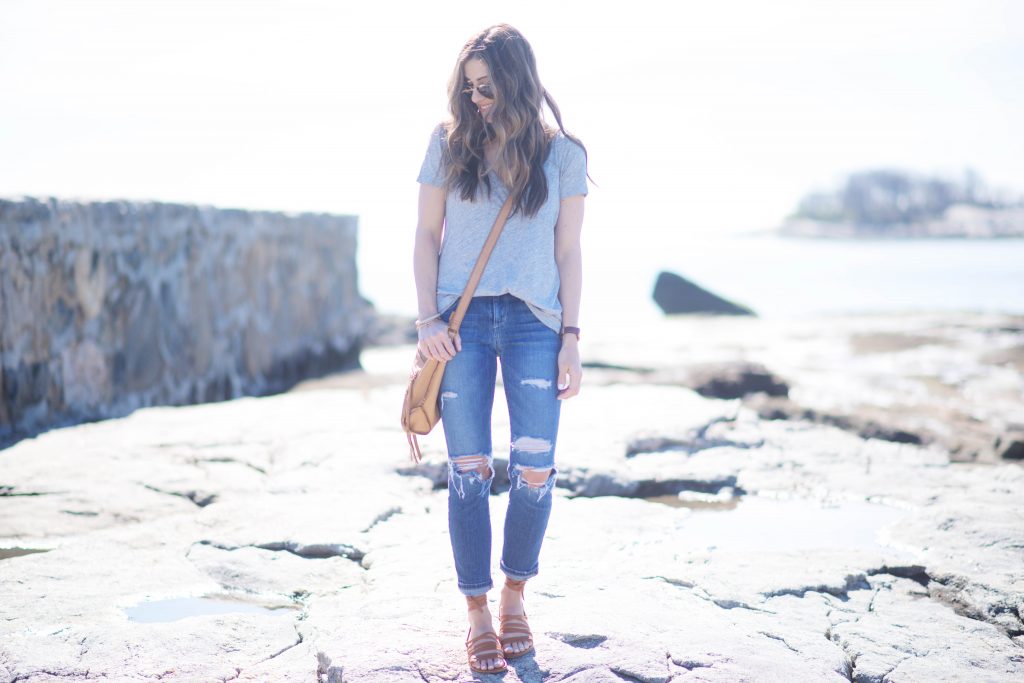 Top: // Jeans: Joe's Jeans (options) // Shoes: Heron c/o beek // Bag: Lucky Brand (similar) // Sunglasses: RayBan (options) // Watch: Daniel Wellington
It's memories like these that I want my children to have as well, which is why I am thrilled to live exactly 1.3 miles to the shore (I know this because my homeowners insurance affected it…insert eye-roll emoji). Landon already has a strong love for the beach. He is the only toddler I know that will sit quietly for hours playing in the sand and not make a single peep. I can only hope his sister will follow suit! My plan this summer is to take both the kids to our local beach as often as I can. We always go early in the morning, as to avoid the strong sun and not to interfere with nap time. We usually return home for a quick sink bath, lunch, and quiet time before nap. Landon grew to love this routine last summer, so I'm anxiously awaiting for the hot summer days to return so we can get back into it. I have a few posts in the works about mastering the beach with kids, so stay tuned for that!
I'm all about comfortable footwear in the summer (I hate when my feet are hot), and I found the perfect pair with these beek sandals. I wear my sandals into the ground chasing the kids around, and I needed a pair that would hold up through our long, active summer days. beek sandals are made with 100% leather, a rarity, and have a molded arch for foot support and comfort. I've been wearing them for quite a bit now and can tell you from experience they get better with wear! As a bonus, beek donates a meal to a child in need with every shoe purchase. They have a mission to end child hunger worldwide, and as a mama myself, I kind of LOVE that.
I love the lace-up style of the beek Heron, which I'm wearing here. These have quickly become my go-t0 sandals, so they'll be reappearing on here quite a bit this season! I love that they're casual enough to be worn with jeans and a tee (my mom outfit), but will also style beautifully with a gorgeous summer sundress. Head over to beekshop.com to check out all of their styles!
Thank you to beek for sponsoring today's post!