Living minutes from the beach has its benefits during the summer. Since Landon was a year old, we've spent the majority of our summer days with our toes in the sand. I feel so lucky to have a child who is well behaved at the beach, and I'm hoping his sister follows in his footsteps! We've been making the most of every sunny day lately and so far I've managed the beach with both kids a handful of times. I'm quickly learning what items are necessary, unnecessary, and how to pack them to make our beach trips as easy and manageable as possible. Today I'm sharing with you some essential items you need for going to the beach with kids!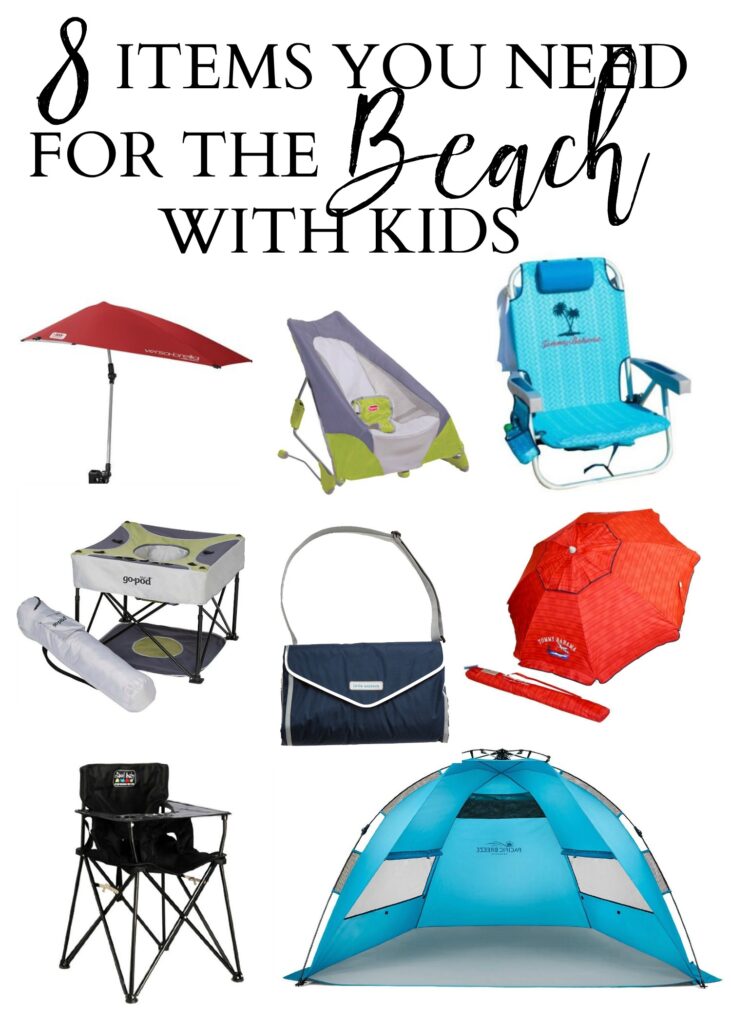 Outdoor Blanket: I recently invested in one of these and it's been the best thing ever. Sand (and wet sand at that) wipes right off and it's easy to clean. This one from Little Unicorn also folds right up into its own carrying case.
Beach Tent: This is my first year having a tent and I'm happy I do! I've been able to put Noelle down for a nap in her car seat underneath it so she's out of the sun. This one is really easy open and close, which was the most important feature for me. It literally pop open in seconds, and closes with one simple step. The only downside I noticed recently was it gets hot if there's no breeze on the beach. This is a rare occurrence, but I felt it was worth mentioning. There was no breeze during our last trip and I was grateful I had the next item as a result.
Telescoping Umbrella: If a tent isn't for you, I recommend an umbrella that screws into the sand. I recently bought this Tommy Bahama one and it was great on that beach day with no breeze! I plopped Noelle underneath it for her nap and it was much cooler and more comfortable than the tent. I still love the tent, but I like having both as an option depending on how breezy it is, and also for some extra shade. This umbrella was easy to prop up, too, and screws right into the sand for added support.
Portable Bouncer Chair: I recently came across this portable and collapsible bouncer chair at the recommendation of another mom. Noelle isn't one to sit in a chair for super long, but this was a really great option because she can sit herself up or lay herself back. It's easy to open and close, and compact enough where it's not a pain to transport to and from the car. It fits perfectly in the undercarriage of our Bob double stroller, and I've really liked having it on hand for her. I can put her in the tent or under the umbrella so she's apart of the action.
Portable High Chair: For older babies, this is a GREAT option because it folds like a lawn chair! They can sit, play, and eat with no problem, plus it's comfortable! I definitely plan on using this when Noelle graduates from the bouncer chair. It can also be used for up to age 3, so this is something you'll get multiple uses out of.
All Position Umbrella: This little umbrella is great because it clips onto anything! I can attach it to the bouncer chair or the GoPod (see below) and Noelle has her own personal shade. It's great if you don't want to carry the tent or large umbrella with you, as well. I love that it compact and is easy to transport, which is important along with all of the other items! This is a great option if you don't want a large beach umbrella.
GoPod: This thing is genius. It's basically a portable activity station that grows with your child. Noelle likes to be standing, so this is great for her because she can do so and play with whatever toys I attach to it. There's also an elevated floor so she's not standing in the sand, plus it's easy to fold! I feel like this is something great to have for family outings as well. Baby will always occupied!
Backpack Beach Chair: I've been struggling carrying my ancient beach chair to and from the car so I can have a place to comfortably nurse Noelle. My cousin recently bought this Tommy Bahama Backpack beach chair which is going to be my saving grace! You can carry it on your back as a backpack, plus it has a cooler pocket! That's awesome for snacks for the kids. I usually bring a little cooler, but I like that this is an option.
I always use my jogging stroller on the beach because it's easy to push in the sand (here's a great inexpensive option!). I did this with Landon last year as a way to contain him on our trip back to the car (we had a longer walk at our old beach, plus I was pregnant). Now having a double jogger is helpful because I can have Noelle on one side and load all of the beach stuff in the other. Landon is more than happy to walk and carry his beach toys.
I realize this can sound overwhelming, but I promise everything is compact! I want my kids to enjoy the beach this summer, so I'll use whatever makes the trip a little easier.
Are there any items you've found helpful that I've missed? I'll be posting on what I pack in my beach diaper bag soon, so stay tuned for that!