Thank you to Valspar paint for sponsoring today's post!
I've been pinning gorgeous farmhouse bathrooms for years now, and I'm eagerly awaiting the day we start on ours. I have dreams of vintage clawfoot tubs, gorgeous antique dresser vanities, and stunning vintage faucets adorning the sink and tub. While we aren't fully ready to complete all of that yet, I decided to start the process (very) slowly by sprucing up our main bathroom second-floor bathroom!
Naturally, I'm drawn to a farmhouse/coastal cottage look, so my plan is to keep these elements throughout the look of the bathroom. To start, can you guess what we're doing? If you said shiplap, you guessed right. Since planking our kitchen walls, I have this great urge to plank EVERY ROOM in the house. We completely planked the downstairs bathroom, so for this main bathroom I plan to only plank one wall. We will then add a fresh coat of paint to the walls to brighten the space up a bit.
The walls are currently a dark greenish-gray, and not my style whatsoever. I CANNOT wait to lighten them up! For this room, I chose Valspar's Zero VOC* paint, sold exclusively at Lowe's. This is my first time using a Zero VOC* paint, and after learning the benefits I kind of wish I used this throughout my whole house. VOCs are Volatile Organic Compounds that can negatively impact indoor air quality. The concentration is significantly higher indoors than outdoors because they are found in many household substances. That's why using Valspar's Zero VOC* paint is so great! There are zero harsh fumes, which is perfect for a house with kiddos, and it also makes the painting process easier. Since this is mainly the kids' bathroom, I felt it was important to make it as environmentally friendly as possible when it comes to harsh chemicals. The paint is also fade- and mildew-resistant (perfect for a bathroom!), and resists scuffs and stains. I decided to go with Valspar's Signature Zero VOC* paint in a satin finish since it's a bathroom. I was also pleased to find out it's a paint and primer in one!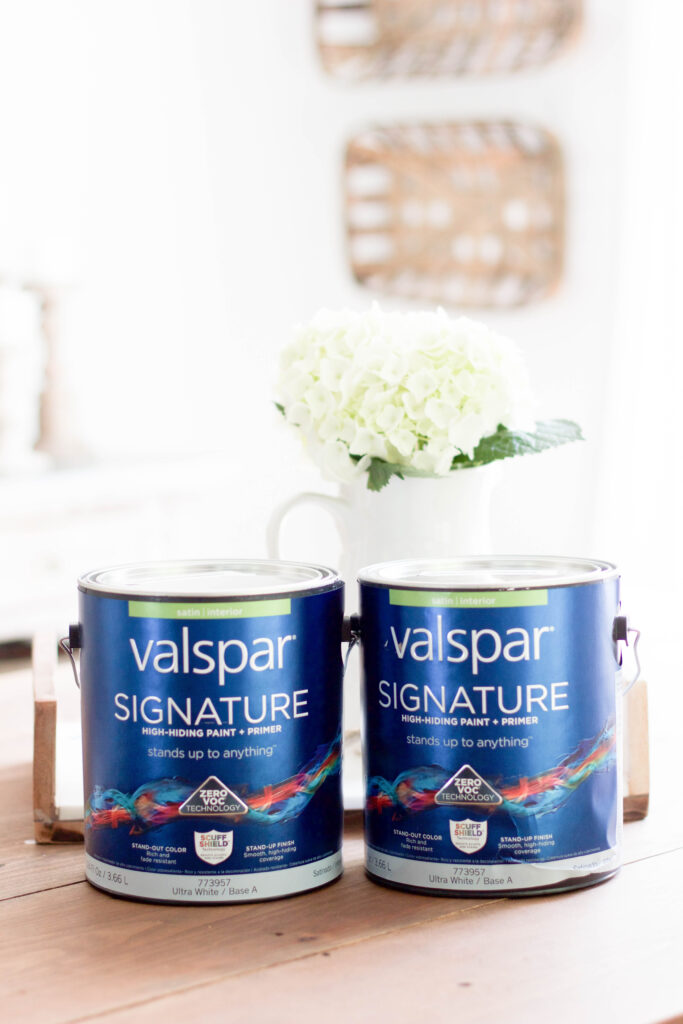 There's a wide variety of Valspar colors, and I was happy to find exactly what I was looking for. The Valspar brand of paint is new to me, but the color choices were endless. I selected a variety of light grays and whites because I knew this was ultimately the look I was going for (are you surprised?). You can see the selections below.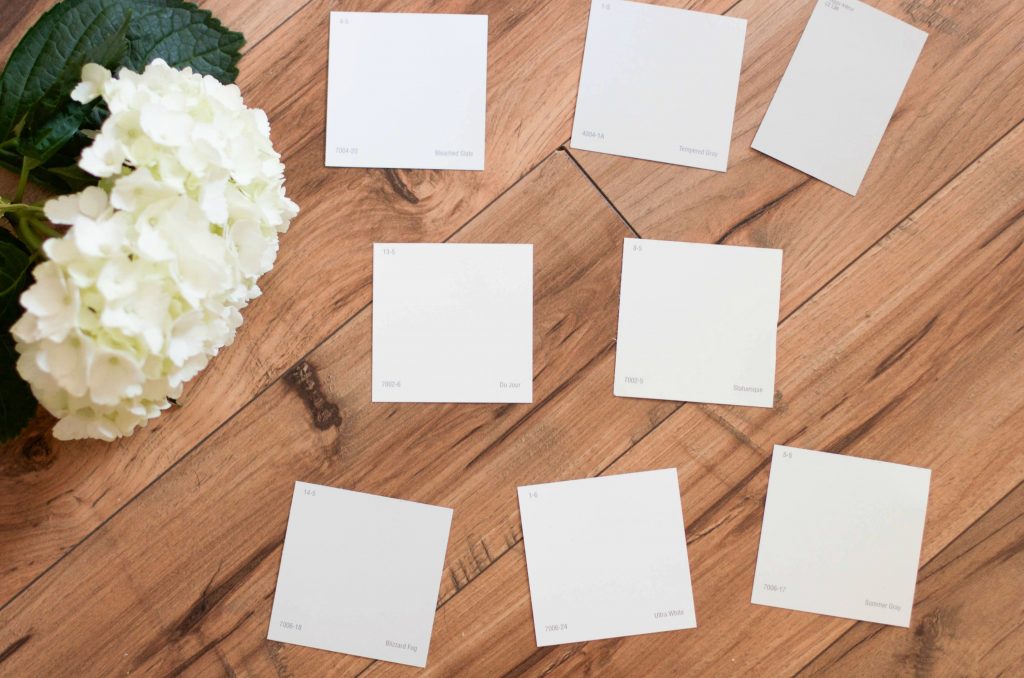 Because there's only one window in the bathroom, I didn't want to choose a gray that was too dark. Even the lightest grays will appear darker due to the lack of light in the room. My final selection came to Summer Gray, a very pale light gray, for the walls, and Ultra White for the planks and trim.
We'll be working on this over the course of the next month, so be sure to follow along on Snapchat (laurmcbrideblog) for sneak peeks and updates of our home. Usually, I'm worried about the kids breathing in fumes and chemicals while painting (and I try to leave the house with them!), but I'm pretty psyched to know that won't be an issue with Valspar Zero VOC* paint! Visit your local Lowe's to find a color you'll love.
Valspar helps you breathe easy! Stay tuned to see the colors we chose and the full mini-makeover!
*This product contains 0g/L VOC as calculated within the margin of error by EPA Method 24.