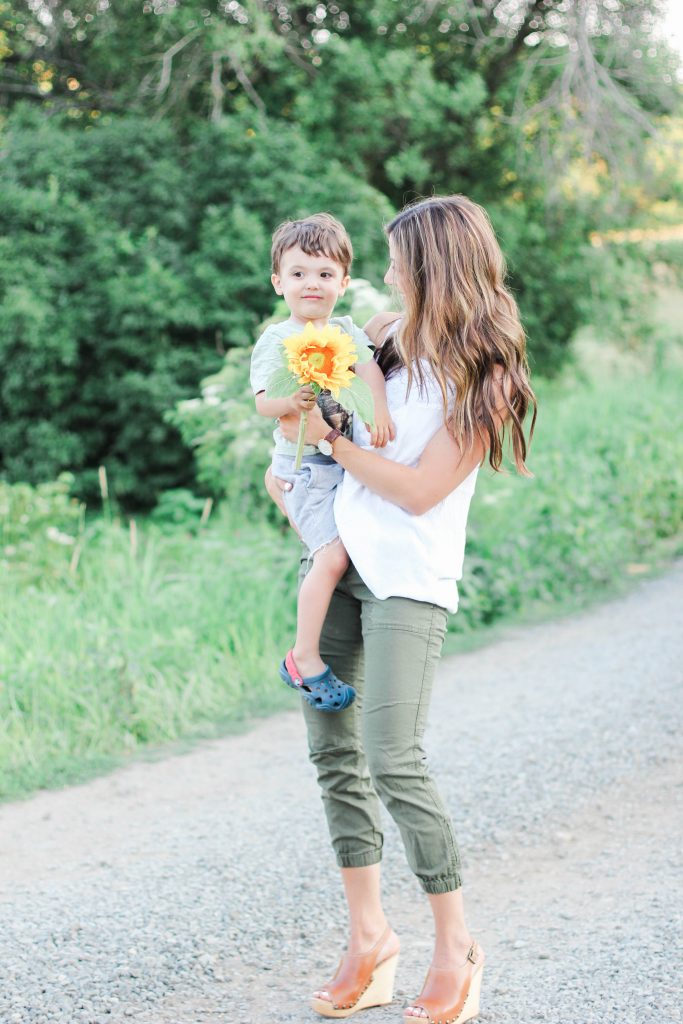 My little guy can be such a sweet boy when he's not actin' a fool during a toddler meltdown 😉 I've been trying to snap more photos of my kids because I want to put together an album for the two of them to look back on in the future. In a social media drive world, people aren't as quick to print photos like they used to be. I love this outfit and had the little man pos with me with his sweet little sunflower. They may be simple, but I'm glad I have theses photos of the two of us to look back on.
Top: c/o Evereve // Pants: c/o Evereve (also here!) // Watch: Daniel Wellington // Shoes: Sam Edelman (more options)
You might remember this outfit from this post with Evereve, but I'm so hooked on the fit of these Sanctuary pants. They are so comfortable and lightweight, even when the weather is hot. I also found a very similar pair by the same brand right here. I like that these styles can be dressed up or down, and also aren't too baggy in the leg or butt area. That's so key with pants for me! But these are perfect and worth every penny.
I may be wearing wedges in this photo (don't worry, they came off right after), but that's to prove the versatility of the pants. Wearing them with a pair of flat gladiator sandals like these is also suitable (and even more comfortable).
Today is Amazon Prime Day, so be sure to head over and see the great deals they're offering! You can receive 30% off clothing, shoes. jewelry, watches, and more!
Speaking of Prime Day…my FAVORITE breast pump bag by Sarah Wells is on sale for $139! Take advantage of the deal right here before it's gone!