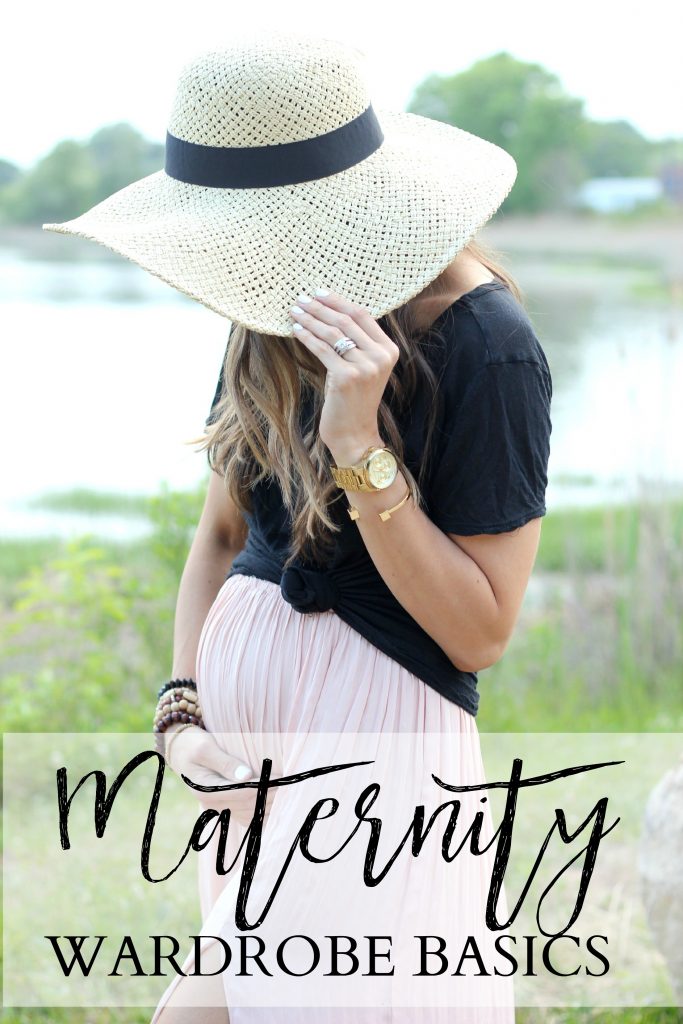 I totally get it. You're pregnant for 40 weeks and it seems silly to spend crazy money on clothing to fit a body shape that's only temporary. I hear you LOUD and clear. During my first pregnancy with Landon, I straight up refused to buy maternity clothing. But as I got larger, I realized I need some basics to make it through without looking ridiculous in a shirt too short for my bump. Turns out, it was actually more comfortable. So during my pregnancy with Noelle, I was all for stocking up on some maternity basics. Today I'm sharing what maternity wardrobe basics will get you through the full 9 months!
Basic tees. Simple neutral colors t-shirts go with anything and everything. Over a skirt. Over a dress. With skirts. With a cardigan. There are endless options and I can promise you they'll be put to good use. Stock up on at least 4 basic colors like white, black, gray, and navy and you'll be set for your entire pregnancy.
Below are some of my favorite maternity tees, and you can find even more options here. Also, while you're at is, snag yourself a pair of these Soludos because they were SO comfortable during pregnancy!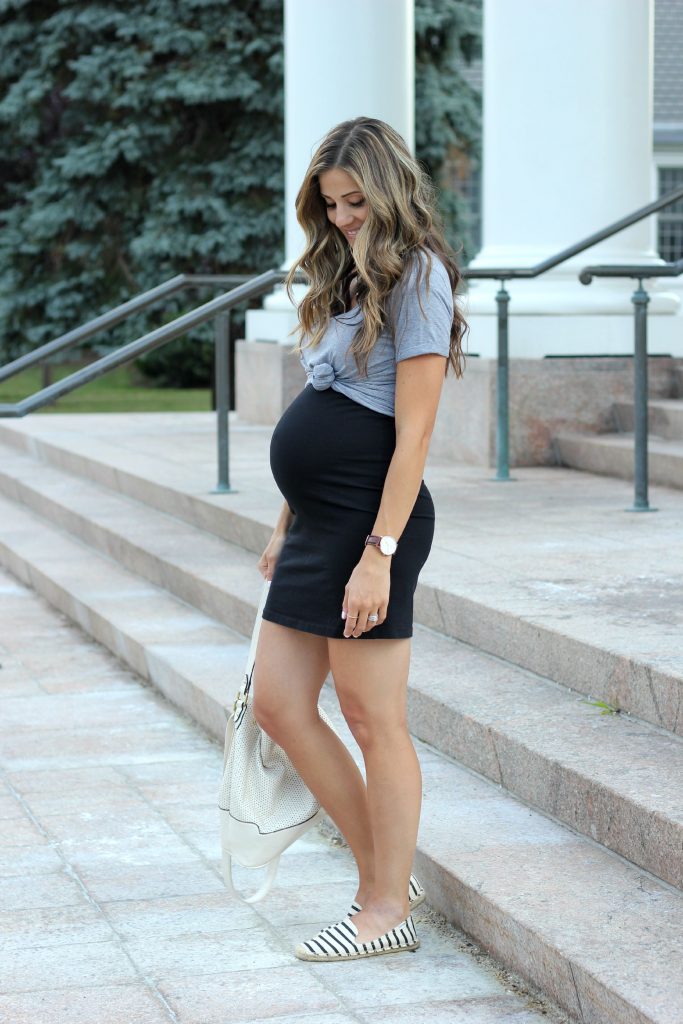 Tank tops. Being pregnant in the summer can be very uncomfortable, so these lightweight tanks were a necessity for me. I've even worn them as workout tanks! Their inexpensive price makes it worth it. Mine actually wore very well and through 2 pregnancies. They're still in perfect condition. Below are some of my faves!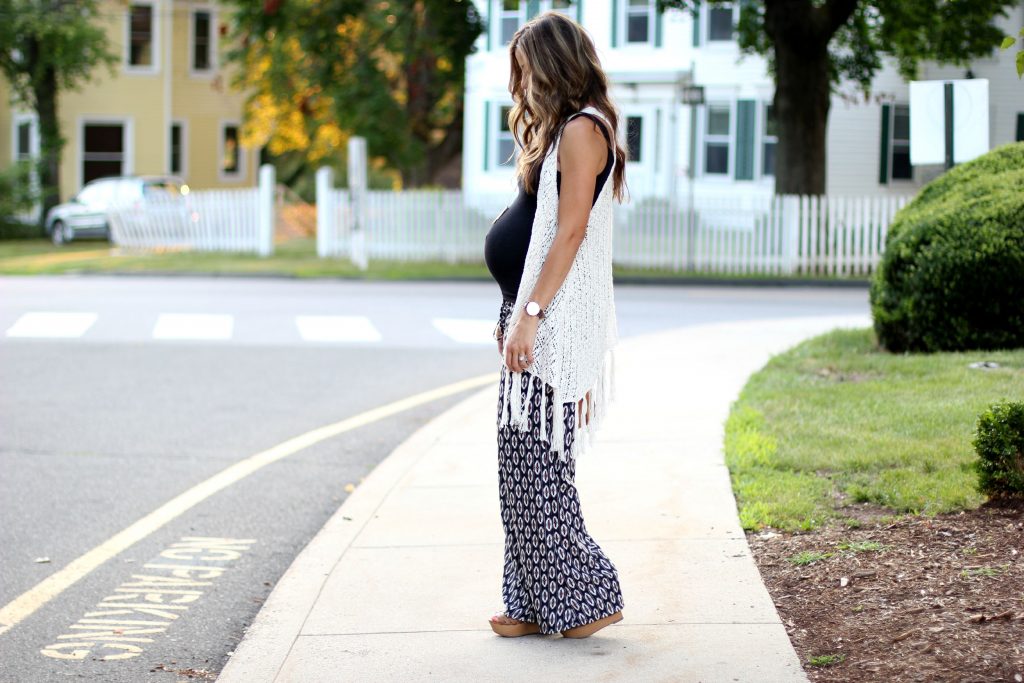 A good pair of jeans. INVEST IN JEANS. The hair tie trick can only go so far. Second time around I was in maternity jeans a hell of a lot quicker than my first pregnancy. And my body thanked me for it! They are much more comfortable than trying to squeeze into regular jeans. Get a pair that can be worn with everything and you'll be set. I had a few pairs (black, white, and a couple shades of denim) and my belly was grateful every time I put them on. I promise they're more comfortable than using a belly band!
Below are some of my favorite maternity jeans, and you can find even more options here. I also LOVE this pair, this pair, and this white pair.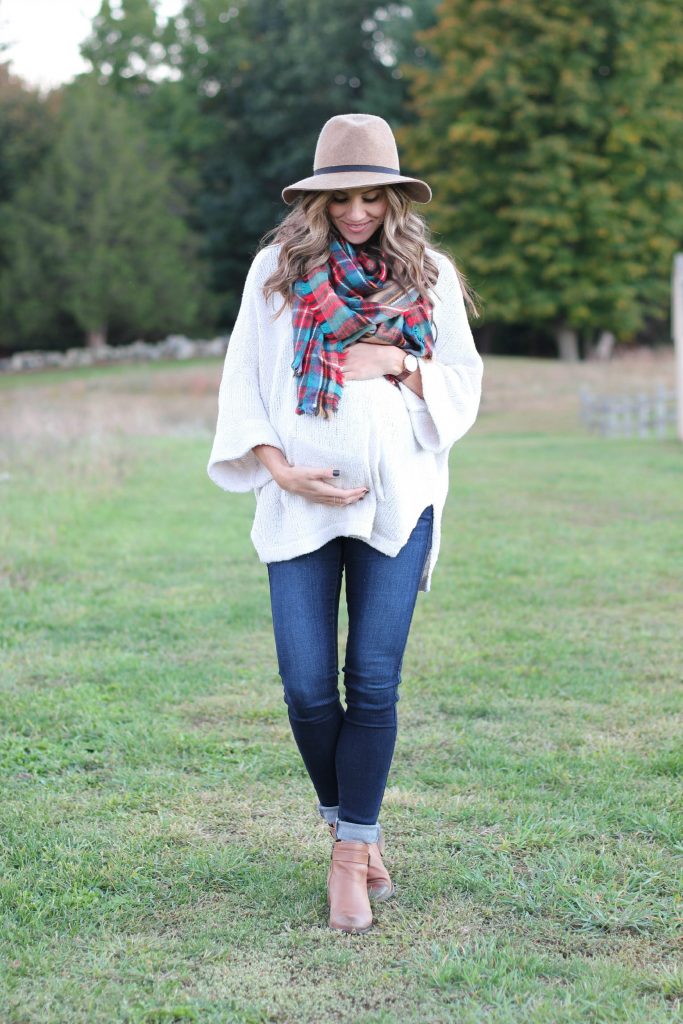 Jean shorts. If you're pregnant in the summer, I promise you'll thank me for this. Sometimes a girl just wants to throw on shorts and a tee, and a pair of maternity shorts won't constrict your belly! I lived in these shorts all pregnancy.
These are my favorite pair of maternity shorts, and these are a few other good options (although pricer) here.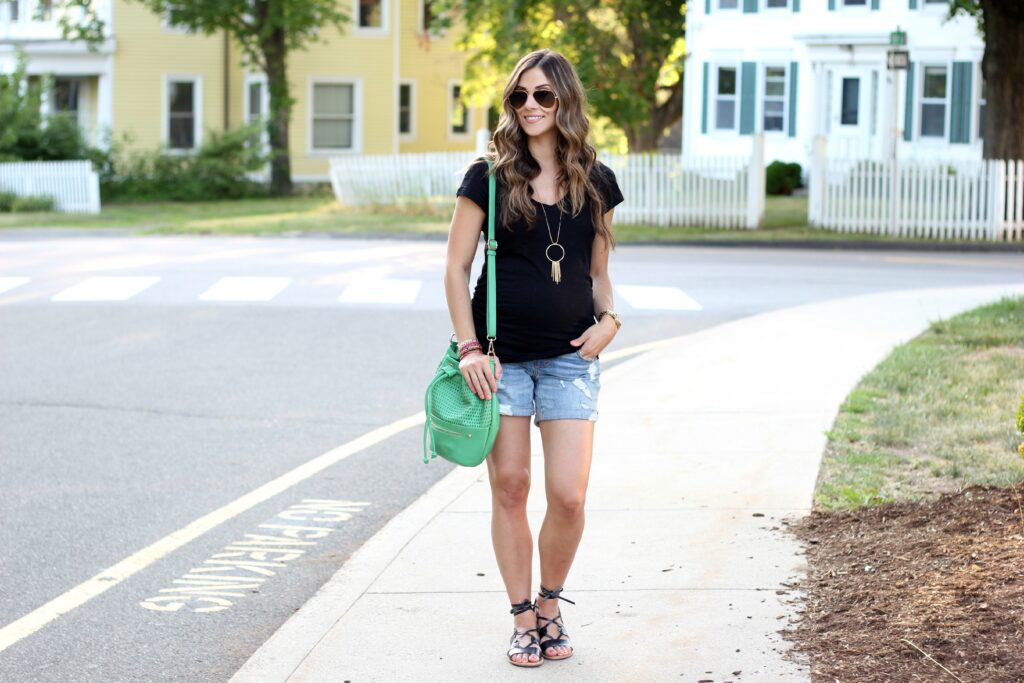 Black maxi dress. My black maternity maxi dress made it through two pregnancies and has now been passed down to a friend, which makes it three! I favor this one because of it's great price. Below I'm wearing a gray one, but you get the drift 😉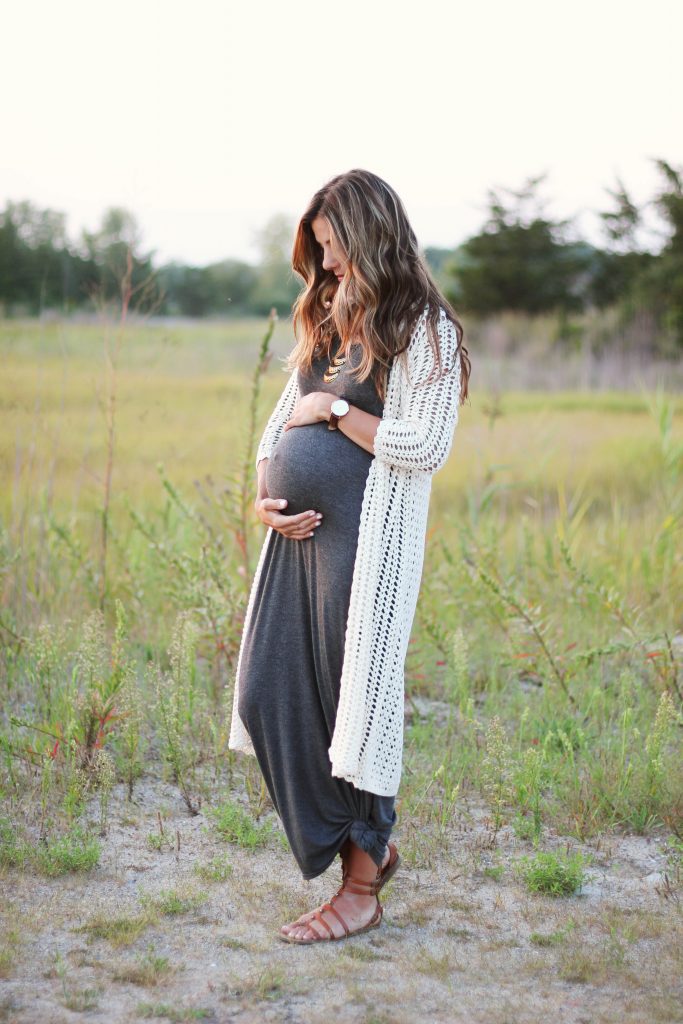 A t-shirt dress. One of these is good to have on hand because it can be dressed up or down and is SO comfortable. They can be styled with jackets, sweaters, vests, sneakers, or heels. The versatility makes it worth the money, hands down. I love this option, and especially the price!
A pair of leggings. Because, leggings! They are mandatory in pregnancy, am I right?! I love this pair here and this nonmaternity pair.
You can style multiple outfits out of these options to create yourself a little maternity capsule wardrobe. Investing in these key pieces will get you through those 40 weeks in style AND comfort…which is the most important part, right?
Also, if you happen to be looking for some dressier options, there are some gorgeous maternity dresses right here.