This is a sponsored post written by me on behalf of Fujifilm Wonder Photo Shop for IZEA. All opinions are 100% mine.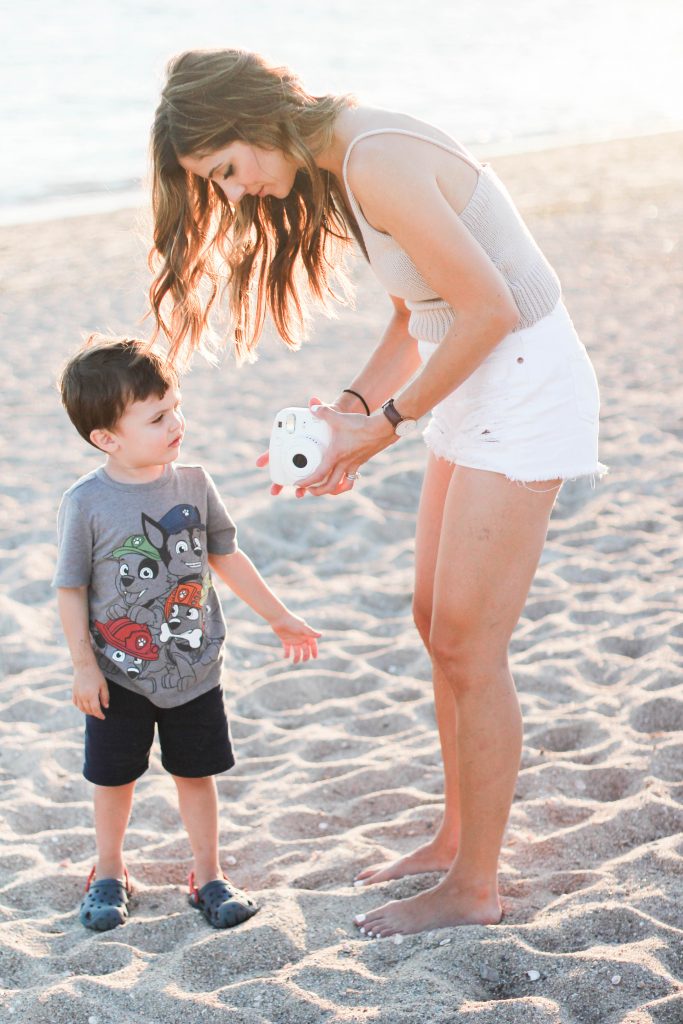 I have a love/hate relationship with our technologically driven world. I love it because, hello, technology (although I'm still waiting for my own personal Rosie from the Jetsons). I hate it because I'm seeing where things might be lacking for my children in the future. For instance, I recently needed to find photos from my high school years. I grew up when disposable cameras were a thing, so naturally I have hundreds of photos stashed away in an album that I can look back on forever. I don't know what that will look like for our children, since the majority of photos I have of them live on the internet in some way. We don't print out our images nearly as often as we used to.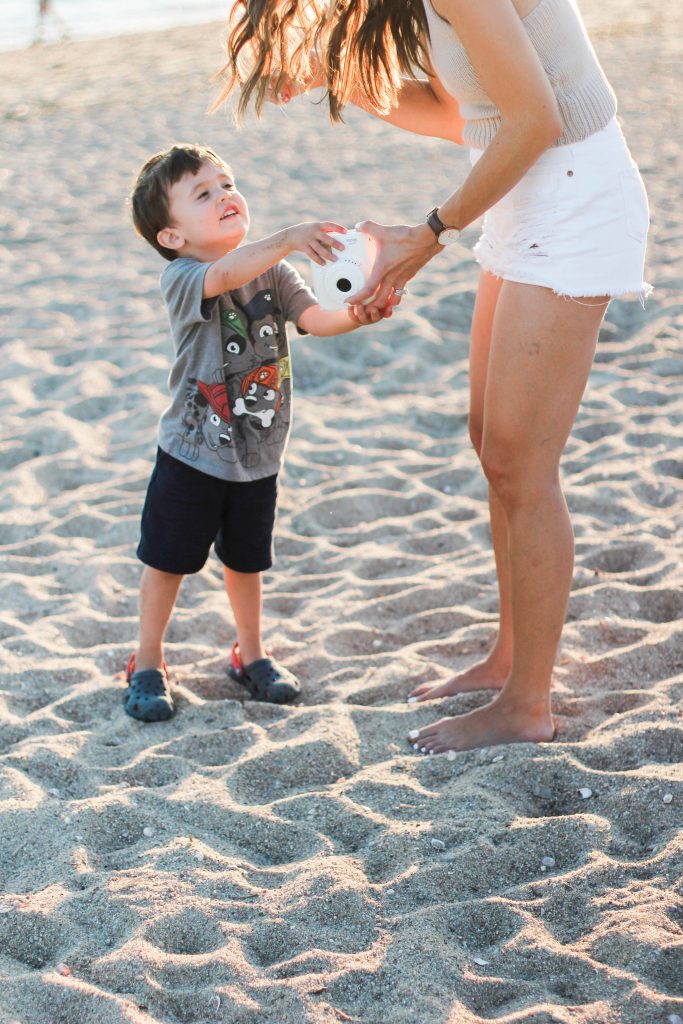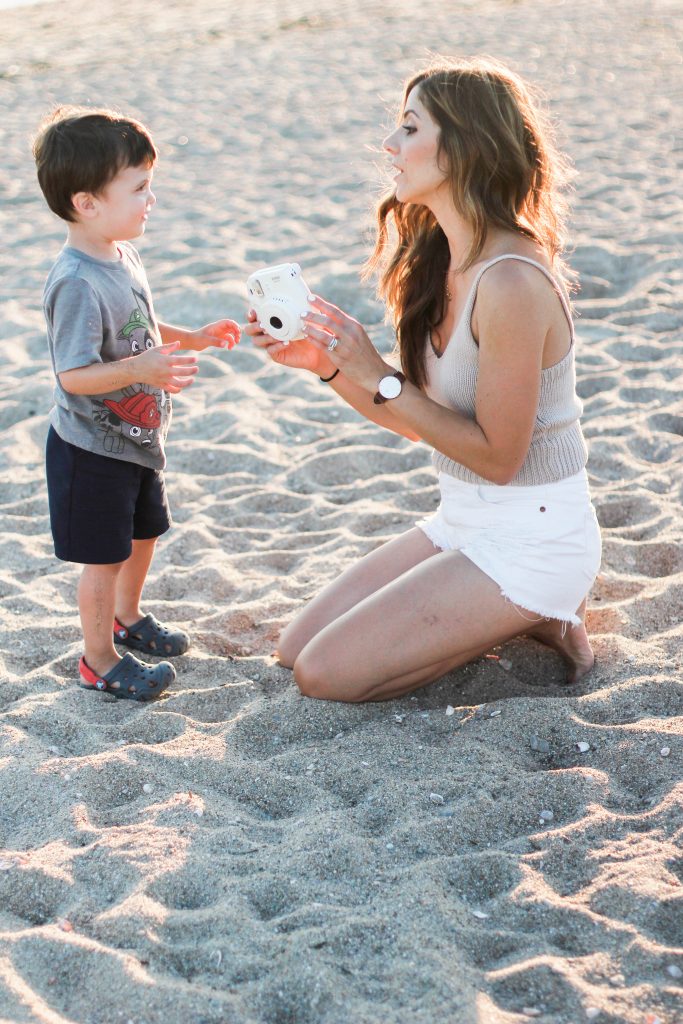 Top: H&M // Shorts: Primark (similar)
For this reason, I've been trying to be more intentional with photographs lately (you may have noticed that on the blog here). I'm not a photographer by any means, but I have a passion for documenting those moments of life that we never want to forget. This is why I've done extravagant maternity sessions and even hired a birth photographer. I know those memories will always be in my head, but I want something tangible to look back on in the future.
I have a few programs that allow me to print, and even some programs that create a book of images. I also want to teach Landon about documenting the memories we make together as a family. I've been wanting to put a little project together for him for a while now to help him do this…like a scrapbook photo album of his childhood.
Fujifilm sent us their instax® camera to try out, and it could not be more perfect for little hands (with some help!). Having a photo develop in front of your eyes is perfect for anxious and impatient toddlers who thrive on instant gratification. We headed to the beach on a gorgeous evening and this mama helped her boy take some photos of his beloved trains.
He *somewhat* got the hang of it himself….;)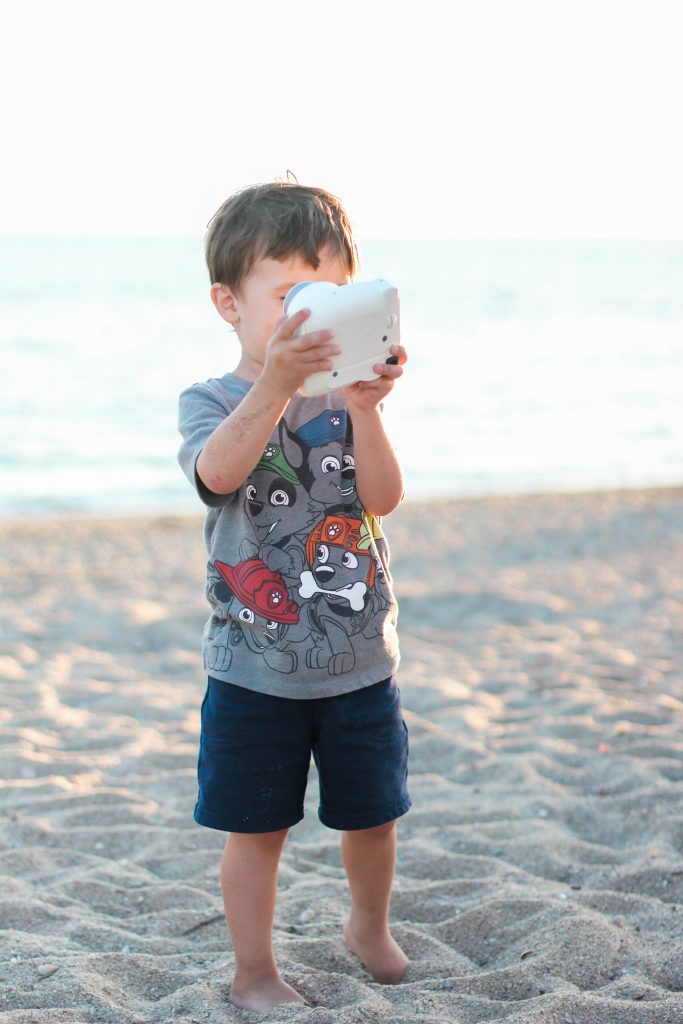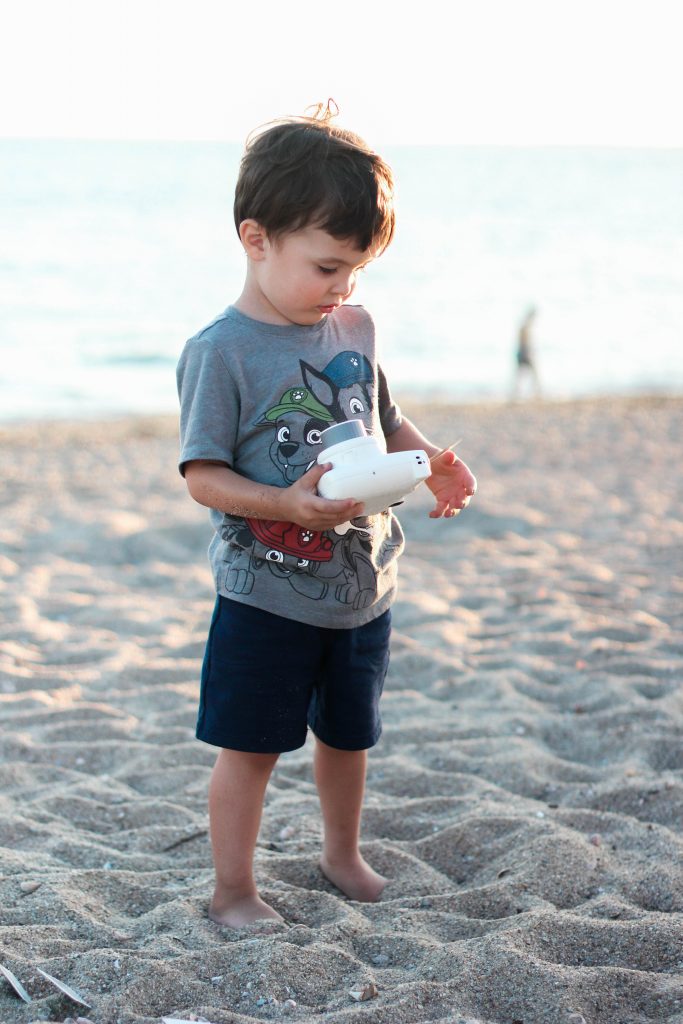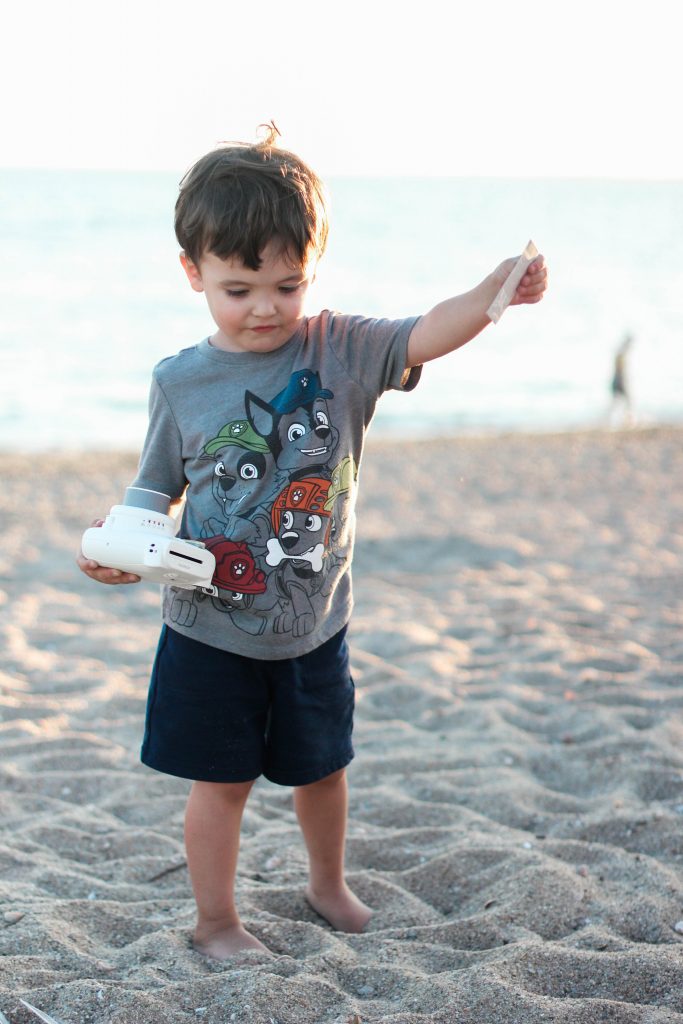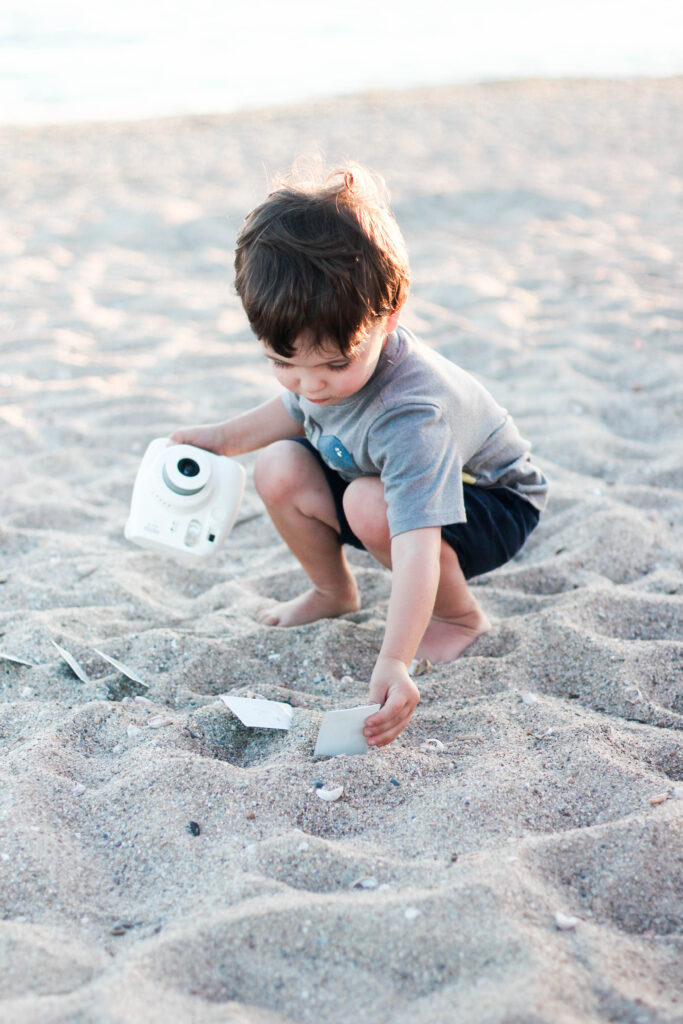 It took a little practice and he (of course) needed some help, but he was overjoyed with the photos we took on that gorgeous evening. My plan is to have him take some photos whenever we do something special so we can create a book of memories with his favorite people…his family.
I'm excited to have my little dude start working on his project, and I LOVE the concept of using the Fujifilm instax® camera. Fujifilm recently opened their Fujifilm Wonder Photo Shop in NYC, which is perfect for photo lovers because it's part retails store, part print shop, and part interactive workshop. They hold DIY classes and print photos all in the same place, making your shopping experience fun! Check out the Wonder Photo Shop NYC on Facebook.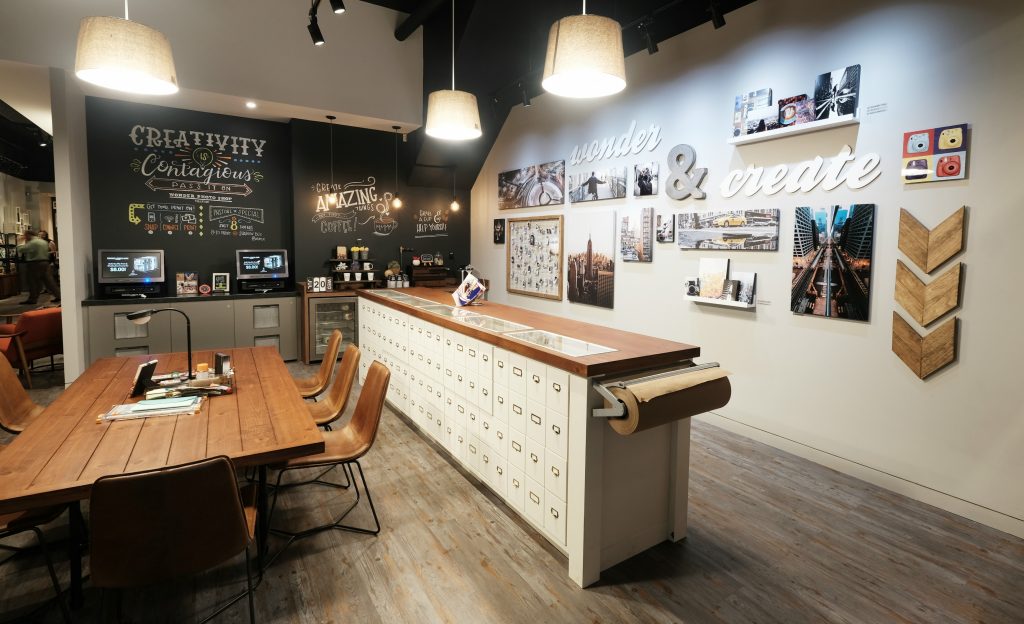 I'll be sharing some of Landon's photos and the start of his scrapbook with you in the upcoming weeks!