Thank you to Zappos and Lucky Brand for sponsoring today's post!
Being honest, I'm not ready for summer to end. There's just something SO care-free about the summertime that I wish could stay all year 'round. Maybe it's just the ease of throwing on some sandals, a tank, and shorts or maybe it's just that it's not snowing. Whatever it is, I'm sad to see it go. But fall is one of the most beautiful times of year here in New England, and I do enjoy a good fall wardrobe. I've got some fun posts lined up on dressing for fall, but today I'm talking about my favorite wardrobe topic ever. SHOES.
Shoes are the most essential part of a fall wardrobe (in my opinion!) and I like to have a variety due to the crazy weather we have here during the fall season. I like to have a few pairs of shoes than can be worn on warm AND cool days. Take these open-toed booties from Lucky Brand, for example.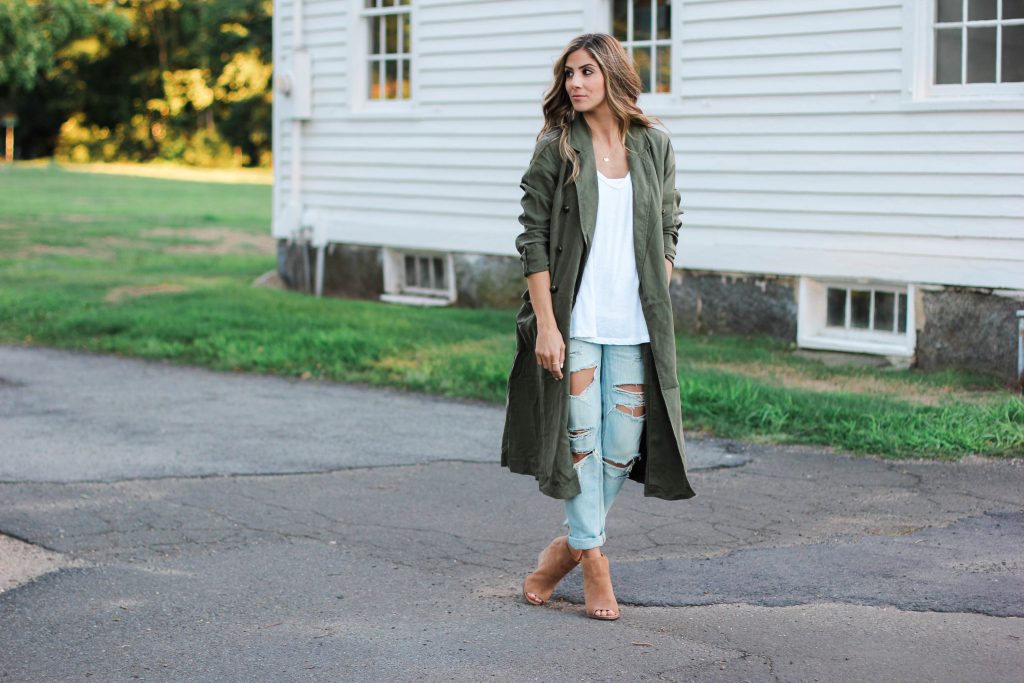 The Lucky Brand Jezzah bootie is one of my new favorites. The open toe makes them a perfect summer to fall transition shoe, and they're versatile enough to be worn with anything from a dress to jeans. I love that they're suede as well, which makes them a little more casual. The wedge also provides insane comfort. True story: I learned in college physics that wedges are more comfortable than heels because the surface area on the bottom of the shoe is greater. That's about the only thing I learned because who actually likes physics? But if there's shoes involved, I'm game. 😉
I styled these with some boyfriend jeans, a tee, and my new trench coat, but I think they would be super cute with the cargo pants in the next outfit below as well!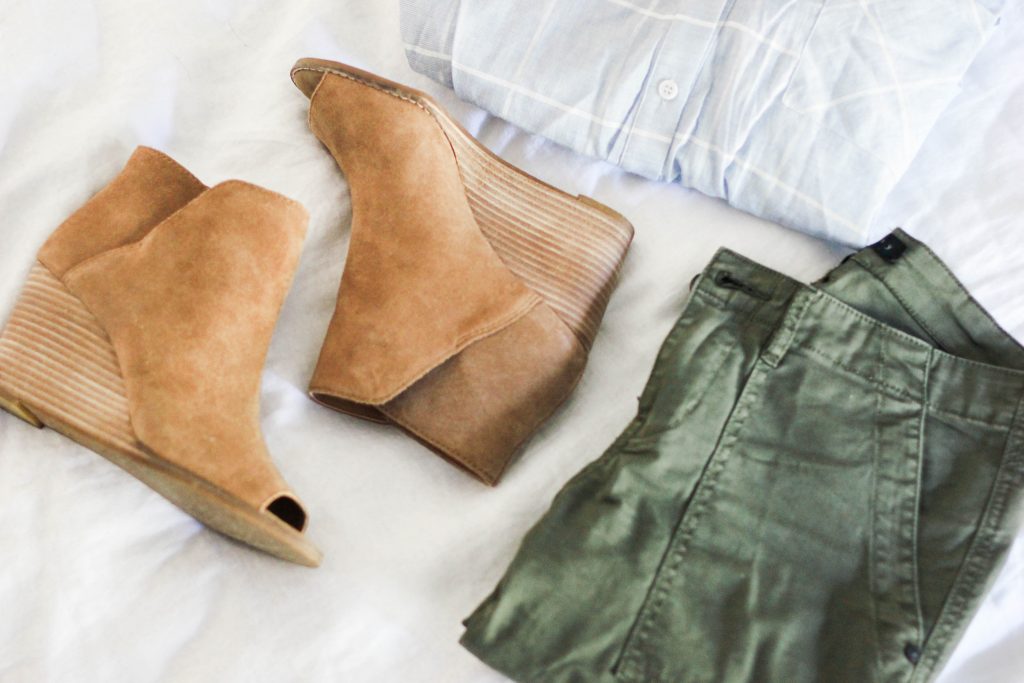 I always like to have one pair of flat shoes for my fall wardrobe since the majority of my day is spent with the kids. These flat moccasins by Lucky Brand (called Acaciah) are SO insanely comfortable. I love my booties, but flats like these are just way easier sometimes
I like that they can be worn with jeans or even cargo pants like I've styled here. I think they add something different than a standard ballet flat, and they also pull in a little of the mens-wear trend. Especially when worn with a collared shirt and a watch like this one.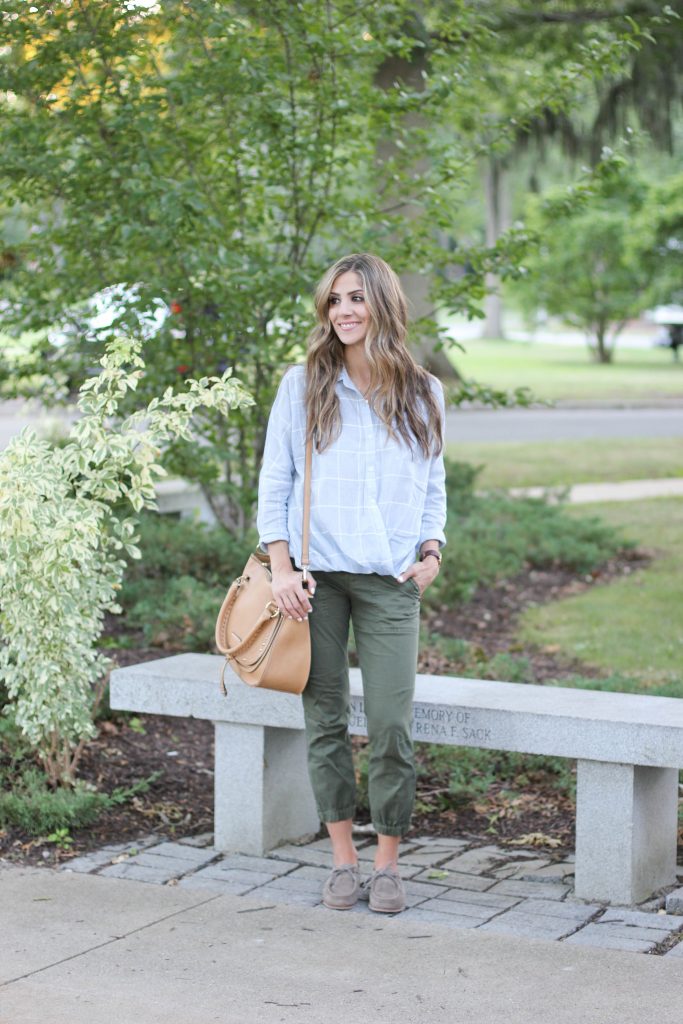 I think these are probably going to be my most worn pair this upcoming season because of how comfortable they are to walk in. I remember years ago not being a fan of the moccasin style shoe, and now I'm all for them! Funny how style evolves over the years! I think I'll be living in these with some boyfriend jeans and a chunky knit sweater this fall!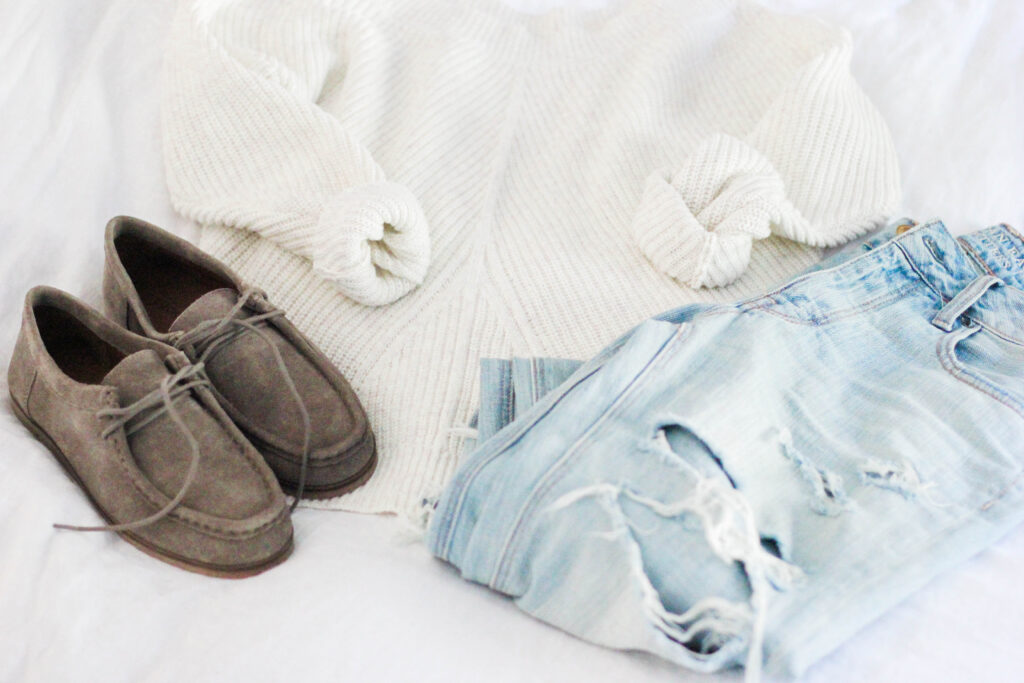 I've always been a huge Lucky Brand fan, especially for their shoes! And Zappos is always a fan favorite because of they awesome free shipping and the best return policy – free returns up to 365 days! I appreciate this since I have ZERO time for buying or returning anything in store. Mamas, I know you relate on this. You can see more Lucky Brand shoe options on Zappos right here!