Thank you to Børn Shoes at Dillards for sponsoring today's post!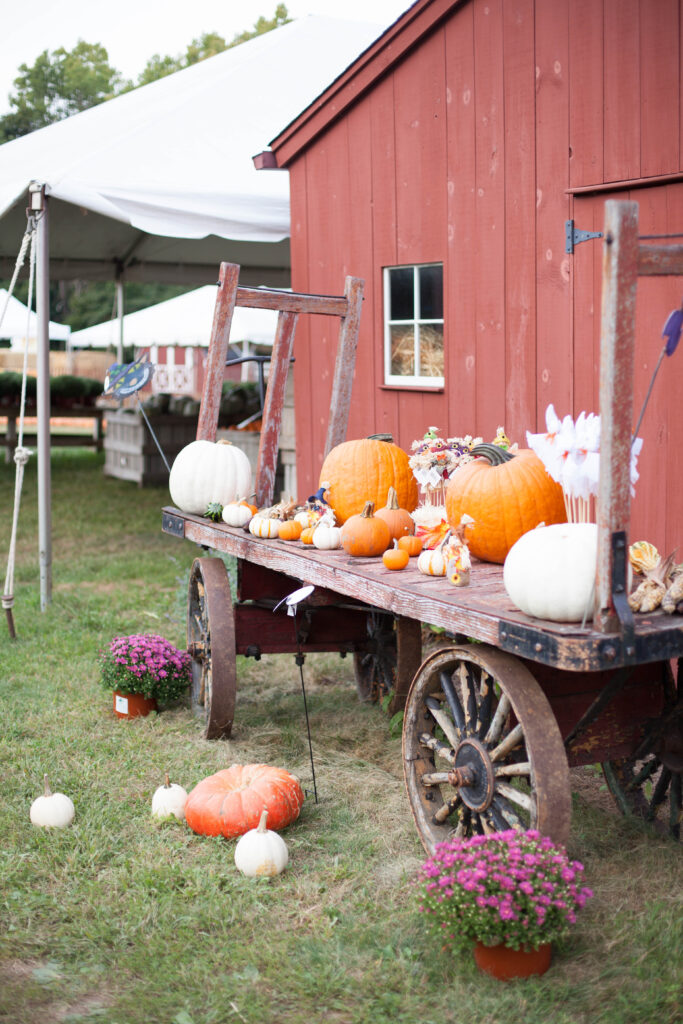 It's no doubt that fall in New England is the most beautiful time of year. It's what we're known for, and it never disappoints. The scenery is just stunning and there's no shortage of pumpkin patches and fairgrounds. We have a few kid-friendly Connecticut Shoreline fall activities that we love to do every year, so I thought I'd share a few with you today!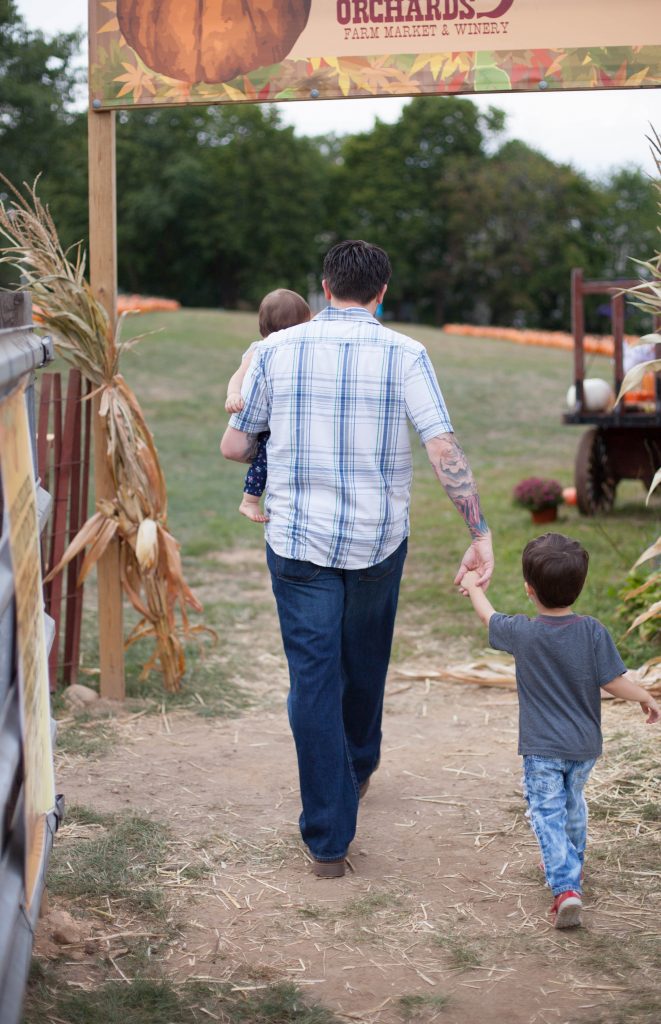 Pick Your Own at Bishop's Orchards: If you're a CT shoreline native, Bishops is no stranger to you! Whether it's apples, peaches, or pumpkins, they make picking easy. I like that their pumpkin patch is in one small area (right near the parking lot) with animals and activities for the kids. They have a variety of pumpkins and gourds to choose from, and I love that I can get the fancy Cinderella pumpkins here as well. Don't forget to stop in the market and pick up some cider donuts! Landon also loves to see the toy train go around the track throughout the store. It's a fun experience for the whole family!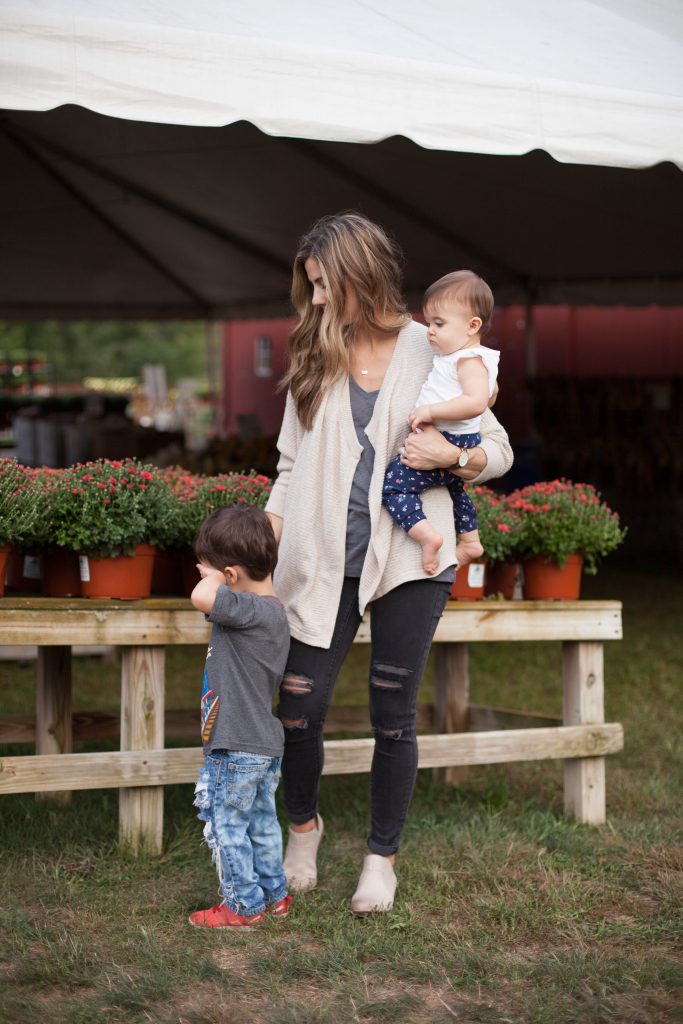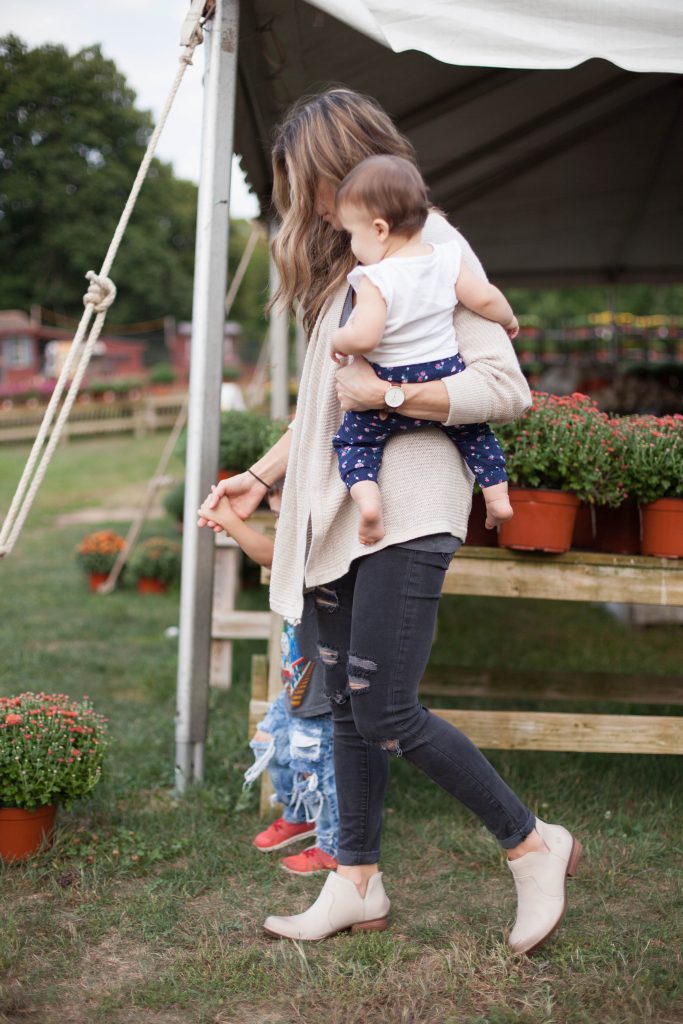 T-shirt: Madewell (more tee options) // Sweater: Madewell (more options) // Jeans: American Eagle (similar options) // Shoes: Børn Kerri bootie
Guilford and Durham Fairs: I have to be honest here, I LOVE fair season. My husband and I used to volunteer at one of the fairs before we had kids, so they'll always hold a special place in my heart! There's nothing like fair food (apple crisp and funnel cake is my JAM), and the kids LOVE seeing all the animals. There's also a variety of rides for kids of age.
Corn Maze at Rose's Orchards or Lyman Orchards: Rose's Orchards isn't as well known as the larger orchards in the state, but I love that it's small and convenient for kiddos. Their corn maze is smaller and kid-appropriate and you HAVE to try their homemade ice cream at the general store. Lyman Orchards has a much larger corn maze that's great for adults too (and yes, I remember getting lost in it!). Lyman's general store and donuts are also quite amazing, as are their apple and pumpkin picking!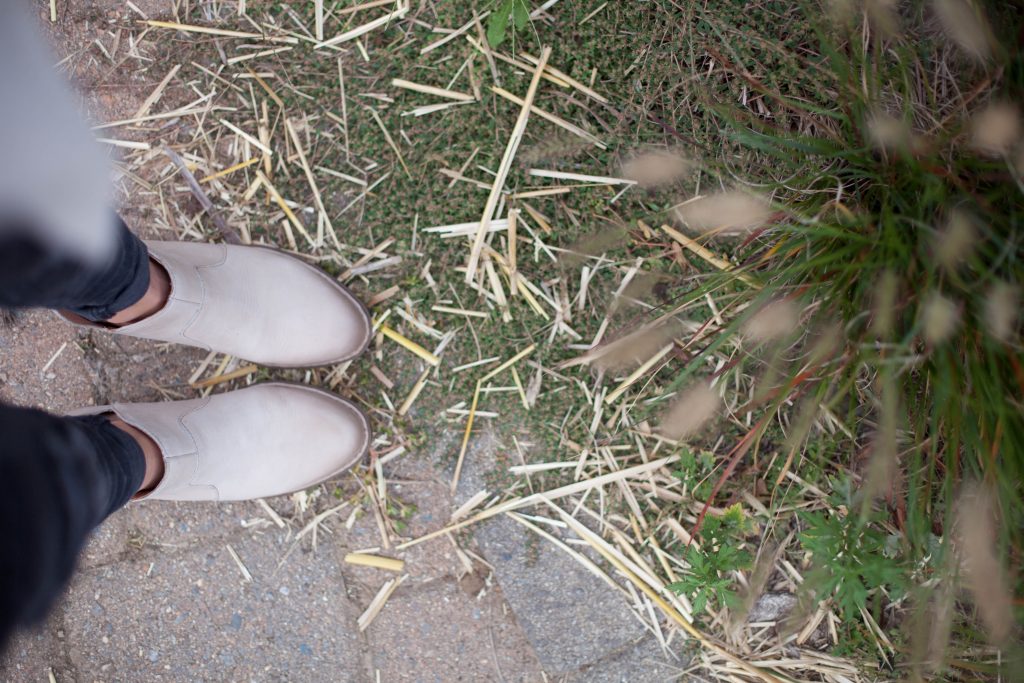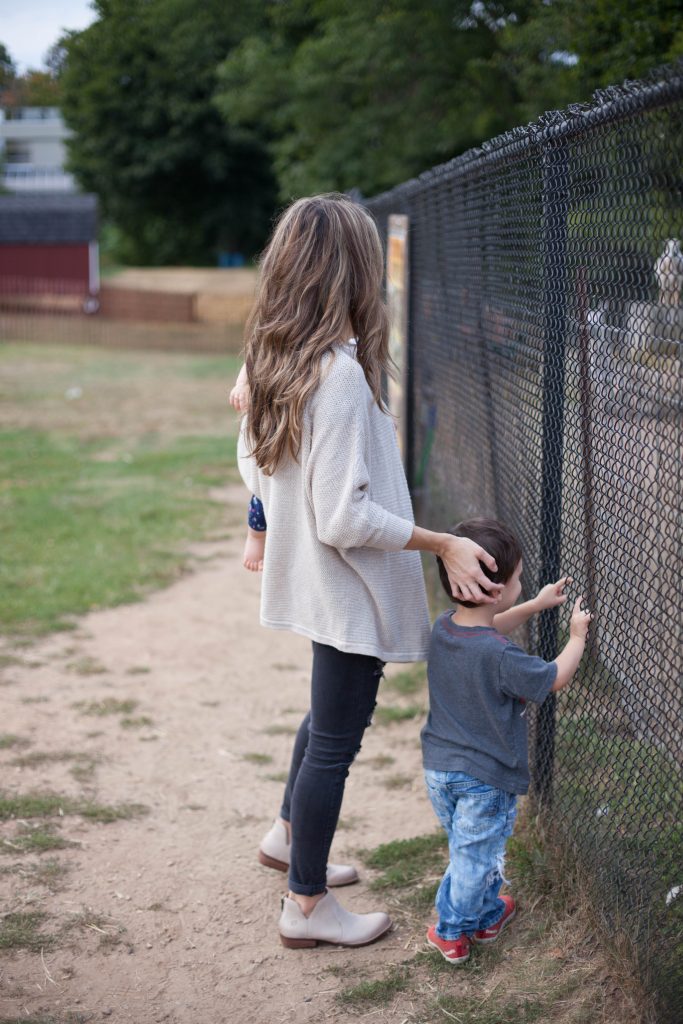 Hay Rides at Ray of Light Farm: We learned about this farm last Christmas when they had really sweet holiday activities, and I love that they have hay rides for the fall season! Ray of Light farm is actually quite amazing because they rescue abandoned and injured horses and donkeys and nurse them back to health. They then live out their lives at the farm! Check out their calendar for all the upcoming events. We will definitely be attending the Not-So-Scary Halloween Hay Rides! Landon LOVED seeing all the donkeys and horses last year, and the farm is just the CUTEST.
Fall Foliage Tour on the Essex Steam Train: Landon, as you know, loves all things trains and especially loves the Essex Steamtrain! We plan on taking the kids on the Fall Foliage tour this year to view Connecticut in a different way.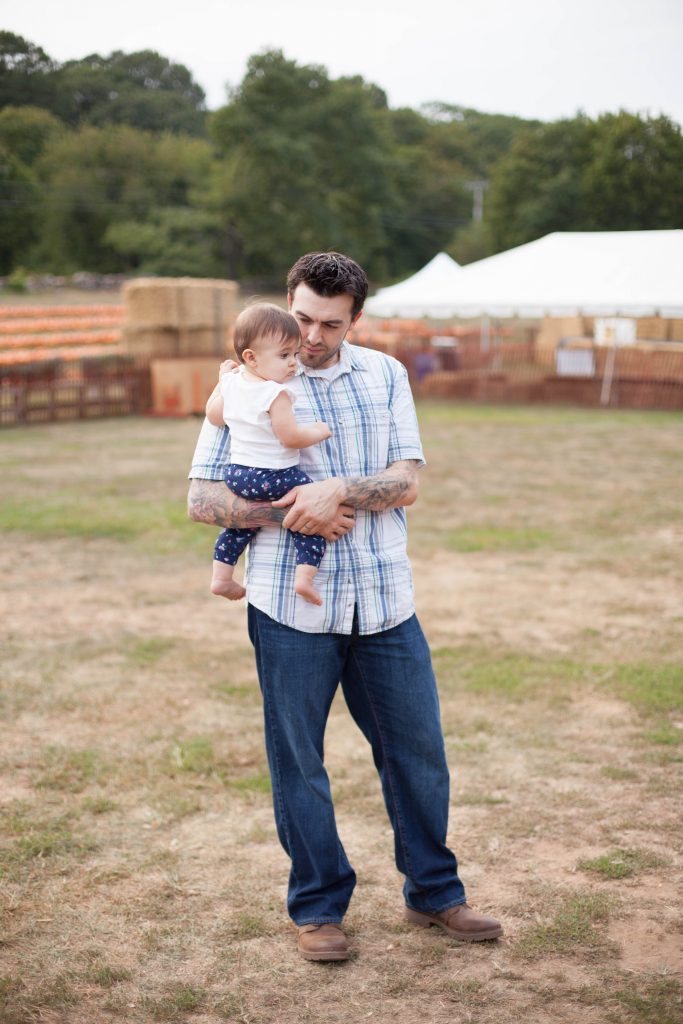 These are just a few fun fall shoreline activities we like to take part in during the fall season! I would love to hear of any additional events you love in CT!
Since the majority of our fall activities are outside on farms, it's always best to be dress in preparation. I also stick with jeans, a t-shirt, and a cardigan because the New England weather is unpredictable during the fall, and I always wear a good pair of boots. I recently received these Børn Kerri booties in taupe, which are perfect for activities that involve a lot of walking (pumpkin picking, fairs, and corn mazes to name a few). I love that they're stylish yet comfortable and can easily transition from a day look with the kids to a date night look with my husband. My husband is also wearing the Børn Melick boot, which is rugged yet sleek enough for the same kind of transition. My husband is a VERY pick individual when it comes to shoes (he hates everything), and he absolutely loved these boots. Børn's entire fall line at Dillards does not disappoint and has a variety of styles!
Drop me a comment with a Connecticut fall activity you love that we need to check out! 🙂