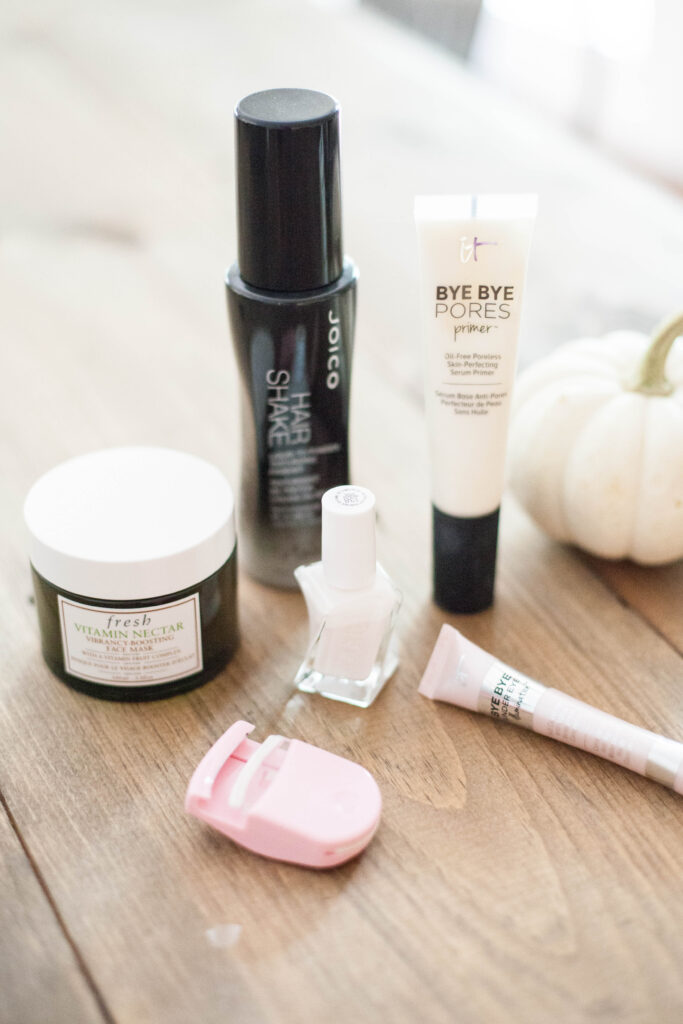 It's been quite some time since I've done a beauty post, but I tried so many new products that I fell in love with this month that I felt I had to share! I'll be over on my Facebook page between 3-4pm EST today sharing about these products and answering any questions you might have, so be sure to tune in over there!
Fresh Vitamin Nectar Vibrancy-Boosting Face Mask. I was introduced to this face mask earlier this month, and I've totally fallen in LOVE. Not only does it smell amazing, but it leaves my skin looking vibrant and fresh right after use. It's perfect for those days your skin looks dull and needs a boost!
It Cosmetics Bye Bye Pores Primer. My new favorite primer! I just started using this and I'm totally hooked. It literally eliminates ALL pores. ALL PORES. It's topped my former favorite at the moment!
Japonesque Eyelash Curler. My friend Kendra at Citizens of Beauty recommended this in one of her FB Live videos, and I liked that she said it won't rip out your lashes (which has happened to me a few times with my other curler). I recently switched to this and I'm hooked. It gives a PERFECT curl and doesn't kill my eyes like my last crappy one did. It's also super cute and compact!
Joico Hairshake. This liquid-to-powder texturizing finisher is my new all-time favorite. It gives the perfect amount of texture and volume to my waves and doesn't leave a sticky/weird feeling. I talked about this in one of my FB Live videos right here.
It Cosmetics Under Eye Illumination Concealer. I love the original It Cosmetics concealer, but this one is equally as great and adds a little brightness under my eyes. I've been extra tired lately (my child doesn't sleep. Ever.) so I've been needing it!
Essie Gel Couture Polish. I have oily nail beds, so NOTHING (and I mean nothing…not even shellac!) stays on my nails. I recently tried this new gel polish from Essie and I was SUPER impressed with how long it lasted compared to my standard polish. If it can last 4-5 days on me, then I can guarantee it will last longer on you. My white color of choice is "Pre-show Jitters" which is what you normally see me wearing on my Snapchat!
That's it for this month's beauty faves! I'll be on Facebook Live today from 3-4pm EST answering any questions you might have about these products, so join me on my Facebook page!