I'm sharing #DSW in my life as part of a Designer Shoe Warehouse sponsored series for Socialstars™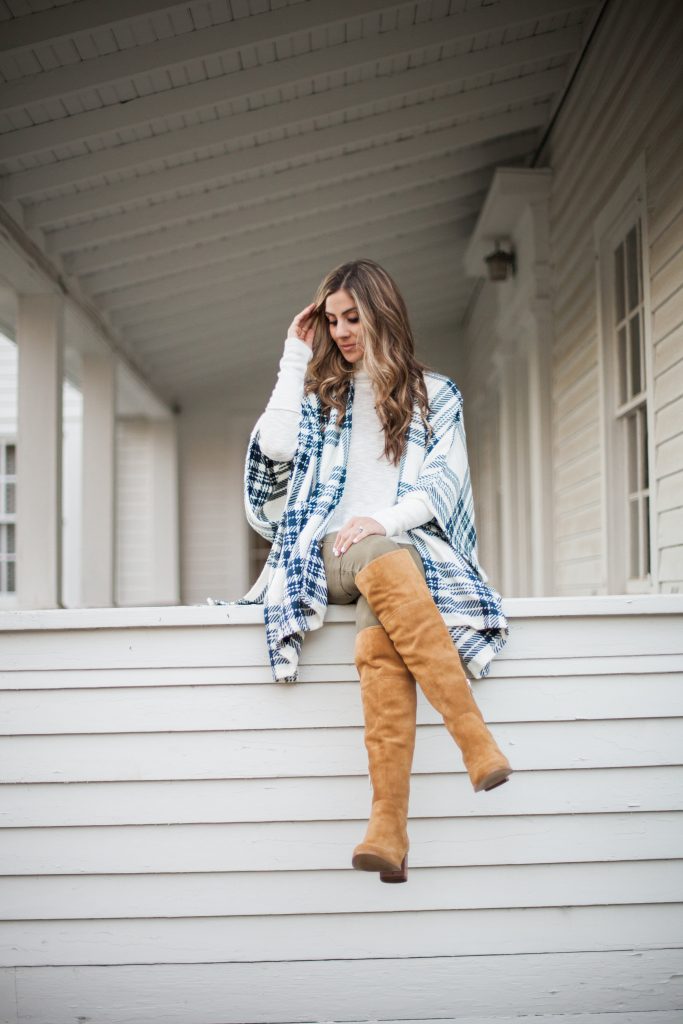 A few years back I bought my first pair of over the knee boots for way more money than I care to admit to my husband, but they've been one of my favorite pairs ever since. Over time I've added a few more OTK boots to my wardrobe because I actually prefer their look over standard knee-high boots. Not to mention they keep my legs warmer in the cooler months 🙂 I feel like styling an OTK boot can be a struggle for some, which might prevent you from purchasing them. But I promise it's easier than you think and doesn't require a fancy outfit. Today I'm sharing my simple tips on how to wear over the knee boots!
Poncho: Abercrombie & Fitch // Turtleneck: Free People // Pants: Abercrombie & Fitch // Boots: Marc Fisher c/o DSW
Photos by Alicia Ann Photographers
First things first, if you're planning on buying your first pair of OTK boots, I suggest going with a heel height you can manage. For me, that is NOT a stiletto heel. When would I ever wear those? Never. I stick to flat boots or a slightly heeled, like these Marc Fisher boots from DSW. They're not too high which makes them versatile, and the stacked heel makes them super comfortable. AKA, I can chase my kids in them if need be. Another thing to keep in mind is your leg length. If you have shorter legs, a pair of OTK boots with even a slight heel will make your legs appear even longer, whereas flat boots might make them look stubby. If you have long, lean legs, a flatter version is a great option. Regardless, buy a pair you LOVE and feel comfortable in!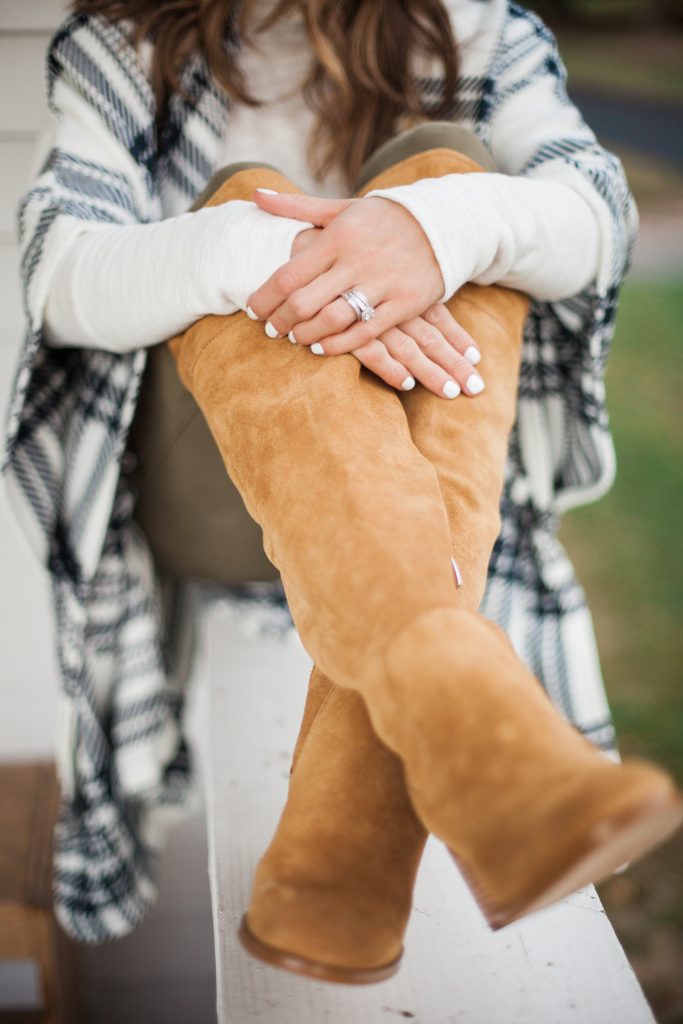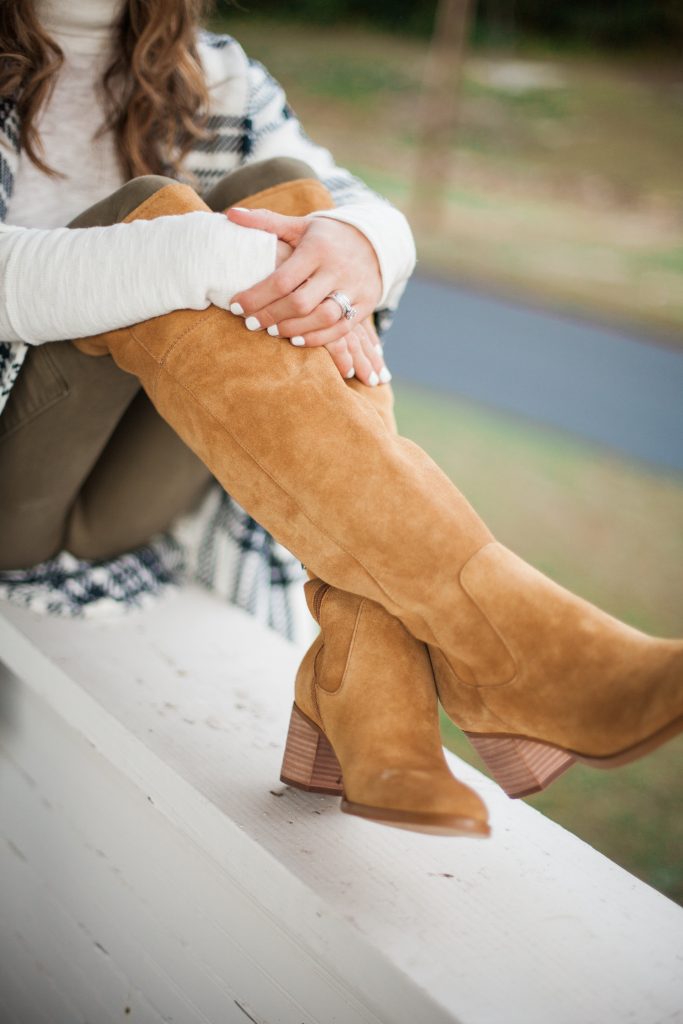 With jeans and a sweater. This is probably my go-to look for fall/winter. Over the knee boots add a little edge with a basic pair of jeans and a sweater, and they really pull the whole outfit together with minimal effort. In place of jeans, throw on some skinny pants or even leggings. Comfort is key for me, so I'll mix and match a variety of pant/sweater options. I'll even throw a poncho over my outfit for added warm and for a more put-together look.
With a dress. It could be a short dress or a long dress, it doesn't really matter! I love wearing mine with some tights and a dress that hits mid-thigh. Add a floppy wool hat and you have the perfect boho look. This is a great option for date nights with your significant other because over the knee boots will keep you a LOT warmer than a pair of heels in the cooler months! Also, cocktail dresses look HAWT with some stiletto over the knee boots. Something to keep in mind for evening attire!
A tunic top and leggings. I love tunics because they're SO easy to wear. Throw on a pair of leggings (mom win) and OTK boots and you look like you've made an effort to get ready when it's really only taken like 5 minutes 😉 Mom win!
There are a variety of other options, but these are my favorite ways to wear over the knee boots! I love that they add a little edge to any look, and again…the warmth factor 🙂 I'll do anything to keep warm in the winter, so my OTK boots are where it's at. I always wear thick knee high socks under mine for extra warmth!
DSW has a variety of over the knee styles, but I'm loving these Marc Fisher boots you see here! They come in a variety of colors, as well. DSW is always a favorite place to shop for shoes because of the variety of brands and styles offered. And I always love their online shopping!
What do you think of the OTK boot trend?