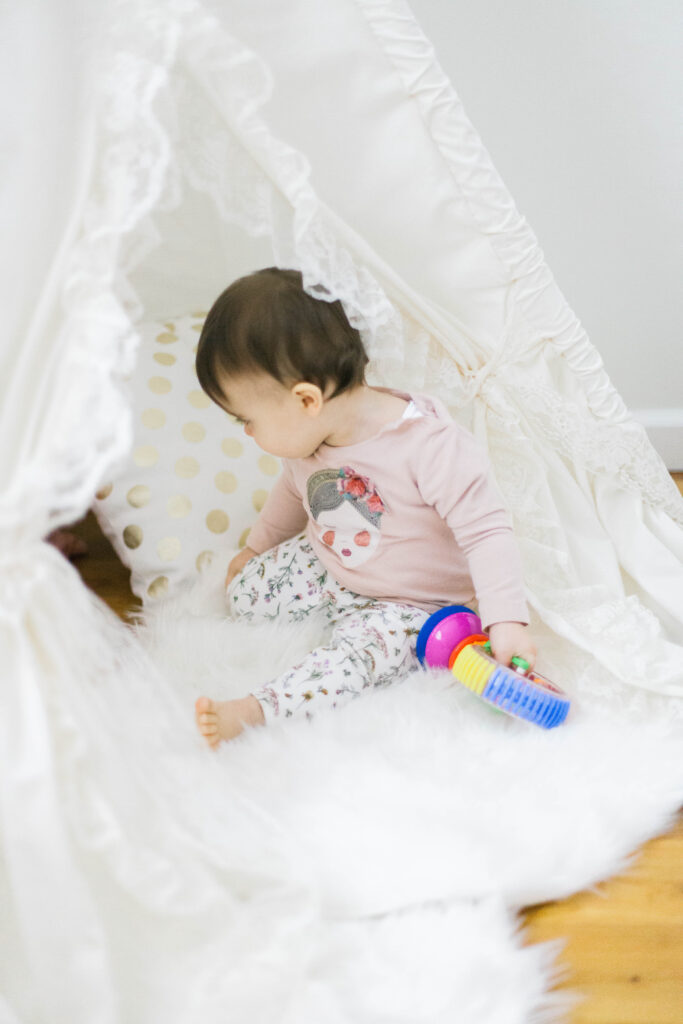 DISCLAIMER: Yes, this is all about sleep training. If you do not approve of sleep training, that's totally fine. This is not an article telling you what to do as a parent, it's about what worked for ME as a parent. I fully support whatever method means you and baby get the most sleep! This is a completely unbiased review on my experience with The Cradle Coach. I was not paid to write this, I purchased the package out of desperation. But I am so thrilled with the results that I wanted to share it with you!
When I had Landon, I was all on board for sleep training. I worked full time, had a different lifestyle, and only one child to worry about. He was also bottle fed (you can read all about our exclusive pumping experience here) which I'm convinced made it easier to get him on a schedule and ensure how much milk he was taking in each feeding. I had zero game plan when I had Noelle because my main focus was that she nursed and nursed well (since I didn't have that with Landon). Thankfully, she did. So I fed her on demand for months to be sure she got that latch down. I nursed her whenever she wanted to nurse. I nursed her to sleep. I nursed her all through the night. It became our routine and the only thing I knew as a mom of two. I needed to maintain Landon's schedule, and it was easier to soothe my crying baby (who was INCREDIBLY FUSSY all the time) by popping my boob in her mouth.
But this started to not work for us. Noelle only knew how to fall asleep by nursing. And her naps lasted all of 10 minutes, which left me with NO time for Landon. Literally, zero time. The second we would begin to play together, she would wake up. She also would wake up continuously throughout the night, and we were becoming very sleep deprived. My husband wakes up very early for work, and he was literally running on 3 hours of sleep. He's an electrician, if he messes up it could result in a house burning down. I was becoming very nasty because I was so sleep deprived. I was mean to my husband, nasty to Landon, and apparently I started saying things that I don't even remember. I felt like a failure on all levels because I felt like shit and acted like an asshole to my family. I had zero time for my son, zero time for myself, and like LESS than zero time for my husband. Seeing as Noelle is almost one, I decided I couldn't do this anymore. This was not working for our family, I still had a very fussy baby who was always crying, and we were basically all miserable.
I remembered my friend Lynzy writing about using a sleep coach a while back, and had a few people recommend The Cradle Coach to me when I started to inquire about sleep training. I sleep trained Landon, but forgot how to do that since it was 3 years ago. I tried looking into books, but who the hell has time to sit down and read a book when you have two children?! I needed someone to be like "THIS IS WHAT YOU NEED TO DO, DO IT THIS WAY." So I hired Rachel from The Cradle Coach in an act of desperation. I figured if all I had to lose was $100, then that wasn't too bad.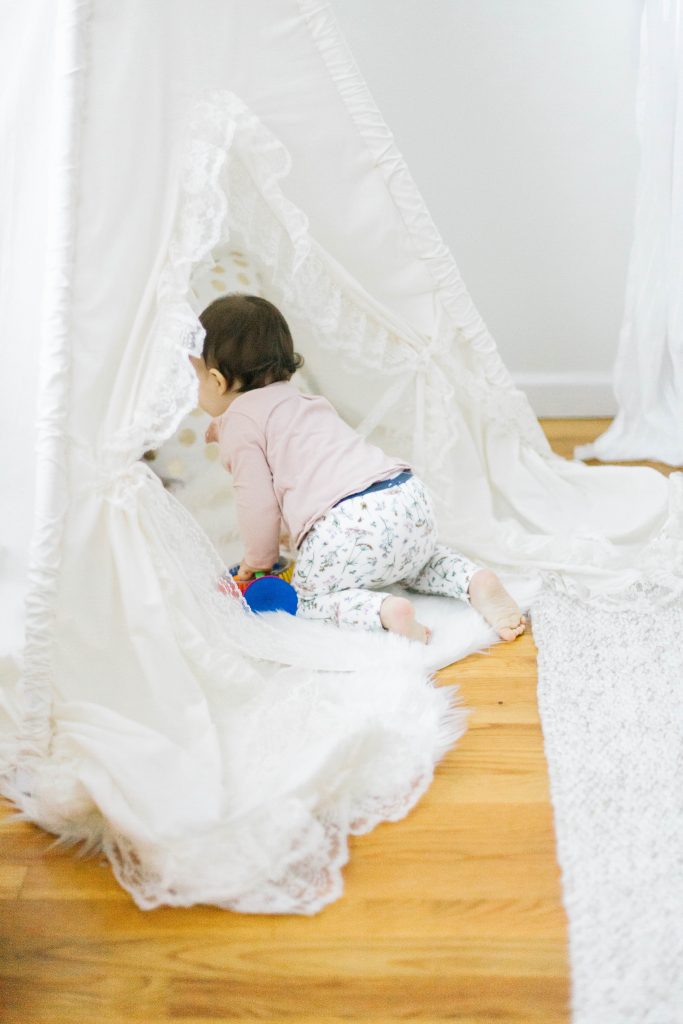 Once I signed up, Rachel sent over a questionnaire to fill out so she could get a better idea of what we were doing with Noelle. She also asked what our reservations were with sleep training, if we had any. This is where I suggest writing down if you have an issue with having baby cry it out. I was so used to Noelle crying all the time, that this didn't phase me whatsoever. Once I got all the info over to her, Rachel compiled a sleep plan for Noelle that landed in my inbox the next day.
She laid everything out for me. She told me the exact scheduled Noelle should be on at her age and gave us TWO different sleep training methods and how each of them worked. The packet was almost 20 pages long but had everything I needed to know in it. I printed it out, read it over, highlighted all the pertinent info, and made it a goal to stick to it.
The first night was the hardest. Rachel suggested started at nighttime and then working on naps. It took about an hour and 20 minuted for Noelle to fall asleep. She cried on and off, but surprisingly was never screaming her head off for more than 3 minutes. I only had to go in her room once, and she fell asleep on her own. She woke up ONCE overnight, but only whined slightly for just a few short minutes before falling back asleep. I woke her up at her appropriate time the next morning and continued with the plan. The hardest part for me was NOT nursing her to sleep. But I knew I needed to be consistent and stick with it in order to see results and to get a happier baby. She did PHENOMENAL. Phenomenal! I made sure she ate enough with each feeding, fed her more solids (something I was super lazy about), and made sure she was taking in enough calories. She picked up on it super quickly and gave minimal fuss going down for naps and bedtime (also, I was apparently putting her down to sleep way too late).
The result??????????? She is SLEEPING THROUGH THE NIGHT. She never did that. She is NAPPING. Like actual NAPS! That last more than 10 minutes! TWO A DAY! And???? SHE IS NO LONGER FUSSY. Guys, I have the happiest little girl! It's crazy to me how sleep deprived she was. She is SO SO HAPPY and bubbly and fun! She did a complete 180. I am so grateful. The package I purchased from The Cradle Coach involved 3 days of email support which I didn't even end up needing because Noelle did so amazing.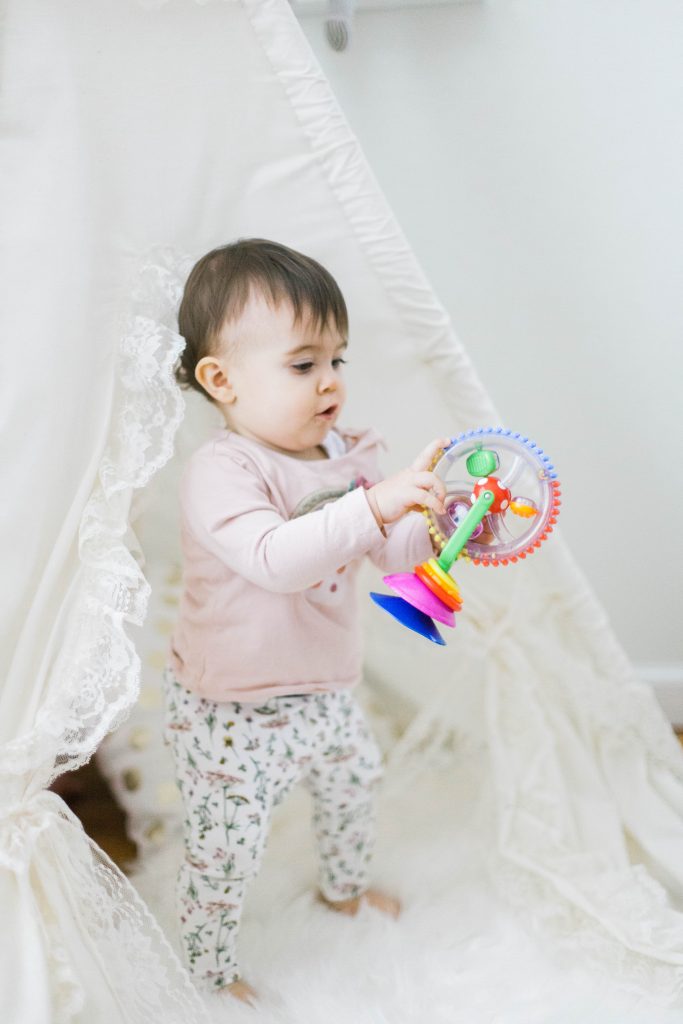 I asked Rachel if she would be willing to offer a coupon code for my readers, since SO many of you on Snapchat said you were having the same issue I was. If you use code LAURENMCBRIDE10, you'll get 10% off your package (the one I purchased was $100, so that would be only $90 for you!)
Sleep training isn't for everyone. And that's totally okay. I firmly believe in doing WHATEVER WORKS for your family. Honestly, whatever helps get you the most sleep! What works for me might not work for you, and what works for you might not work for me. I co-slept with Noelle for quite some time and while she slept, I didn't. Nor did my husband. So that was not the solution for us. My advice to you is to discuss as a family what's best for all of you, baby included. The biggest thing for me was that Noelle wasn't happy. I knew I needed something to change. I have zero regrets for sleep training because it's made our entire family a lot healthier. Sleep is a much needed component of daily living. Without it, everything else goes to shit!
I highly recommend hiring The Cradle Coach if you are in the same position I was in! And don't forget to use LAURENMCBRIDE10 for 10% off your package (not including Cradle Express!)