I'm frequently asked what a typical day in the McBride household looks like. I promise you, it's not interesting. Instagram definitely depicts a pretty life, but I know you all know the real me over on Snapchat 😉 Life is hectic, crazy, and there are many days I question my sanity. This is just what it is to be a mom with two littles. I wanted to share with you what a day in the life actually looks like, and also thought MANY of you can relate. So here's what goes on daily in our house.
7:00 am: I wake up, usually to one child screaming (normally it's Landon). I've slept too late again, so there goes my few minutes of quiet time. Someday I'll actually achieve this, but apparently it's not right now. I quickly wash my face and brush my teeth so I at least have that done for the day. I then grab Landon who's screaming for his "dadaaaaaaa" and quickly FaceTime my husband (who's already at work) so he can stop having a panic attack over the fact that he's not home.
7:30 am: Exhausted, I start to brew my cup of coffee. We've been big fans of the new Starbucks® Caffé Latte K-Cup® pods in our house, especially since my local Starbucks is not a drive-thru and there's NO way I'm bringing both kids inside. I never loved coffee before kids. Now I so look forward to that first sip! Coffee time has become a celebratory moment for me, ha! When your days are as busy as mine are, sometimes the littlest moment can feel special. And being able to make a latte at home, instead of my regular coffee makes that little moment feel like even more of a celebration. I also start to make breakfast (eggs, bacon, toast) before Noelle wakes up. Usually I'll post on social media for the blog around this time too.
8 am: Noelle is usually up by this time, so I feed her while giving Landon his breakfast (and while I'm attempting to scarf down whatever is left too). Once both of them are fed and content, I'll throw on some makeup while they're both playing so I don't scare whoever I see that day. 'Cause you know your girl has major bags going on under her eyes.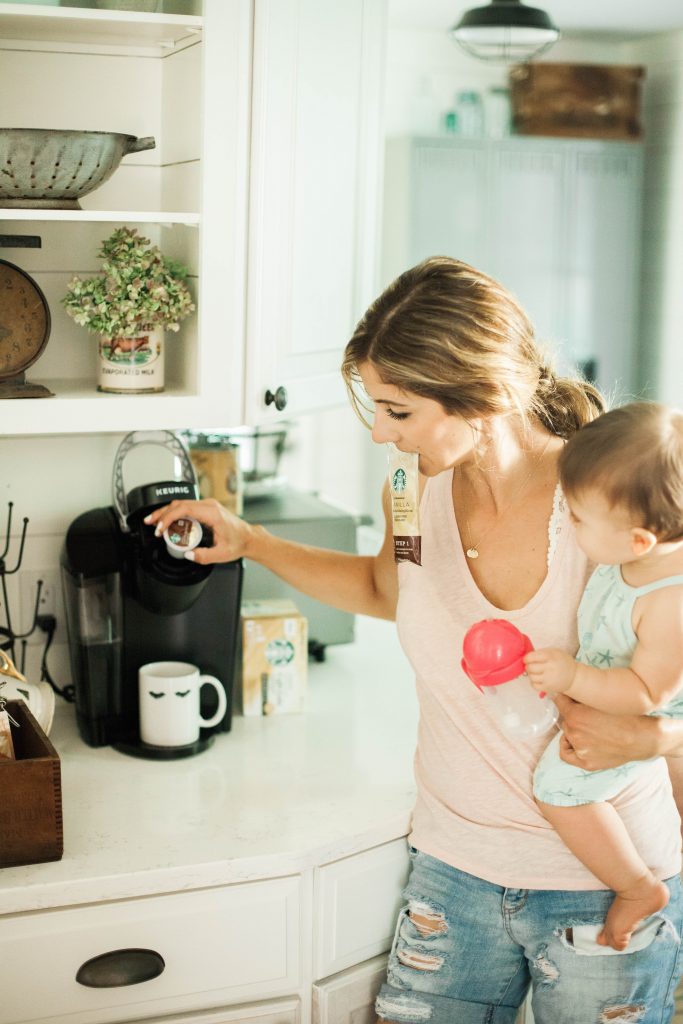 9 am: If it's a school day, this is drop off time for Landon. If not, I'm trying to get things together for the day (answer e-mails, blog things, etc). I attempt to do things around the house as well like empty the dishwasher, clean up the kitchen from breakfast, and finish laundry.
930-12 pm: Pretty much the same as above, I'm literally just trying to get LIFE managed during this time. Especially if Landon is at school. I'll also use this time for errands if needed since I'm down a kid! Noelle will nap from about 10-12 (this is new for her and oh man, do I LOVE it). I'll make myself a second cup of my Starbucks coffee because I most likely didn't finish the first one and there's only so many times you can reheat! I try to actually enjoy this cup because the house is quiet and I can just soak in the moment. We then pick Landon from his school day.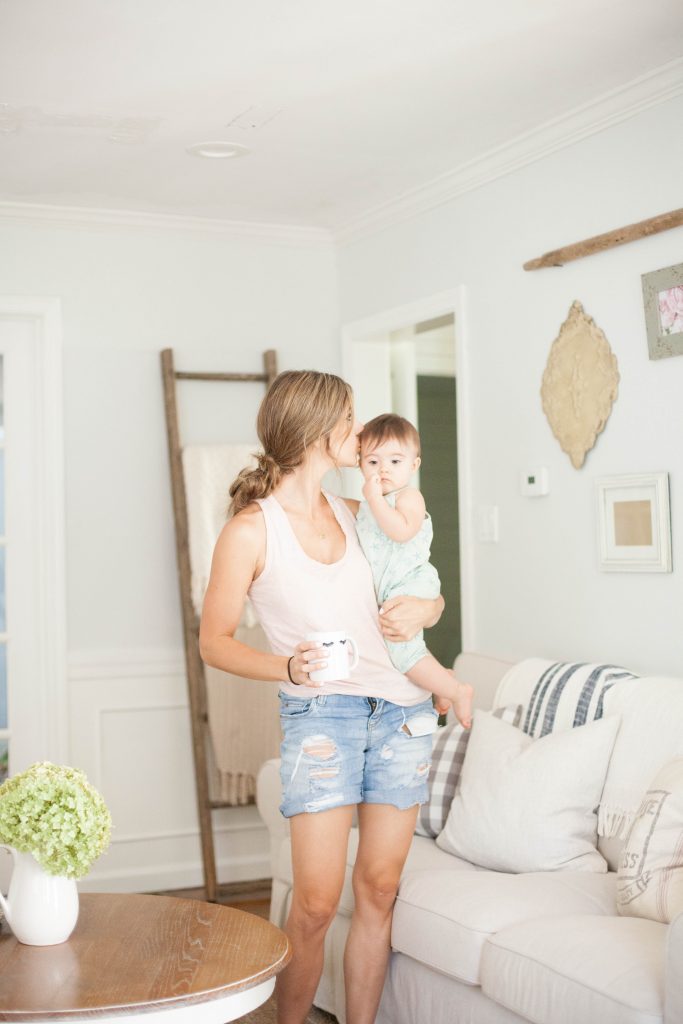 12-2:30 pm: Lunchtime for all, which usually consists of a grilled cheese for Landon and last night's leftovers for myself. We'll play outside or do puzzles and color inside depending on the weather.
2:30-4:30 pm: Landon's nap time, and usually Noelle too (if I'm lucky). I'll attempt to catch up on blog work if they're both down, or try to clean the house (I say clean loosely). I've usually forgotten about starting dinner, so when my husband walks in the door around 4 pm I have an "Oh crap" moment and start to throw something together with what I have in the fridge (and I'm usually missing an ingredient).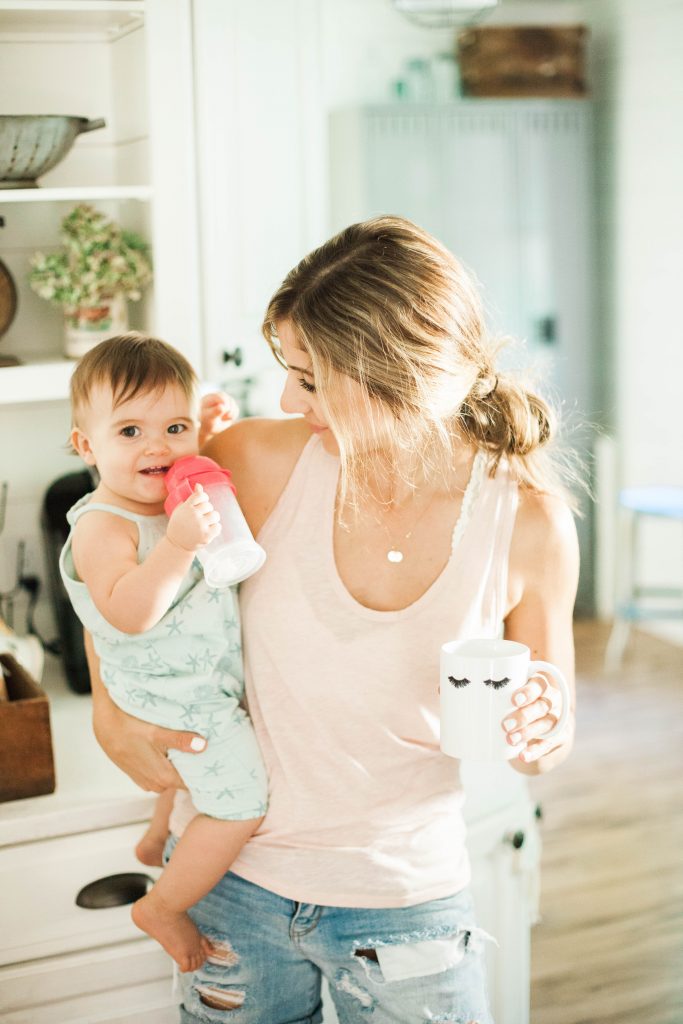 5-7 pm: I'll try to go to the gym around 5 while giving my husband dinner instructions (what to prep, what to finish, etc). Luckily my gym is right down the street, but I should mention this is like TWO of the 7 days a week. I'll finish up the cooking once I return and we sit down to eat between 6-630 pm. We'll usually play outside or go shoot some blog photos after dinner. Occasionally we'll treat Landon to ice cream if he had an extra good day. 🙂
7:30 pm: Bath time. Story time. Everyone's in bed no later than 8:30 pm during the summer/fall, and we push it back to around 7:30 pm in the winter since it's darker out. I'm STRICT about bedtime. Get. To. Bed. I need my me time!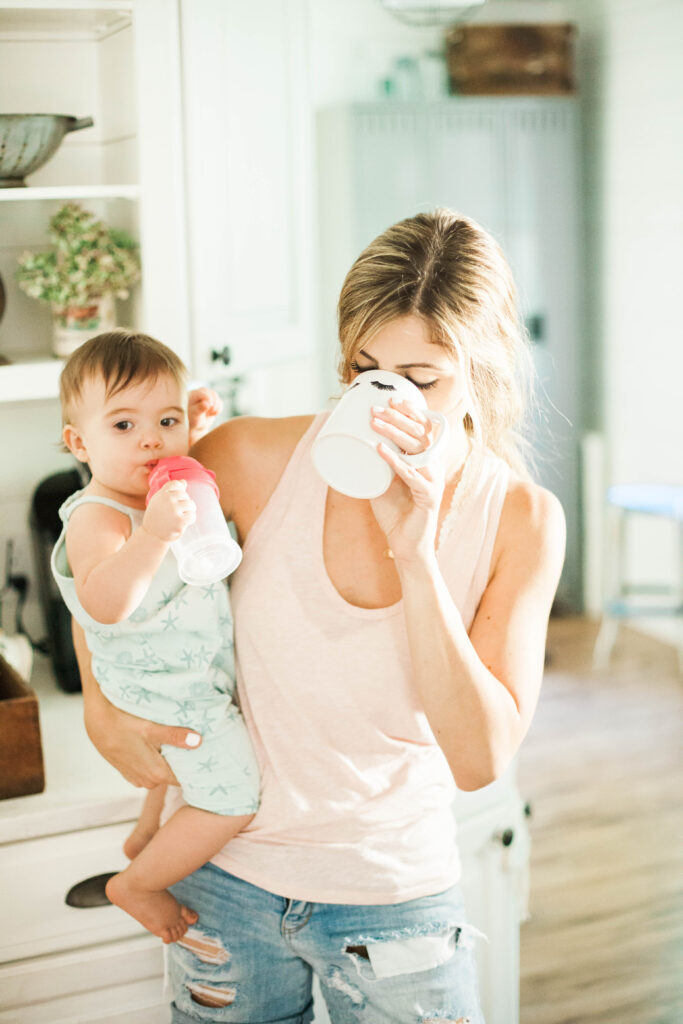 8:30 pm: I'm usually back to blog work or just doing ANYTHING I couldn't during the day, and my husband helps clean up from dinner. Both of us usually pass out on the couch from exhaustion before 10 pm. I've been trying to avoid this lately and actually get into bed at a reasonable time. I think this will be better after daylight savings time when the kids are in bed earlier!
That's it! So not glamorous! But you know what? As tired and overwhelmed as I am, I wouldn't change it. It's so funny to look back on my "routine" years ago and compare it to now. Sure, I would love to sleep in a bit, but my kids are everything to me. I'm also very lucky to have a job that allows me to be home during the week (since I work my nursing job only on the weekends!). Someday I'll get better at the cooking dinner thing, but baby steps 😉
Stir, Sip, Enjoy. Signature Starbucks® latte flavors, now available in a K-Cup®