I never drank coffee until I became a mother. True story. I always said I never wanted to become addicted to caffeine, and now, 3 years later, I need it to function. But I suppose that's what happens when tiny humans take over your life and you're sleep-deprived (although at least now Noelle is sleep-trained, WOOOO! Mom win!)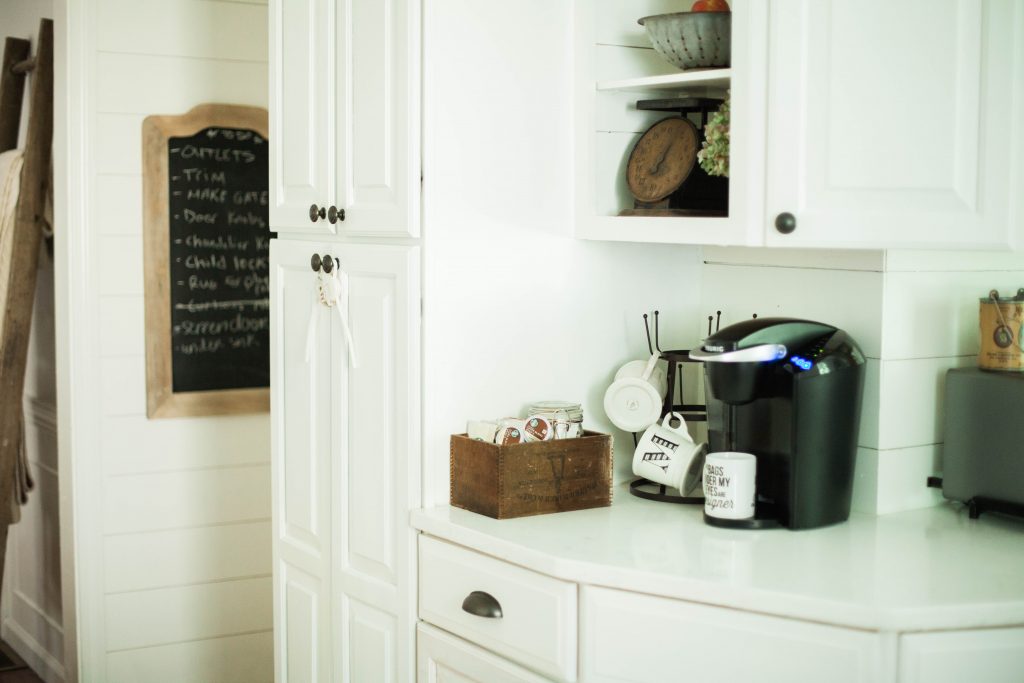 Anyway, one of the things I loved about the town we used to live in was the drive-thru Starbucks®. It was my go-to when Landon was having "a day" (you know the kind I'm talking about). I would throw him in the car in hope of calming him down and pass through the drive-thru line for my favorite coffee. When we moved a few towns over, I didn't realize that the Starbucks here had no drive thru. YOU HEARD ME. No drive-thru. This is literally earth-shattering for a sleep-deprived mother to two kids under 3. It is not worth dragging two kids into a coffee shop just for one coffee that will end up cold because what mom ever actually finishes a hot coffee? Sadly, my Starbucks days dwindled and I was no longer racking up gold stars on my Gold Card. 🙁
I bought a Keurig® because, if you're a mom like me, you know it's not worth making an entire pot of coffee when you most likely will struggle to drink one hot cup. (Seriously, how many times do you reheat? It's like 4 for me!). I had some fun creating a little "coffee bar" in our kitchen to make my coffee experience a little more enjoyable as I'm brewing it with one eye open every morning. I used an old vintage crate to hold my coffee and tea, and purchased this wire mug rack to hang all my fun mugs on. Fun mugs are crucial! I like that this holds multiple mugs in one small, compact spot.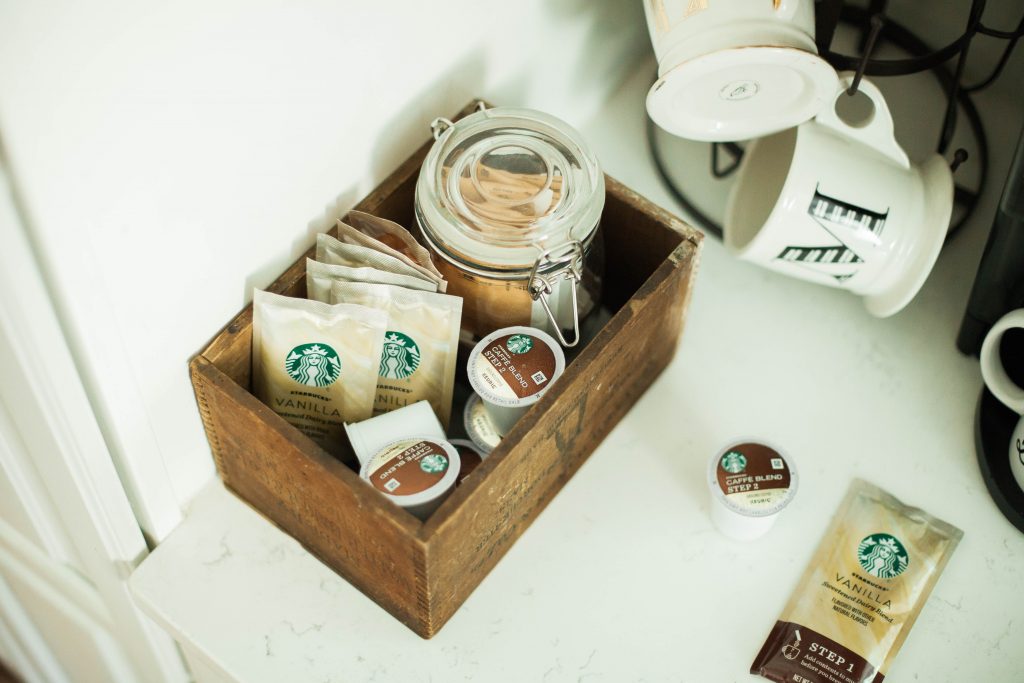 I recently learned that my beloved Starbucks® coffee is now available in Caffé Latte K-Cup® pods which means I can enjoy my Starbucks lattes at home! Each K-Cup® comes with a packet that mixes with your hot cup of coffee for that perfect Starbucks taste. I love that the packet is separate from the pod, too. It comes in vanilla, caramel, or mocha flavors, and I love having them available to serve at get-togethers. I love the vanilla flavor because it's a classic.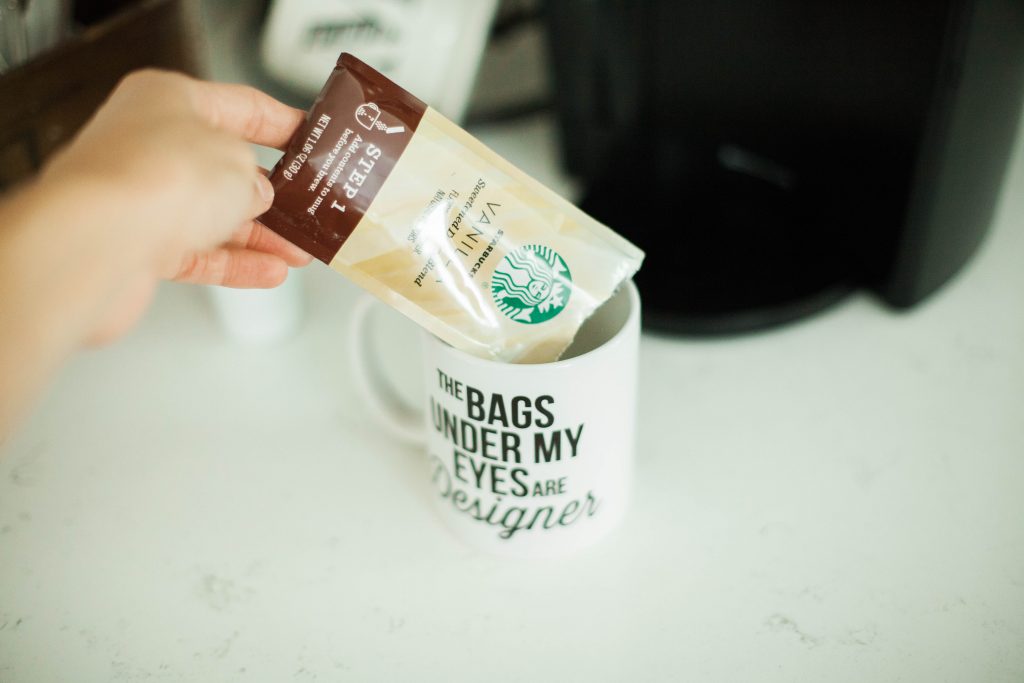 I've found having the Keurig® is way easier than making an entire pot of coffee when hosting guests. During holiday get-togethers, I plan on keeping some cinnamon and whipped cream on hand so our guests can spice up their lattes as they see fit.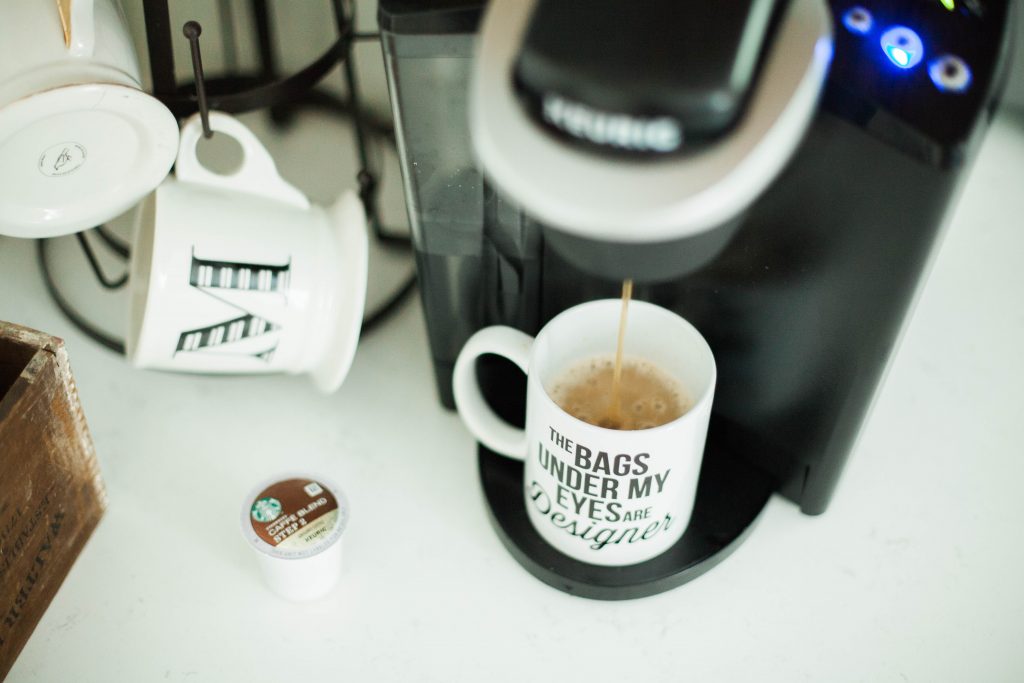 This busy, tired mama is more than happy to brew her own cup of her favorite coffee right at home. It saves the barista in the drive-thru line from seeing my bed-head and dark circles in the morning!
Stir, Sip, Enjoy. Signature Starbucks® latte flavors, now available in a K-Cup®