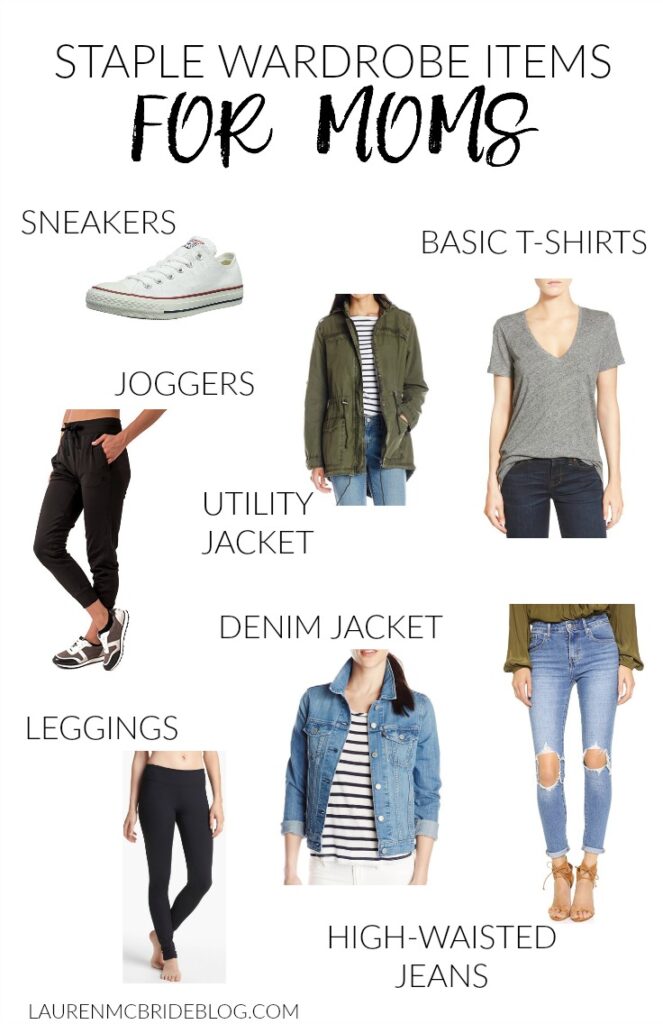 Those of you who follow me on Snapchat or my Instagram stories see me wearing the same outfits a LOT during the week. I'll be honest, my desire to dress nice when I'm home with the kids is minimal because I'm usually covered in food, breastmilk, dirt, or spit up by the end of the day. Moms, you feel me? What's funny is I vaguely remember saying I'll never be that mom before I had kids. I love how I had such an opinion on everything motherhood related BEFORE kids (insert eyeroll emoji). Anyway, you guys always ask me what my staple mom wardrobe items are, so today I'm giving you the lowdown on items I can't live without!
Leggings. Leggings are my go to, especially in the fall and winter months. Who doesn't love a good pair of leggings? I particularly love my Zella leggings because they're affordable, high-waisted (gotta love that for the mom pooch), and super soft. They're also really flattering because they suck everything in 😉 I wear mine religiously, whether it be with a t-shirt and sneakers or a long sweater and boots. They are probably my most worn item in my closet because they can be worn a variety of ways. No mom can live without leggings! If you are looking for something slightly different, try moto leggings for a little edge.
SHOP LEGGINGS

High-waisted jeans. Again, for that mom pooch. I may be skinny, but things just aren't the same after 2 kids, you feel me? High waisted jeans suck all of that in, and it's a double bonus if they flatter the booty! Jeans are my second go-to if I'm not wearing leggings. These are one of my favorite pairs because they're suuuuper comfortable, have the perfect amount of "distress," and cover up all the excess baggage 😉
SHOP HIGH WAISTED JEANS

Basic t-shirts. I live in these tees by Madewell because they're the perfect "boyfriend" fit without being too baggy, and they're the perfect length. I have all the basic colors (black, white, gray), and also bought the burgundy for a fun fall twist as well. I wear these tees religiously! They are also true to size. If v-neck isn't your thing, you can find more Madewell tees here!
SHOP BASIC TEES

Denim jacket. A classic denim jacket makes the standard leggings and a tee look a little more chic and a little less homely. Throw on some Converse and you look put together without actually being "put together." I love this one in particular.
SHOP DENIM JACKETS

Sneakers. I'm partial to my Converse and Vans slip-ons, but I also love my Nike Frees for days I want something a little lighter. I basically live in sneakers at this point and prefer them when I'm home with the kids. Plus they give you that whole athleisure look. Here are some other Converse options I love!
SHOP SNEAKERS

Fitted joggers. Joggers are hands down my favorite pants right now. They're so insanely comfortable it feels like I'm wearing pajamas. Yaaaaas please! Throw on your basic tee, sneakers, and jean jacket and you've got a cute little outfit. Add a backpack that can double as a diaper bag and you look even more stylish. You can see more jogger options here.
SHOP JOGGERS

A utility jacket. My utility jacket is one of my most worn items in my closet, so much so that I probably should invest in a higher quality one! It looks great with denim and is also practical with all it's pockets. I'm currently loving this one right here. It also looks great with flats, sneakers, and even boots, so the versatility makes it the perfect wardrobe staple.
SHOP UTILITY JACKETS

Adding these staple wardrobe items to your closet will help amp up your mom style from the standard yoga pants and husband's t-shirt! Which I also see nothing wrong with. Sometimes it's just easier, right? No but really, I promise these items will help you feel a little more put together while still staying comfortable!