Thank you to Raymour & Flanigan for providing us with the furniture in this post! They graciously donated the furniture you see below for the new homeowner. 🙂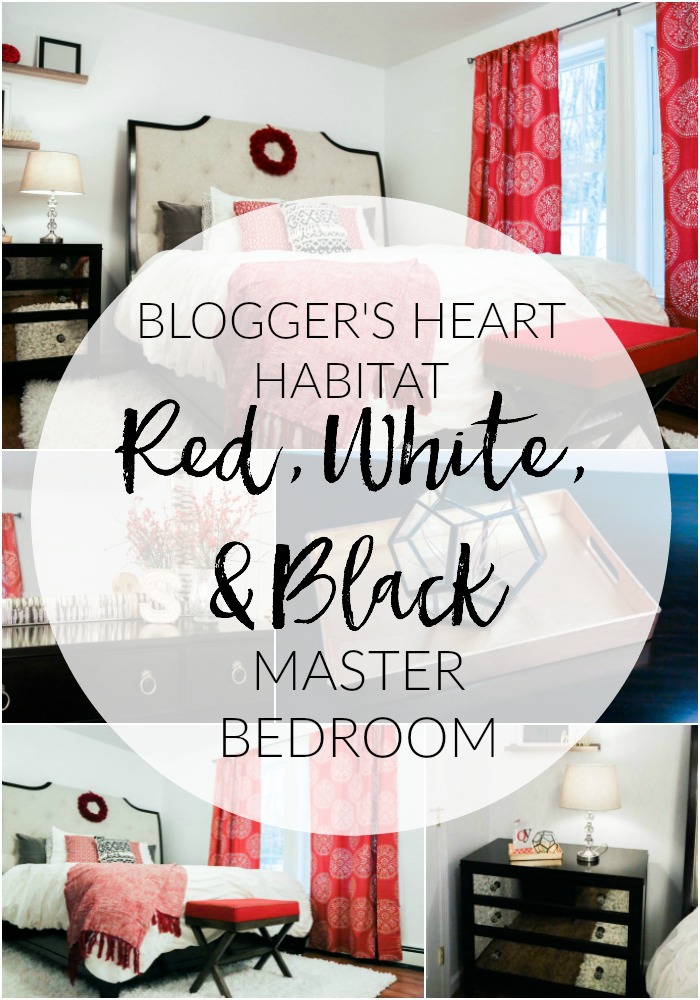 I've been wanting to find a way to combine my love for this blog and giving back to the community in some way for a while now. I tossed around a few ideas, but I wanted something that made sense and felt right. I recently connect with another local Connecticut blogger, Charlotte of Ciburbanity, who mentioned she ran the Bloggers Heart Habitat program for Habitat for Humanity. Basically, the Bloggers Heart Habitat program is a way to connect DIY bloggers with a local Habitat for Humanity chapter house to design beautiful spaces for the new homeowners (all on a budget). Charlotte mentioned that Habitat for Humanity of Eastern Connecticut had a house that was being finished right before the holidays, and I jumped on board to help. I was quickly partnered up with Michelle from Weekend Craft to design the master bedroom for our homeowner, Shea. I reached out to one of my favorite brands to work with, Raymour & Flanigan, who graciously agreed to donate furniture for the cause!
We received some inspiration photos from the homeowner to better understand her sense of style. This was the interesting part for me. As you know, I'm all farmhouse and cottage, and Shea's style was the total opposite of that. I've never had to design a room other than one that fit my own taste, so this definitely pushed me out of my comfort zone in a good way! Shea loved black, white, and red with a tough of glam. She mentioned she loved red accent walls and dark furniture (see, totally opposite of me!). Michelle and I divvied up the items we were in charge of, and I focused mainly on the bedroom furniture (thank you Raymour & Flanigan!) and bedding.
Some of Shea's inspiration photos featured a beautiful upholstered bed, so I wanted to give her that if I could. I came across this absolutely stunning Chadwell upholstered King Bed and knew it was perfect for the space. Shea had mentioned wanting red walls, so the linen colored upholstery would really pop against them. As I started browsing the rest of the Chadwell collection, I came across this gorgeous Chadwell Mirrored Nightstand which I knew Shea had to have. It was so perfect for a touch of glam! We used a second one as a spot for the television in Shea's room. I kept her dresser simple with the Chadwell Bedroom Dresser, and then also chose a neutral rug (again, thinking of the possible red walls) with the Zen White Area Rug.
We unfortunately were on a bit of a time crunch, so I knew painting Shea's red accent wall was not going to be an option. So when I designed the bedding, I tried to keep in mind that she would most likely be painting her walls red later on. For this reason, I kept the bedding pretty neutral with only a few pops of red in the throw blanket and pillows. Michelle added the beautiful red curtains, shelving with decor, bedside lamp, mirror, a red upholstered bench, and other odds and ends to complete the room and make it homey. I loved the addition of the "S" on the dresser, to make it truly feel like a space just for her! Hometalk generously donated money which we split between the two Habitat houses that the Bloggers Heart Habitat program was assisting with. Michelle and I used our portion towards the room decor since Raymour helped so significantly with furniture! Tuft and Needle was also kind enough to donate a king size mattress for that beautiful bed.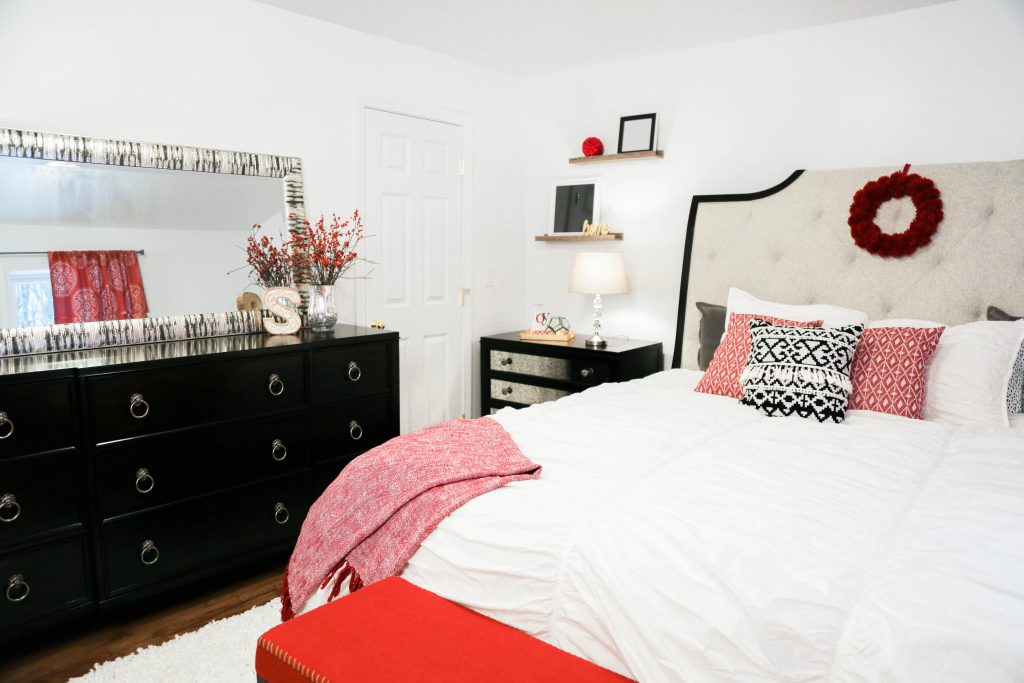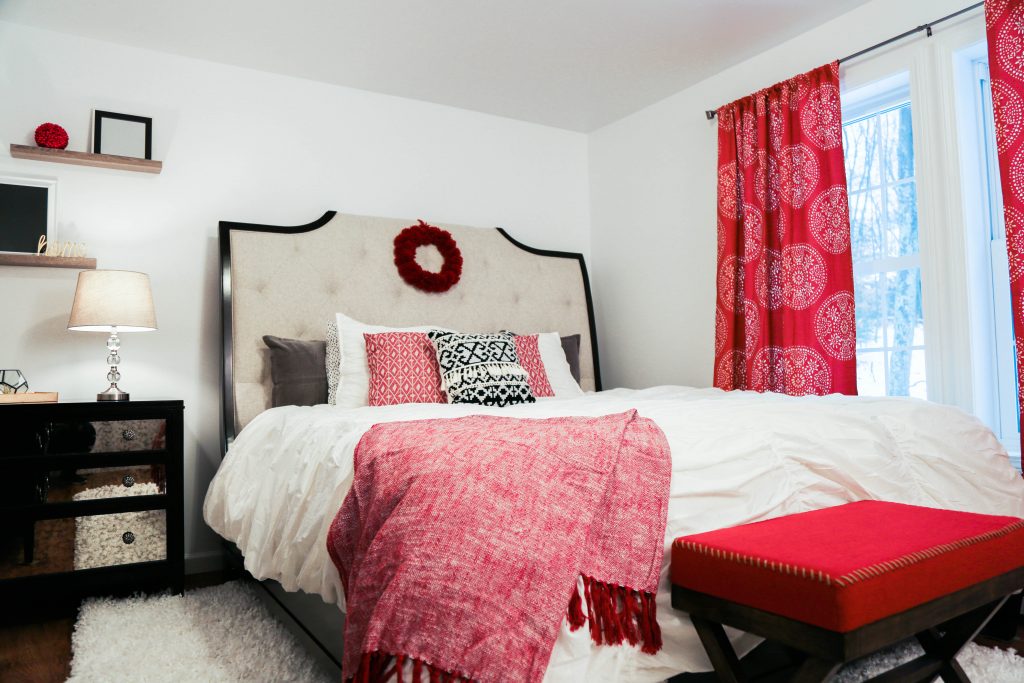 I am seriously in love with the end result! I was unable to be there for the actual reveal (boo), given that I work the weekends and then ended up coming down with a stomach virus (no one needed to catch that horrible sickness, that's not a good housewarming gift!). But I was able to FaceTime to see the room set up, and was just in awe of how beautiful it turned out! Shea absolutely loved her room, and it warmed my heart knowing we were able to gift her such a beautiful creation to help her feel right at home in her new house!
I really loved being able to use my passion for home design to help create a beautiful space for a good cause. A huge thank you to Charlotte of Ciburbanity for creating this program and including me on the project!
Be sure to check out the other blogger's who helped work on Shea's house to see the other room that was designed!
And the bloggers who were in charge of the second house design for the other homeowner, Jessica:
It's amazing to see what a few DIY bloggers can do on a budget and with a little help from some amazing sponsors. 🙂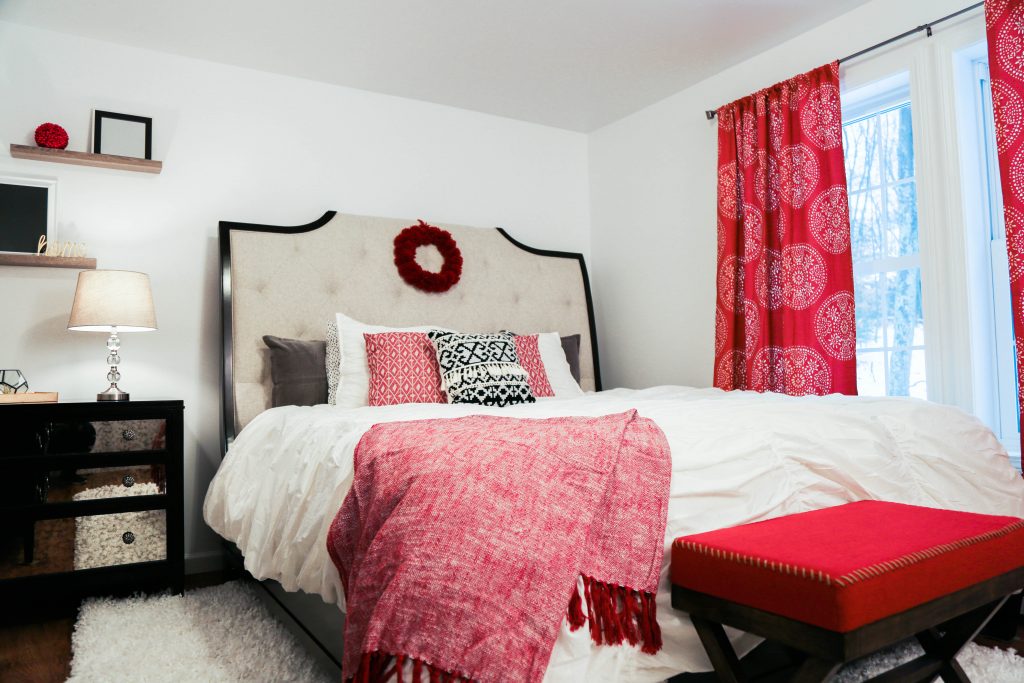 SOURCE LIST:
Bed: Chadwell King Bed c/o Raymour & Flanigan
Nightstand: Chadwell Mirrored Nightstand c/o Raymour & Flanigan
Dresser: Chadwell Bedroom Dresser c/o Raymour & Flanigan
Rug: Zen White Area Rug c/o Raymour & Flanigan
If you're a local CT blogger who would like to get involved in the next Bloggers Heart Habitat house, feel free to contact Charlotte right here for more info!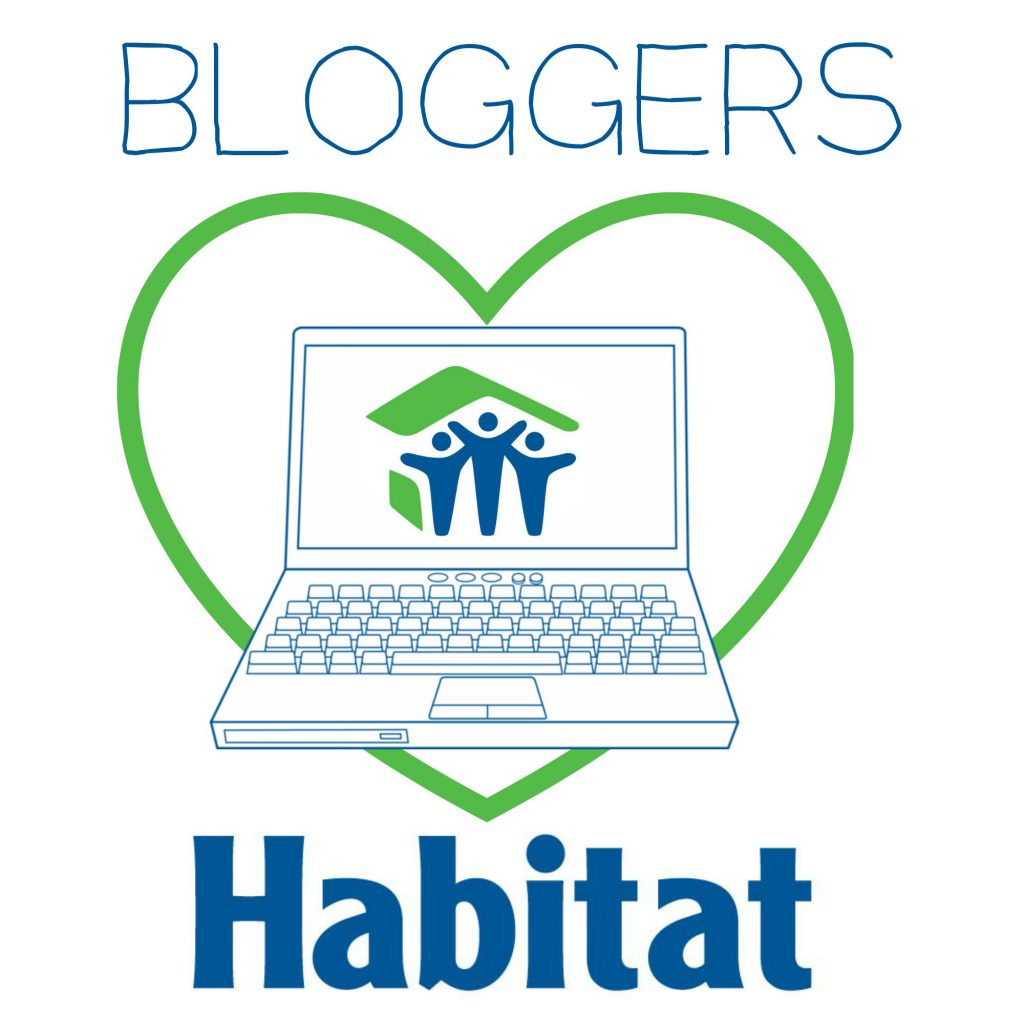 And a special thank you, again, to Raymour & Flanigan. Without their furniture, this bedroom wouldn't be what it is! 🙂