Thank you to Ray-Ban for sponsoring today's post! All thoughts and opinions are my own. And thank you for supporting the brands that support this blog!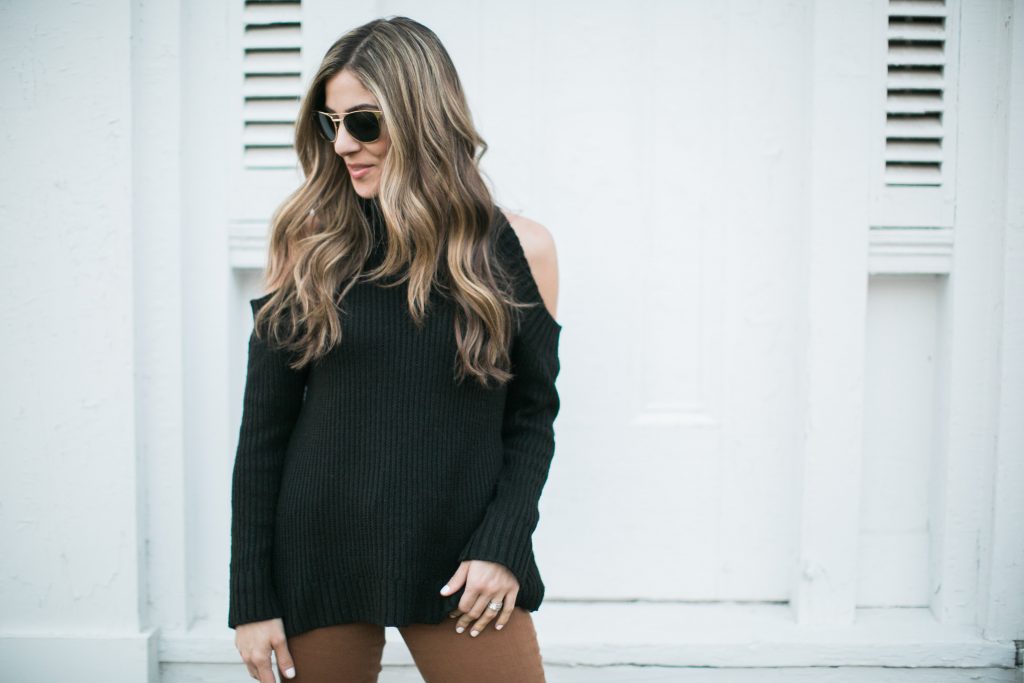 There used to be a time when I wore long necklaces or big earrings, and totally went all out with accessories. That's a thing of the past now with two kiddos. Even with just one! I'm always worried about one of them ripping earrings out of my ear or tugging on my necklaces. Since then, I've dialed down my accessory-wearing and have invested in some classic, everyday pieces that won't be ruined by a grabby little hand. Today I'm sharing with you some classic accessories for every mom!
Sweater: c/o Evereve // Pants: StitchFix // Sunglasses: c/o RayBan
A classic watch. I always wear a watch. Always, always. I even wear my watch if the battery dies and it stops working (HA!). I just love the look of it and feel it instantly dresses up even the most casual outfit. Just be sure you invest in one that's water resistant in case it drops in a toilet 😉
A pair of stud earrings. I have one pair of studs I always wear, and I make sure they aren't the kind that irritate my ears. I like them to be discreet but noticeable at the same time. Noelle doesn't nearly try to pull them out like she did when I wore bigger earrings!
A dainty necklace. I love my round disc L and N necklace that you always see me wearing. Not only is it meaningful to me, but I love that it's just enough to make a statement without being too much. I always remove it before showering, and I never wear it to bed. This keeps it in top condition. I also made sure to invest in a necklace that won't turn my skin weird colors or tarnish (so important!). You can find the one I always wear right here.
A neutral handbag. There are a variety of handbags in my closet, but I always go for the same one. A cognac cross body bag that's big enough to fit the kid stuff and my stuff at the same time. Investing in a color that goes with anything (like cognac or tan) means your outfit will always be on point!
A quality pair of sunglasses. There was once a time when I refused to purchase expensive sunglasses for myself. I was too nervous about spending all of that money only to ruin them. But after spending countless dollars on cheap sunglasses because they kept breaking or the screws would fall out of the sides, I finally caved and got myself a REAL pair of sunglasses. And you know what's funny? They've lasted longer than any other pair of sunglasses I've ever owned. Go figure 😉 (although I'm not totally surprised). I'm a bit sunglasses-obsessed because I'm a stickler about protecting my eyes from the sun. I refuse to leave the house without them, and always have at least two pairs on me at all times. I also look tired 99.9% of the time (who am I kidding, 100%), so sunglasses hide the hot mess mom I have going on on the daily.
I'm currently wearing Ray-Ban's new Signet Gold sunglasses, which are actually a throwback to the style that was originally created in 1953 (!!!). I own THREE pairs of Ray-Ban aviators (my favorite are the traditional Aviators), so this was a fun addition to my collection and a little bit of a stray from my standard style. Ray-Ban also revealed a few new designs just in time for the holidays including the Octagonal Flat Lenses, Hexagonal Flat Lenses, and the New Clubround. The best part is they ship in 1-2 days (literally, these arrived in TWO days to my doorstep…for no additional fee!), so it's perfect if you're looking for a last minute holiday gift! There's also free returns! You can also create your own Ray-Ban glasses, and try on frames virtually using their virtual mirror. Buying sunglasses online can be really difficult since you're not able to try them on, so I LOVE that feature. There's also prescription sunglasses, if you need them!
With such iconic frames, you can't go wrong with Ray-Ban as a holiday gift. The classic aviators look great on everyone! 🙂 They're the perfect addition to your mom accessory wardrobe!
(Photos by Alicia Ann Photographers)