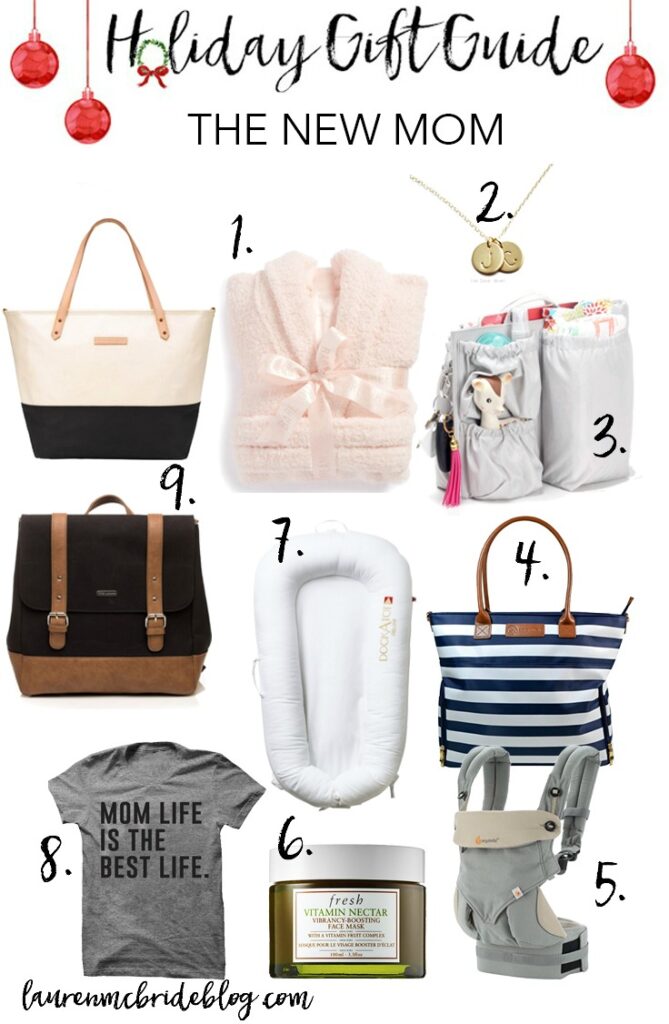 Today's gift guide is perfect for new moms, or any mom of littles for that matter! I've included some of my favorite items that I own and can testify to the quality, and a variety that are budget friendly! Check out my holiday gift guide for the new mom below 🙂
1. Bathrobe. I lived in my bathrobe as a new mom because my boobs were basically always out in the open (hello sore nipples and breastfeeding!). I bought myself a new one right before I had Landon (one for summer) and again when I had Noelle (a warmer one for winter) and I loooooved having them. I still wear them to this day!
2. The Silver Wren Necklace. I'm frequently asked about my tiny disc necklace on Snapchat, and I think it's the perfect gift for a mom! It's also less than $50! I've been a long time fan of The Silver Wren, and you'll always spot one of her necklaces on me. I also love her gold bar necklaces!
3. ToteSavvy: This is the most genius invention EVER. It's basically a baby bag insert than can be used in your own handbag. The one above is the ToteSavvy Mini, which is perfect for moms of one! Their larger version holds more and can be used in a larger tote. It conveniently hold all of your baby essentials in a need, compact insert while still letting you rock your regular handbag.
4. Sarah Wells Breast Pump Bag. You all know my love for all things Sarah Wells, and if you're shopping for a pumping mom this could be the perfect gift! I love that it's large enough to hold a laptop and other necessities, too. Sarah has a variety of bag options, but I just love her nautical stripe!
5. Baby Carrier: A baby carrier was my saving grace as a new mom. I love the Solly Wrap for when they're itty bitty and the Ergo for when they're a little bigger. These are especially handy for moms of two or more!
6. Fresh Vitamin Nectar Vibrancy-Boosting Face Mask. Because what mom can't use a little vibrancy to their face? This is one of my favorite face masks because it instantly makes me look bright-eyed and refreshed. Something all moms need!
7. DockaTot: I've already professed my love for our DockaTot, especially when Noelle was super tiny. It's great for co-sleeping moms, too!
8. Mom Life Tee. I have this sweatshirt, and it's one of my faves! Perfect for any mom!
9. Diaper Bag. A super chic, new diaper bag is the perfect gift for a stylish mom. I particularly LOVE this Petunia Picklebottom and this Little Unicorn bag. They're both insanely gorgeous and make we want all new diaper bags! There are many other beautiful diaper bag options right here, I seriously want them all!