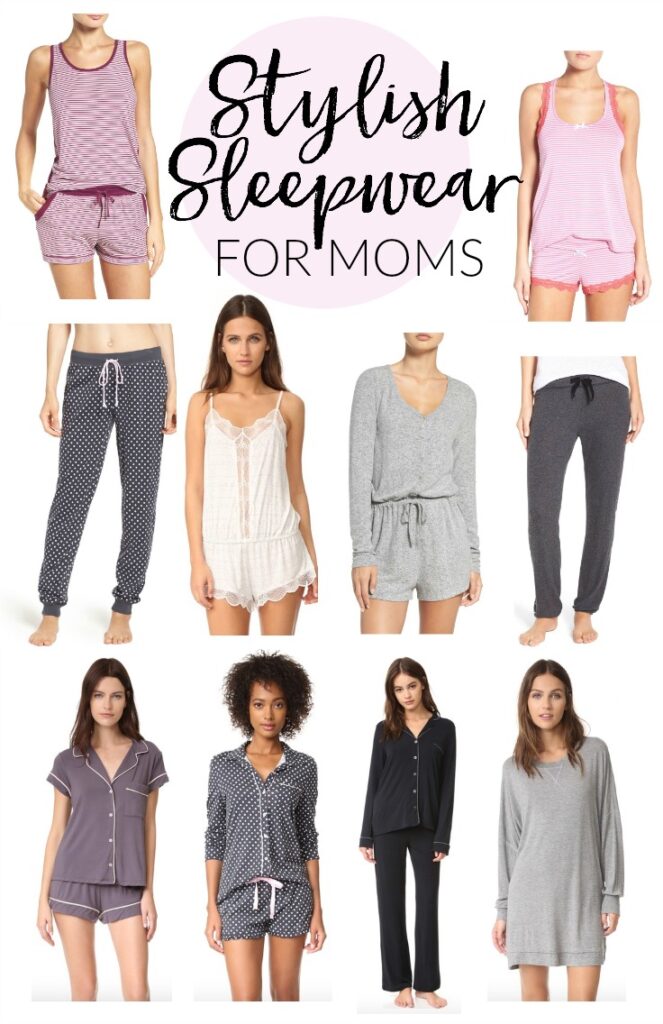 I kept forgetting about writing this post until one of my lovely readers reminded me! I've been wanting to put together a pajama post for quite some time now. I will be the first to admit that my pajama wardrobe was not spectacular by any means. I wore old t-shirts, shorts, and ripped sweat pants to bed every day. I had this moment where I just HAD it with crappy pajamas and threw out everything I owned to invest in nice, quality sleepwear. Maybe it had to do with feeling worn out from having a newborn and a toddler, or just feeling incredibly NOT sexy, but luckily my husband (of course) was on board and I now have much nicer pajamas. So today I'm sharing some of my favorite stylish sleepwear finds in a variety of prices with you!
First let's chat pants. I have a few pairs of cute sleep pants from a variety of places that I can wear with a tank or tee. I also have a few pairs of jogger style sweat pants that I love to wear with just a basic t-shirt. I love this pair and this pair because they're also great lounge pants, too! These are my favorite basic tees for every day wear AND sleeping. At less than $20 a piece, the price can't be beat. They wash incredibly well and are great quality.
Eberjay can be a little pricey, but the quality is great and they're really beautiful. I love their pajama sets and lounge pants. I love this set in particular (and on sale!), and this one, this one, this one. There's also a variety of gorgeous sets by Eberjay right here!
PJ Salvage is another great brand of sleepwear, and I love their long pant sets, short sets, and tank/short sets. They also have a really great pair of sleep joggers! You can see a variety of what they offer at Nordstrom, which is obviously a fave of mine.
I've also been obsessed with sleepwear rompers lately, and own this one myself. It's actually SUPER comfortable, doesn't ride up, and I'm not too hot or cold in it (I tend to get really hot when I sleep).
A nice robe is essential to me! If you follow me on Snapchat, you always see me in my bathrobe. It's from Target and was around $20. I would love to invest in a better quality one, but it does the job and is warm. I also have a lighter one for summer! Amazon has a HUGE robe selection for great prices right here.
Now, you can totally continue to wear your old pajamas. There's nothing wrong with that. BUT, if you need to feel a little sexier, even if it is just to go to sleep, I highly recommend investing in great sleepwear. Also, your husband won't mind. 😉
SHOP THE POST