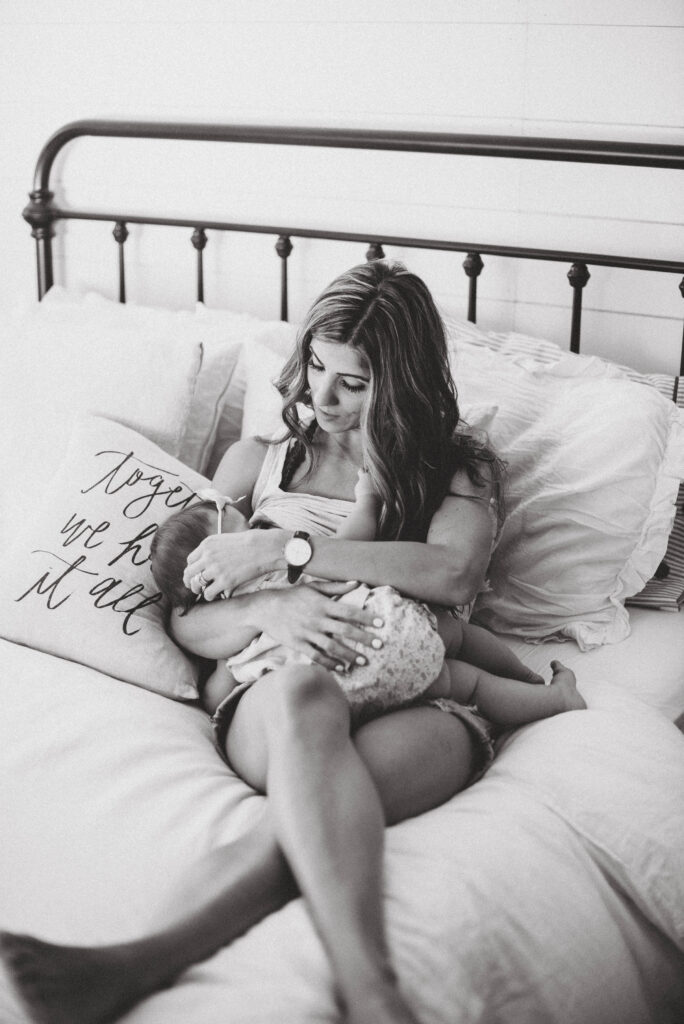 (Photo by Victoria Gloria)
I've seen numerous lists of items moms need for baby, including the ever so famous nasal aspirator, the sleep sheep, the zillions of sleep sacks, and more. But I've yet to see a list of the items new moms REALLY need after baby. Having gone through this twice now, I'm going to share the things that will make all the difference for new moms. And they aren't items you can buy at the store. This is what moms really need after baby.
Landon was my first born. I had a miscarriage prior to him, which was my first experience ever with pregnancy. It took us almost a year to get pregnant with him, and it was a very dark year for me. During the early stages of my pregnancy with him, I was overcome by fear of experiencing another potential loss. That miscarriage sucked the life out of my pregnancy, and made the first 12 weeks very difficult to get through as a result. I'm a worrier by nature, and not a day went by that I didn't fear seeing blood when I went to the bathroom. I was then put on bed rest for other issues, but luckily carried him to term. Then began our breastfeeding issues. I so badly wanted to breast feed, but unfortunately things didn't turn out as I had hope. I spent 3 months of my life with my newborn crying every single day. Fighting to make things work. Searching for an answer. Researching breastfeeding tips and tricks. Only to end up feeling like a complete failure when it didn't work out. Experiencing the hormone changes on top of all of this was incredibly difficult. I never even considered I could have had PPD, but looking back I definitely think I experienced a minor case of it. Early motherhood (hell, motherhood in general!) is hard, and we aren't prepared for those changes. I felt very, very alone during a time that was supposed to feel amazing. I know other mamas can relate, or maybe you're a friend looking for ways to help your new mom bestie. Here's what we really need.
Help. We need help. We need someone to help with the dishes. We need someone to help do laundry. We need someone to help clean. We need someone to help us do everything that doesn't involve bonding with that brand new baby. If you're coming to visit, PLEASE offer up some help. Don't even ask how, just offer a specific task. "Let me fold your laundry for you" or "let me scrub down your kitchen" will never sound so sweet. Trust me. You will help us feel slightly less overwhelmed.
Food. I don't like cooking, and cooking was the last thing I could think about with a new baby. My mom was a total blessing and cooked a week's work of meals for me to easily heat up for lunch and dinner, and it was my saving grace. I also had many friends bring up food when they came to visit (shout out to my besties who brought me yummy dinners and desserts!). New moms often forget to eat since we are so busy worrying about our new baby. Bring us food and force us to eat.
A shower. It's likely we haven't showered and could really use ten minutes to do so. Instead of bringing a baby gift, give us your time to watch the little babe for 10 minutes so we can get in a hot one. That may sound ridiculous, but trust me, you never value showers until you become a mom. I can't tell you the last time I had an uninterrupted shower. Having someone willingly watch my baby while I take one is glorious.
A friend. Motherhood can be really lonely. That seems impossible, but it's the truth. We need a friend to be there for us through it and remind us that we still have a part of our old identity. Don't stop talking to us or inviting us places simply because we now have a third wheel. We are still us, just with a new appendage. Be there for us, even if we go weeks without texting you. We lost a little piece of our mind when we had that baby, and things get a little blurry at times. We haven't forgotten about you, but our efforts are elsewhere at the moment. So even if you don't hear from us, reach out. Be there. Even if you're just checking in with a quick text.
Someone to say, "It's going to be okay." Guys, motherhood is so hard. I don't know how many ways I can say it. It's the most challenging thing I've ever gone through. I struggle with feeling like a constant failure, to being overcome with guilt about the littlest things. There are good days and bad days, and sometimes we just need someone to tell us it's normal and things will be okay. Sometimes we just need reassurance that we aren't going bat shit crazy and that all moms go through this. Again, motherhood can be very lonely at times. And I think it's REALLY easy for moms of older children (like in their teens and up) to forget what it feels like to be a mother of little kids. And you know something we really DON'T need to hear? That we'll "miss these days when they're older." They're totally right, we will. But in the moment, we just need to hear that IT'S OKAY to be frustrated, overwhelmed, or ready to break. And that we aren't alone in this motherhood thing. We could also really use someone to say "I got this for a minute, go take a break." So if your new mom friend is having a particularly hard day, see if she needs a breather and offer to watch the baby. She might just need a breath of fresh air or a hot cup of coffee from Starbucks. Sometimes getting out of the house for a minute is enough.
It truly takes a village, this motherhood thing. It's something people can't grasp the concept of until they're in it (I sure as hell didn't!). It alters your life in the most amazing way, but definitely comes with it's challenges. Having a helping hand, a friend, a hot shower, and just someone to listen is worth more than any baby item on registry.