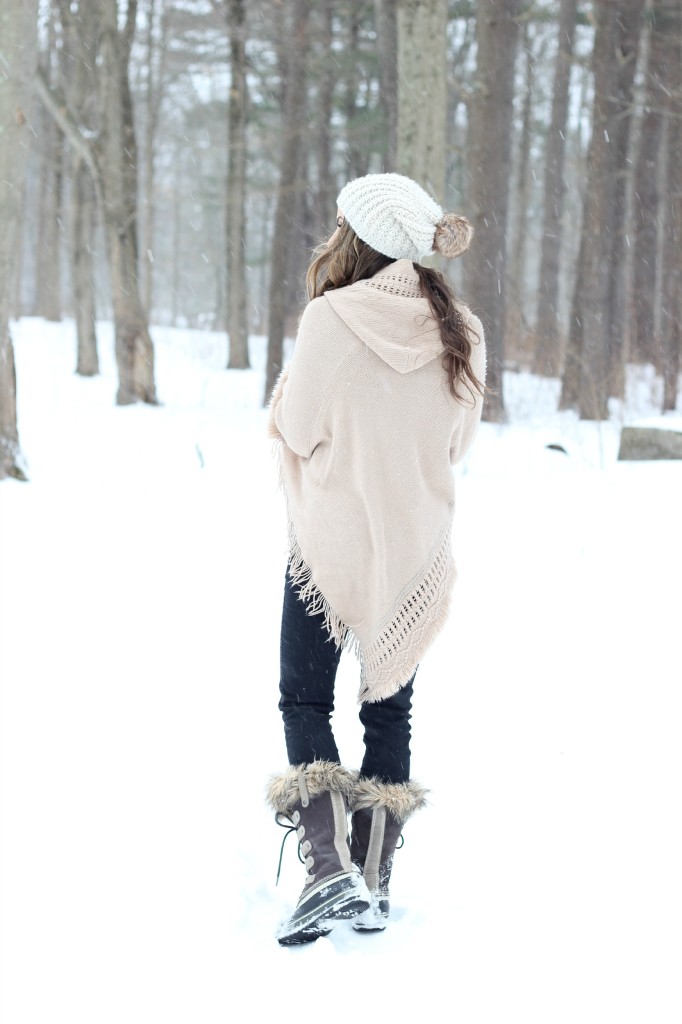 The inevitable is happening. My beloved three year old is starting to ask mommy to play in the snow! If you know me, you know snow and I do not mix. But how can I say no to my boy? So naturally, I've been on the hunt to find ways to make sure I'm warm as possible while spending some time outside with him. Also, the winter months can be super crazy with the kids stuck inside, and we can all benefit from a little fresh air. So as long as it's an appropriate temperature outside, I think a little play time can be a good thing (and make for a good night's sleep!) I've stocked up on some appropriate cold weather gear to make sure I'm as warm as possible, so here are my winter must haves for moms!
Sorels. I purchased my first pair of Sorels years ago, and they were worth every penny. They keep my feet super warm, and I like that they're high enough to provide a little extra protection to my ankles. They also provide great traction, and I wear these regularly in the winter time. In fact, I always keep a pair by the door, and I'll bring nicer shoes with me and change in the car if we're going somewhere. I have this pair and this pair, and I also LOVE this pair.
Hunter Boots. These are another really great option if you're not reaching for the Sorels. Obviously I love my Hunter rain boots (I've talked about them MANY times on here), but I think my favorite part is they're easy to slip on and off. Perfect for busy moms on the go! The only problem is they're not insulated, so see below for what else you need to wear with them!
Hunter Boot Socks. If it's really cold outside, invest in a pair of these Hunter boot socks to keep your feet warm. I purchased them a couple of years back, and they've been a game changer with my Hunter boots! I love that they have crochet ones too. You can also throw them right in the wash for easy cleaning. 🙂
Duck Boots. Another great quick option, I recently purchased this pair of duck boots and I love how easy they are to slip on. I also love this pair!
Warm Gloves. An absolute necessity! I actually just realized I don't have a good pair of weatherproof winter gloves, so I'm purchasing this pair because I feel like you can't beat the price! This pair looks warm and fuzzy too, plus I love anything by The North Face.
Long Down Parka. I purchased myself a Michael Kors down parka a couple years back and it was one of the BEST investments I've made to my wardrobe. I never owned a long down parka prior to that, and I'm not sure why I waited so long! It covers my butt and keeps me super warm when I'm outside in the snow. I've had a few short ones, but I swear the long one is where it's at!
Snow Pants. Confession, I don't actually own a pair of snow pants, but I just ordered a pair as I was putting this together because I realized I need them if I want to play outside in the snow with my boy. I purchased this pair because I felt like the price can't be beat!
Knitted Hat. I own a ton of knitted beanie hats because they're so essential in the winter time! I've purchased mine from Old Navy and Target, but I found a few super cute and inexpensive ones here and here. I also love this one! I swear, as long as my head and feet are warm, my whole body is warm!
I think that covers everything you mamas will need for playing with your little ones in the snow! I truly never thought I would be the mom to say, "Let's go play in the snow!" but the look on his face as I pull him in his toddler sled just melts my heart. His happiness outweighs my hatred for cold weather any day 😉